The forex market is a beast that is too difficult to tame. If you want to fight the market and try to look smart, be aware that many before you have traveled this road and failed. Therefore, the best way to deal with the market is to follow its lead. Your goal is not to sound wise but to make money. To achieve consistent results, you have to use a trading system or trading plan.
Let's learn about the day trade FX system, a simple method that has the potential to lead you down the road to trading success. Just give it a shot and see if you can apply it as-is in trading, or you can take something out of it that you can add to your repertoire.
Indicators to use
You will use a few technical indicators probably available in your trading platform if you apply the day trade FX system. These indicators are the following:
Set up your chart
You must set up your chart in a way that allows you to trade the day trade FX system. To do this, follow the steps below:
After taking the above steps, your chart should look like the chart below.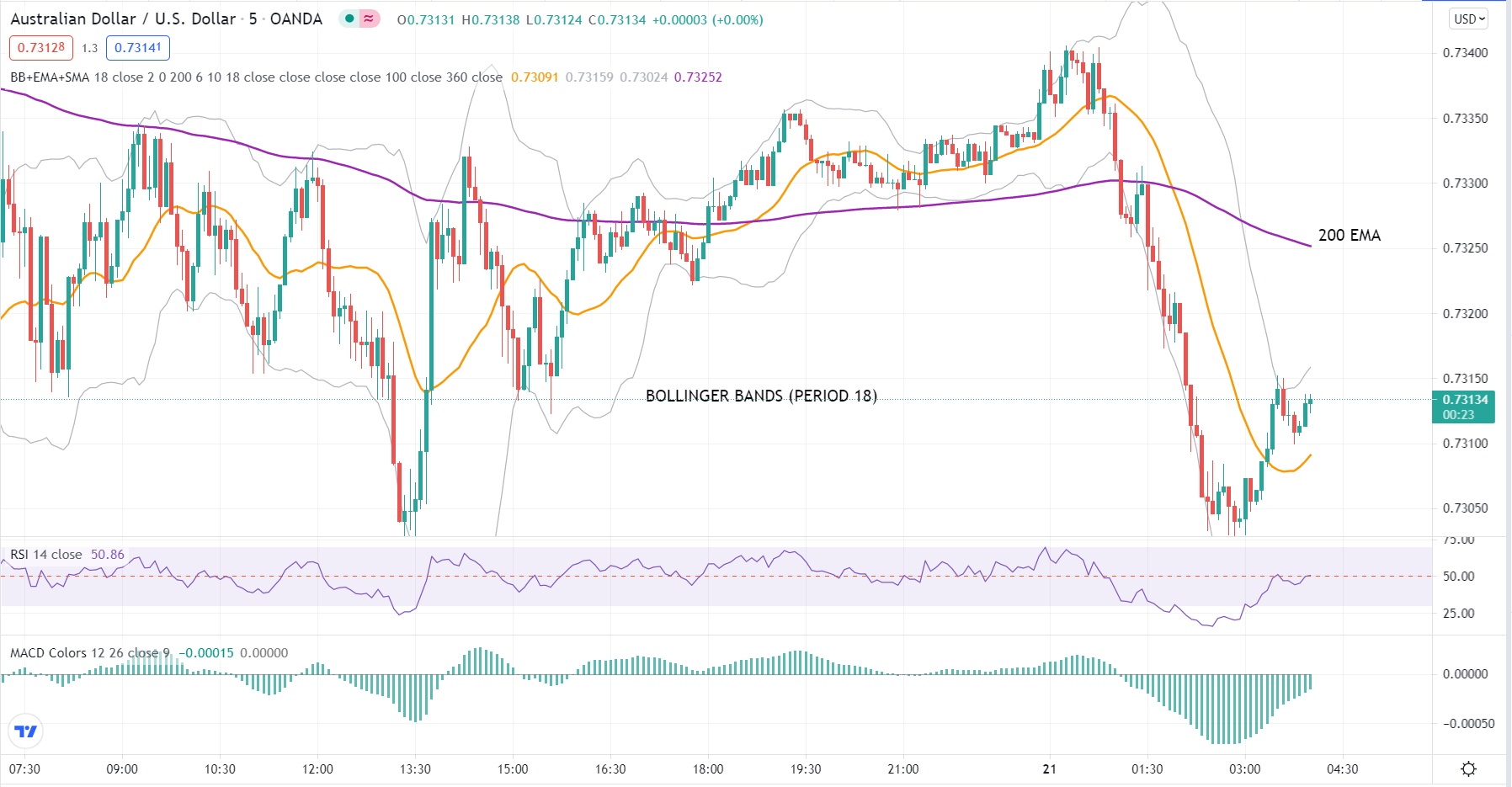 Sell entry rules
When looking for a trade entry using the day trade FX system, follow the steps below. Let us consider a sell entry in this discussion. Apply the same method for a buy entry.
Consider the location of price concerning the 200 EMA. If the price is below it, the trend is down. If the price is above it, the trend is up. Find a setup in the direction of the trend.
Price should not close above the middle BB line after this. It can touch but should not close.
Wait for the MACD main line to cross the zero line from above.
Check if RSI is below 50.
Set the stop loss five pips above the entry price.
Set the take profit 10 pips below the entry price.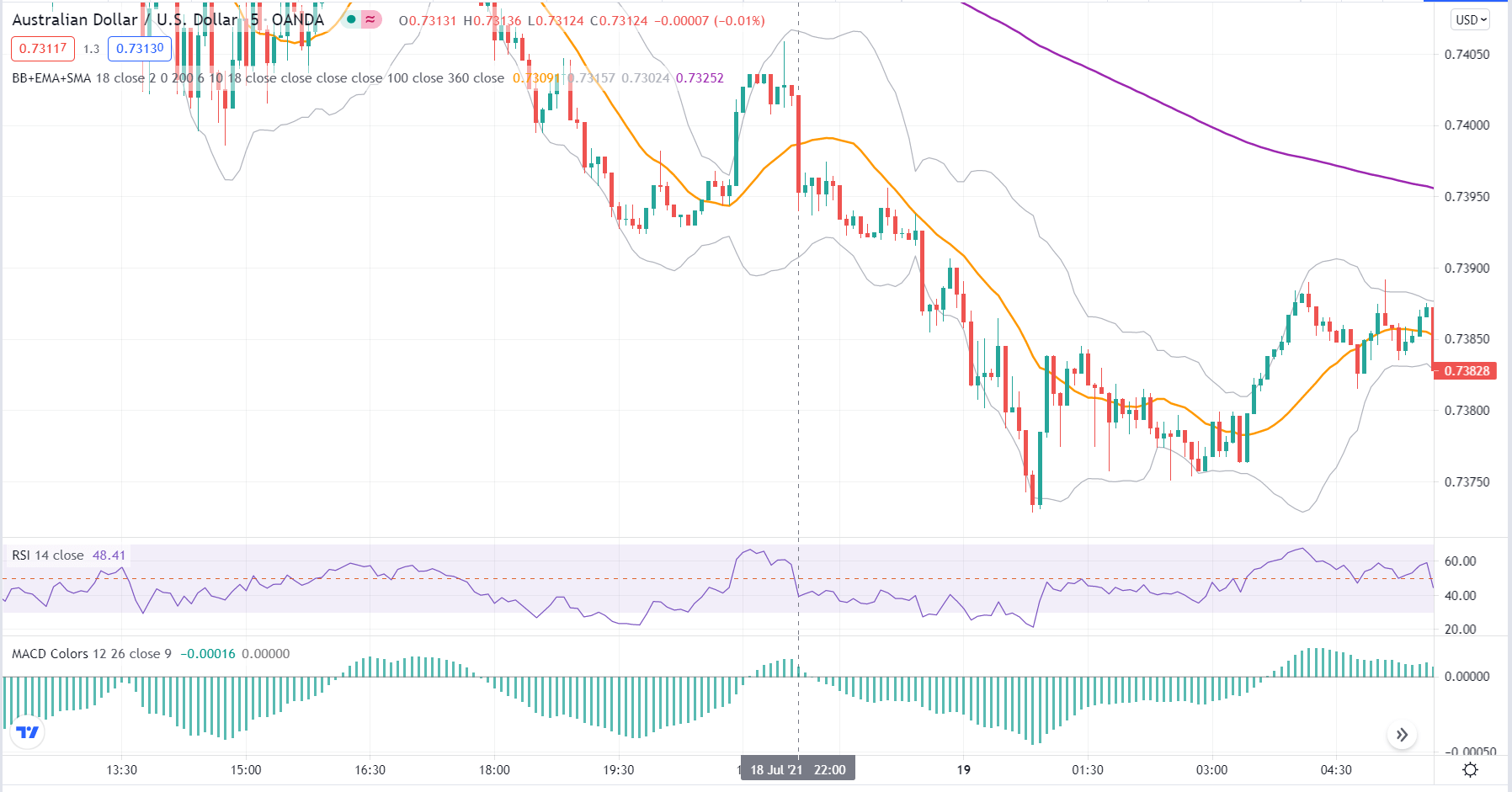 Consider the above AUD/USD 5-minute chart.
A big bearish candle cut across the middle BB line on 18 July 2021.
At this point, RSI has crossed the 50 level from above.
However, MACD is still above zero.
Three candles after, MACD went below zero.
At that point, you could enter a sell trade and put the stop loss five pips above your entry.
After one hour and 15 minutes, you could have reached the 10-pip take profit target.
Additional tips
There are three critical ideas you should understand when trading this system. These are essential considerations to make sure you take the trade at the right time and not too early. Following these ideas can help you avoid many losing trades.
The use of MACD as a confirmatory tool is critical. It prevents you from taking premature trade entries and allows you to trade when the shift in market sentiment has been confirmed.
Price should not close on the other side of the middle BB line after the initial breakout. If it does, it means the reversal of the trend is questionable. It also means that the current market sentiment is not that strong for you to participate in.
The 200 EMA allows you to trade with the overall trend. This filter enables you to avoid taking counter-trend trades. This way, you can take only pullback trades and actual trend reversals.
Exit rules
The trading system comes with fully defined exit rules. There is no second-guessing in this area. However, if you plan to implement this strategy in other currency pairs, you must adjust the stop loss and take profit parameters. Scour your charts and go back in history to find the best settings.
If you want to gain more pips in each trade, you can consider trailing the stop loss. Since you will trade the trend after a pullback, you can capture a lot of pips. If you do use stop trailing, you can use one of the following methods as dynamic stop:
An arbitrary number of pips
A specific number of candles
Recent swing high or swing low in the trend direction
Best time to trade
Since this trading system is for day traders and the FX has four sessions, you might have a question at the back of your mind about the best time to trade this system. There is no specific recommendation as to the best times to trade. It all depends on your availability, considering your other obligations.
You can find the answer yourself by scanning your charts and doing hand testing. Find out which trades would tend to play out well and in which market session. You might need to adjust to this schedule if you want to trade this market session.
Final thoughts
The day trade FX system is a powerful trading method that could give you profits if you execute the plan diligently and consistently. Just give it a try and see for yourself. You can even improve it, remove a part of it or add to it as you see fit until you develop one that yields the most profit but with limited losses.
If you know how to write a code, you can develop a simple expert advisor to run the system in various instruments and time frames and find the best settings. You will also find out the expected return on investment and the maximum drawdown.