FX is the largest market globally that involves buying/selling currency pairs. The exchange rate is unpredictable as it depends on several macroeconomic factors of two different currencies. 
Currency trading is an ancient concept. In ancient times, people exchanged currency/coins for goods and services, where coins depended on their worth of the corresponding amount of gold/silver used. 
Before 1990 currency trading was a more viable business of the banks and financial institutes. After that, currency trading became open to retailers, whose market has a daily transaction of over 6.6 trillion dollars daily. This market is open five working days of the week and 24 hours a day. 
Why do you need forex signals?
Forex trading became more popular, financial institutions, even individuals, also started to provide several types of services such as forex calls. These calls offer recommendations or trading ideas according to technical or fundamental data. Some cases may include both for particular currency pairs. 
However, every signal service provider doesn't always provide the best signals. That is why many scammers are waiting out there with their tricks. In addition, FX is a decentralized market, so with tremendous opportunities, there are also possibilities to be scammed by scammers when choosing forex trading signal services. 
By reading this article, you'll learn the critical facts before deciding on forex signal services and avoiding scams. 
Is forex signal a scam?
Although the FX market is full of opportunities, 95 percent of newcomers lose money as they start trading without understanding the market. Trading blindly costs them to lose their money. As the demand increases, many traders rely on FX calls. 
The signal providers use the best technical tools and calculations, sometimes the latest fundamental data, to make efficient forex calls to their clients. On the other hand, scammers provide a series of wrong or less reliable calls. This article will help you identify scam forex signals, avoid them, and share tips to avoid them.
Forex signal service can be beneficial somehow, as newcomers can make money besides increasing their skills. On the other hand, professional traders are more profitable or reduce loss by using the forex signal service. For a long time, those in the FX world have a great understanding of legitimate or reliable information and what is not.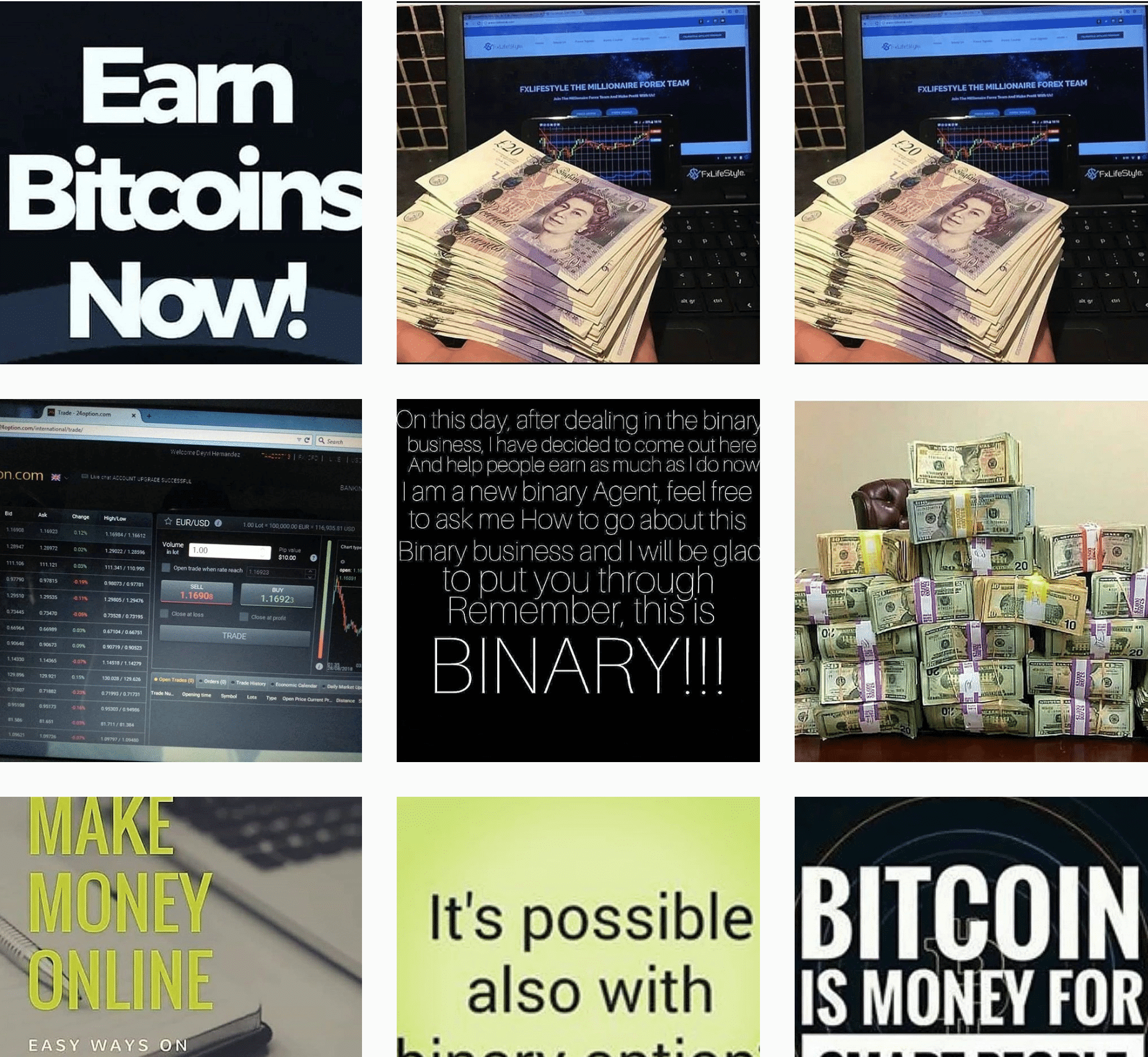 Where do the scammers find the victims?
However, the trader who has not enough experience loses their money by making decisions unwisely and choosing unreliable services. Once the scammers have located the potential victims, they send fancy proposals and persuade them to pay weekly/monthly fees for their signal services through emails, social media, etc. 
Traders with some experience can quickly identify the false calls and won't follow those fishy signals, but the non-experienced will fall for it. Anyway, there are no guarantees for forex signals or 100 percent reliable signal services that won't ever lose or always succeed as the FX is unpredictable. 
Forex calls are not always a scam, it's more like suggestions to make a better portfolio for any experienced trader, but to the newcomers, it's different. Trading blindly or using fishy signal services is never recommended, as your account can blow. 
How to avoid forex scams?
Now we know about the signal scam. It's time to identify such calls and avoid them for not losing money on some scammer's suggestions. Signal service information is not that essential somehow compared to knowledge and skill. The fact is traders should spend their time building up knowledge and awareness. 
When scammers are providing non-reliable signals to their clients, there are some genuine signal providers. As a result, they provide potentially profitable trading calls to their clients. Whatever, it's not easy to sort out fake and accurate trading signals because you lack experience and knowledge. 
In this part, we are listing check factors before choosing any signal service.
Analyze the service provider
Before choosing any FX call's service must check the service provider carefully. 
Check on how much experience and what type of calls they may generate, how they provide their service, etc.

Check out their reviews or users' opinions because they are already experiencing what you are trying to do. 

Merely observe the provider in every way possible before using their service.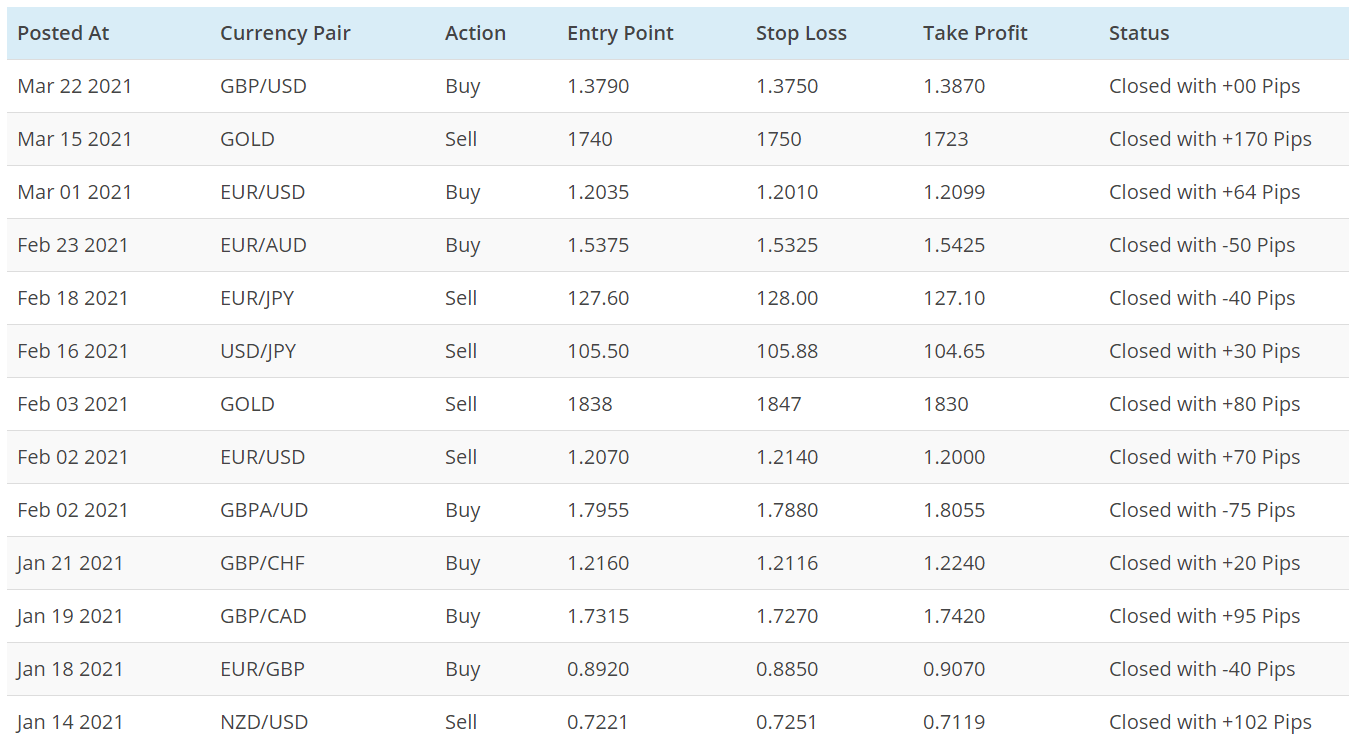 Here we can see a simple history of trades from a forex signal provider company. Of course, you should justify all price levels and results before choosing it as a reliable company.
If the signal service provider seems okay, then identify or try to find out the weaknesses of the signal service. Not always every service provider recommends every trade with high potentiality or in time. Check the time and quality of their trading calls. Many of them offer free service for a particular time, by using them you can identify the weaknesses easily. 
Analyze the critical products before choosing any FX signal service. Check if they provide signals about your desired trading assets or not. 

For example, you may be comfortable trading only major pairs (involving USD), but the signal provider you think of provides cross pairs (pairs without USD) signals only. Again you may want manual trading signals, but your provider only offers automated calls. So check the essential products carefully before choosing it and match that it is suitable with your trading strategy and assets.
In the last part, you must check the sustainability or consistency of the signal service provider. For example, check the history, drawdown, risk ratio factor, etc., and surface or growth before choosing any forex signal service.
Summary        
A sure-fire way to avoid signal scams is to approach the right attitude, besides checking the key factors. It's better to learn the chart and fundamental data and other knowledge about trading such as money management, trade management, etc. 
So you don't have to rely on the signal service provider only. You can make your call. Matching your prediction with some provider can reduce your risk of trading, but blindly following them can harm your account. 
No signal service is 100 percent guaranteed. There is no such crystal thing in forex trading. Better increase your research and be a profitable trader, so you don't need to rely on signal services blindly.