It is a common question of traders whether they should follow social trading or a forex signal. The answer is straightforward. All of these systems are profitable if you can utilize them properly. 
FX call is a process to trade with other people's suggestions, while social trading is like copying other traders' trade directly to your account. Although the effect is the same, there are some significant differences.
Some traders think that it is better to stick with FX calls to earn money from forex besides learning. On the other hand, other traders believe social trading is profitable because traders don't have to do anything here.
But the question remains. Which one should you choose: forex signal or social trading? The following section will see everything that a forex trader should consider while picking social trading or forex signals.
What is a forex signal?
If you don't have any basic idea about forex signals, this section is for you. 
An FX call is a trading idea with a chart and details of entry and exit point for a trading instrument that users get from forex signal providers. They usually use instant messaging services to send calls directly to traders' smartphones or computers. 
Let's give a good example of an FX call.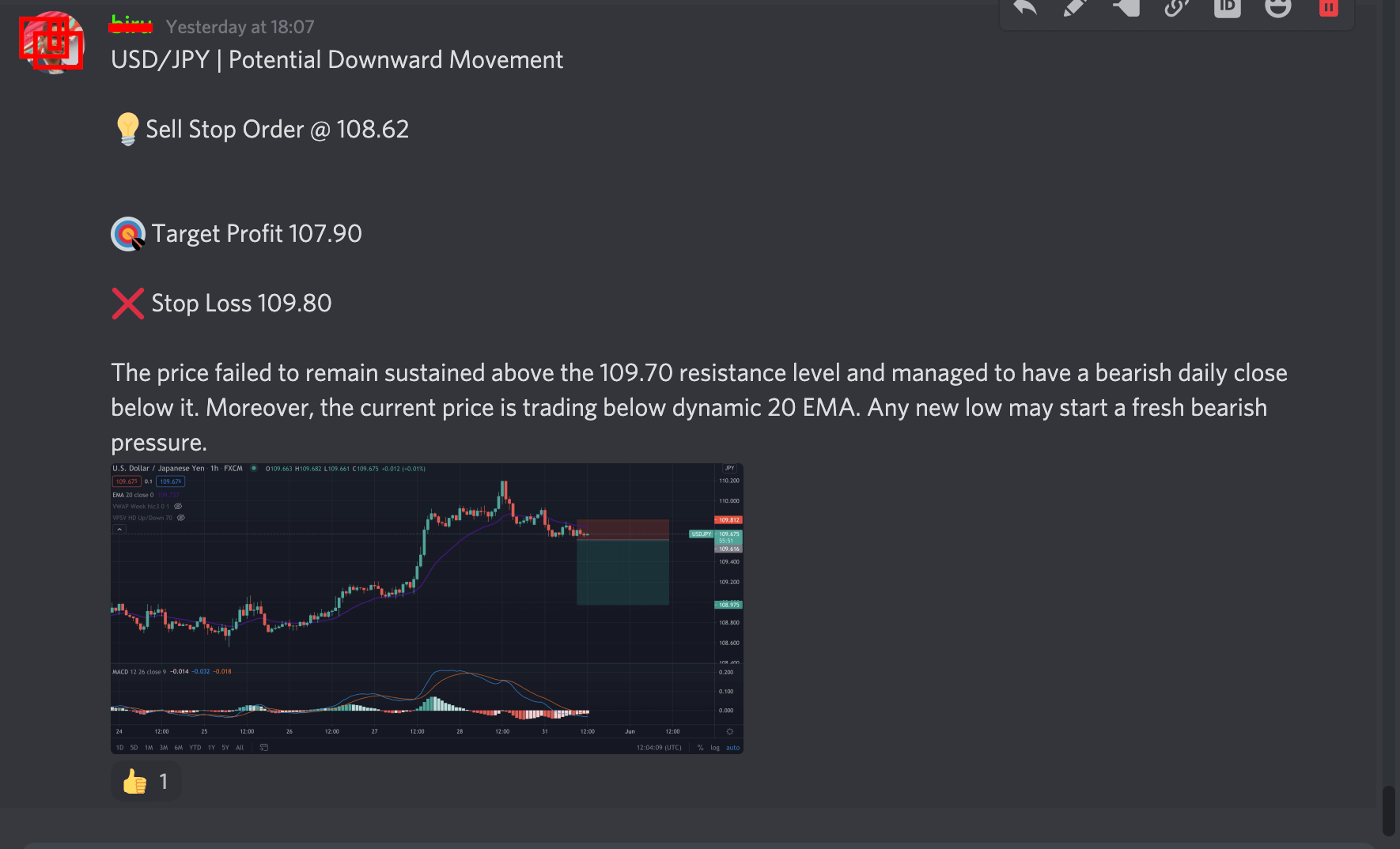 After getting the signal, the trader must apply it to the chart. Therefore, the control of the trading account remains with the trader. Even if a trader is getting signals from the service provider. However, traders often find calls challenging to follow because there is a possibility of missing trades due to connectivity problems.
The FX is open 24/5. Therefore, users cant remain active all the time to receive signals and follow them on the account. However, this problem has been reduced with technological advances. Now, people can access their trading account from a laptop, mobile, or iPad.
Overall, an FX call is an intelligent way to earn money from forex trading, even if you don't know how to trade or you are looking to see how trading happens.
What is FX social trading?
Unlike forex calls, social trading is when investors put their money on their accounts and connect the account with a profitable investment manager.
Forex trading requires skills to make a regular profit, but a skilled trader is enough to make profits for hundreds of people. If you can make a profit in your trading account, you can also trade in your friend's and family's accounts. 
Social trading came through this way. It is connected with investors' and traders' accounts through a network. In addition, some brokers offer built-in social trading services, while some third-party websites provide this service.
In social trading, investors can see a list of traders based on performance and detailed profitability reports to choose the right trader, as shown in the image below.

Forex signals vs. social trading: a critical comparison
FX calls and social trading both are profitable for new traders. However, it is often confusing for traders regarding whether they should choose forex calls or social trading.
Don't worry. After completing this section, you will know why you should choose FX calls over social forex trading.
In forex trading, finding a reliable signal provider is more challenging than social trading. Like a forex broker or investment management firm, no signal providing companies are regulated. Therefore, there is a high risk of getting scammed online.
On the other hand, in social trading, you can see the live performance of a set of traders and find a reliable person by observing his drawdown in trading.

Finding a feasible profit margin is significant for a forex trading service. For example, if a signal provider assures you 100% profit in a month, there is a higher possibility that your trading account is at risk.
Similarly, in social trading, if you see a trader make excessive profits and reach the top of the list, you should check the risk per trade before following that trader. This is because any trading strategy or trading performance with an excessive profit is risky for traders. Based on this, social trading is trustworthy as investors can see the live performance of profit margin.
The ultimate target of forex trading is to gain higher returns with a minimum risk. However, the FX is very uncertain where any negative effect may happen. Therefore, if you take too much risk on a trade, there is a higher possibility of losing money.
In forex signals, the risk per trade remains under the user's control, and in social trading, the user can set how much risk the trader can take. In both cases, it is the investors' responsibility to minimize the risk.
Sustainable growth is mandatory to rely on a service. For example, in social trading, investors can track the previous performance of the trader by watching the trading history.
On the other hand, in signal service, the previous call report shows reliability. Therefore, if you analyze the signal report of the last six months, you can easily consider the service provider as reliable.
Should you choose social trading over forex signals?
There is no ultimate result regarding which method is profitable. Each of these systems is unique in its position. However, if you focus on making money with less effort, you should follow social trading over forex calls.
On the other hand, a new trader aims to learn forex trading and practice trading besides earning money. Based on this concept, following a forex signal and implementing it in trade will provide the real taste of trading.