Solana's SOL has remained on a bearish momentum with no significant gains since November. Most analysts project that if the token does not attract substantial buyers, it may not reach its all-time high in 2022.
---
---
Moreover, Solana has encountered network security violations in the recent past that seem to affect the price of SOL. On a positive note, Solana's fundamental aspects around low transaction costs and scalability occupy an essential space in the cryptocurrency sector and may turn into positive gains.
What is Solana?
It is an open-source, public blockchain that focuses on scalability to enable developers to launch decentralized applications. The protocol is based on the proof-of-history timestamp model and the proof-of-stake algorithm to secure the network. The project team saw limitations in the duration that validators took to reach a consensus in public blockchains like Ethereum. They believe that the same can be automated to enable networks to scale at lower transaction costs.
Solana's native token SOL is used in staking and settling transaction fees and paying inflation rewards. Users can stake SOL directly on the platform or delegate to a validator in return for rewards. Solana does not have an on-chain asset-weighted voting mechanism, but its delegated proof-of-stake model enables holders to choose a validator set.
Anatoly Yakovenko, a former Qualcomm engineer, founded Solana in 2017. Together with his former colleague, Greg Fitzgerald, they created Solana Labs. Solana Labs is the main contributor to the Solana network, while Solana Foundation funds the development and community engagement. The foundation is based in Geneva, Switzerland. SOL coins were released to the market in 2020.
If you are looking for Solana price prediction for 2022-2025, look no further. We will look at the current SOL pricing to see what to expect from the future changes.
Solana: should you invest in SOL today?
Solana is not an ideal investment for short-term gains. The daily price outlook shows that the token face a bearish momentum and could trade lower in the near term. The Relative Strength Index is at 45.31, meaning that the token has not touched the oversold zone.
The Moving average convergence divergence indicator shows that the MACD line crosses from above to below the signal line, affirming that SOL faces a bearish sentiment. Although the Bollinger Bands places SOL in the oversold area, more indicators point to a bearish momentum than a bullish one.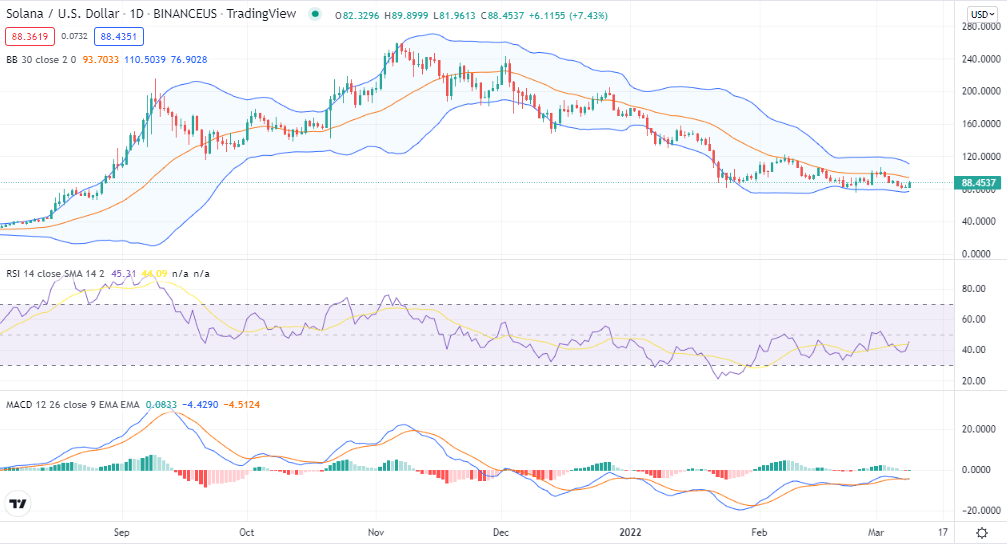 Solana remains subdued from the all-time price outlook since peaking at around $258 ATH in 2021. Still, the token is an ideal buy for long-term investments based on the strong fundamentals around scalability. We project that the network will see an influx of projects as the sector grows and widen use cases.
Will SOL reach 200 USD in 2022?
According to our Solana price prediction, the token will reach a maximum price of $124.5 and $95 at a minimum in 2022. The token is projected to trade at an average of $85 in the first half of the year and $101 in the second half.
If Solana gains enough buyers and experiences fewer network challenges, we project that it will reach a high of $149 in 2023 and $130 at a minimum. SOL is launched to trade at an average of $120 throughout the year.
Our 2024 price prediction puts the price of SOL at $165 at a maximum keeping all factors constant. The minimum price that SOL can trade in the same period is $140, and the average price is projected to be $121.
In 2025, SOL will surge to at least the $200 price level a minimum. On average, SOL is projected to trade at around $180 throughout the period and could surge to $300.
SOL past price analysis
CoinMarketCap currently ranks Solana as the ninth most valuable cryptocurrency with a market capitalization of $26,968,200,431.08. There are 321,352,462.86 circulating SOL tokens from a total supply of 511,616,946. From the latest price data, SOL is trading at $83.87, with a decline of 0.52% in the past day. Similarly, the asset has dropped 15% from $99 in the past seven days.
The past month and the past three months show a further downward trend in Solana. The token has plunged by 25.6% in the past month from $112.68. In the three-month outlook, SOL has shed a whopping 56.56%. SOL has remained subdued since reaching its ATH for the all-time price outlook.
Want to buy SOL?
SOL is listed in major cryptocurrency exchanges. If you wish to buy SOL on Binance, follow these steps.
Step 1
Register an account.
Step 2
Buy BTC directly from your crypto wallet.
Step 3
Go to the spot market and select the SOL/BTC pair.
Step 4
Exchange BTC for SOL tokens.