WolfBot is a cloud-based crypto platform offering Bitcoin trading, arbitrage, and lending services. It is a fully automated crypto trading software that supports more than 600 crypto assets. The vendor claims that using the service is the smart way to reap profits from the ever-growing crypto assets. With the automated software, you can adjust open positions with manual trading without interfering with the algorithm of the bot as it synchronizes your portfolio with each exchange.
WolfBot: pros and cons
| | |
| --- | --- |
| Pros | Cons |
| Automated 24/7 trading | Lack of vendor transparency |
| Backtesting | Expensive pricing |
| | No proven track record |
About WolfBot
The crypto platform offers 24/7 automated trading enabling you to buy or sell your assets instantly when the opportunity arises. The cloud-based service does not require installation, updates, or maintenance. It is open-source software that has all its features documented in its source code. The Discord community of the service has an increasing number of traders talking about and sharing successful strategies.
WolfBot review: key features
Some of the key features this service provides are:
Backtesting feature allows you to test and optimize your strategies on historical data.
Trade profitability can be analyzed using date, currency, and strategy filters on the live trading records
Instant pushover notifications provide info on the profit/losses and other trading info
It supports trading, arbitrage, and lending modes
The bot uses an artificial intelligence strategy to make price predictions and assess profitable trade orders
A simplified monthly subscription plan is present without any hidden fees or charges
WolfBot: trading strategy
The platform uses its strategies and third-party methods. The approach used is derived by using indicators, plugins, manually configured price levels, and other relevant info. Technical strategies used include RSI, MACD, CCI, Bollinger Bands, STC, and more. Day trading methods such as wavesurfer, direction runner, sentiment, etc., and stop loss methods such as stop loss time, Bollinger stop, time stop, etc., TP strategies, and more are used by the bot.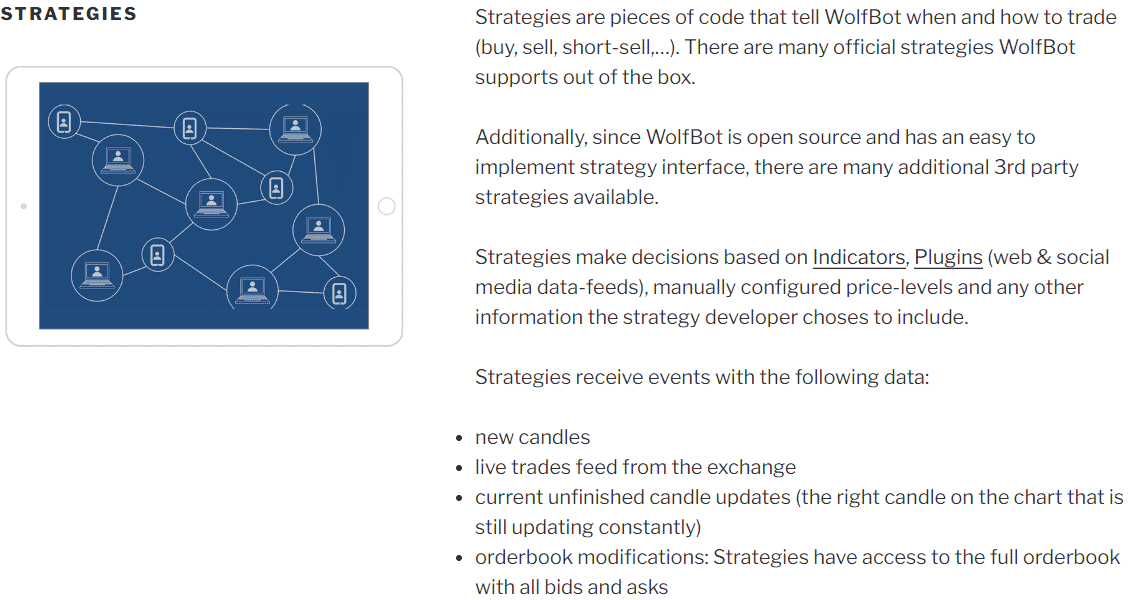 Security of WolfBot
The vendor does not provide info on the security measures used for protecting user data and privacy, such as encryption, 2-factor authentication, API keys, etc.
Is WolfBot safe?
As per the vendor, the bot is just an automation tool for learning new trading styles, and the higher returns you aim for will require taking more risks. Further, there is the risk of loss of funds caused by hacking, and an overloaded server can prevent trading.
How much does WolfBot cost?
Subscription plans are available that include a one-month membership that costs $90, a 6-month plan that is priced at $480, and an annual membership that costs $700. Features provided include a dedicated bot, an unlimited number of trading pairs, access to the strategies, indicators, and plugins, all exchanges support, one tracking mode, backtesting, support, and push notifications. When compared to the market average, we find the pricing is exorbitant.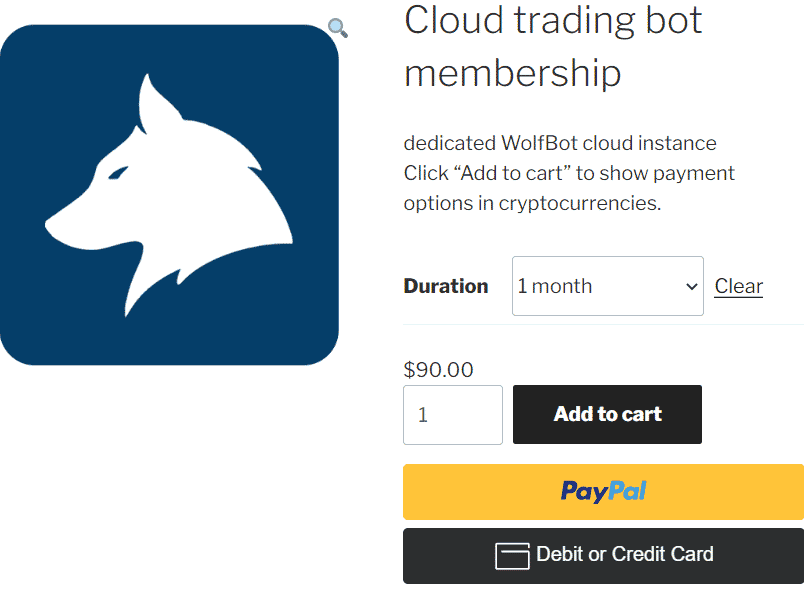 Deposit and withdrawal
The bot does not handle user funds as it has permission to trade user funds via the exchanges.
Does WolfBot charge fees and commissions?
No, the service does not charge a commission fee for trading.
How much profit can it earn?
Although the vendor claims that the bot uses profitable strategies, there is no verified performance proof present. So, we are unable to assess the profitability of the system.
Company reputation
We could not find info on the company such as its founding year, headquarter location, team members, support, etc.
WolfBot reviews
Unfortunately, we could not find user feedback for the platform on reputed third-party sites such as TrustPilot.
Who is WolfBot for?
The multiple strategies, plugins, different trading modes, and strategy marketplace are features experienced traders will find useful. Beginner traders will find the different modes and strategies a bit overwhelming, and the pricing is also expensive.
WolfBot: supported devices
The bot can work on any modern web browser such as Firefox, Chrome, Safari, etc. The user interface is mobile, responsive, and can work equally well on your PC and smartphone.
What exchanges does WolfBot support?
The service integrates with the following exchanges:
Binance
Bitfinex
Bitmex
Kraken
OKEX Futures
Bittrex
Poloniex
WolfBot: customer care
An online contact form, an FAQ section, and a Discord community are the main support methods available.