Extreme Forex is an MT4 expert advisor (EA), which developers describe as a 'volume scalper.' It was built to work on XAUUSD.
The first immediate concern for this robot is the lack of vendor transparency. No traceable and reliable information exists on the developers, like their whereabouts or qualifications.
Nonetheless, this review will analyze the crucial technical features so you can decide whether it's worthwhile.
Extreme Forex strategies and tests
Another obvious red flag about this robot is the little details provided on the strategy used. The vendor states that Extreme Forex utilizes 'smart entry/exit algorithms with sophisticated filtering methods.'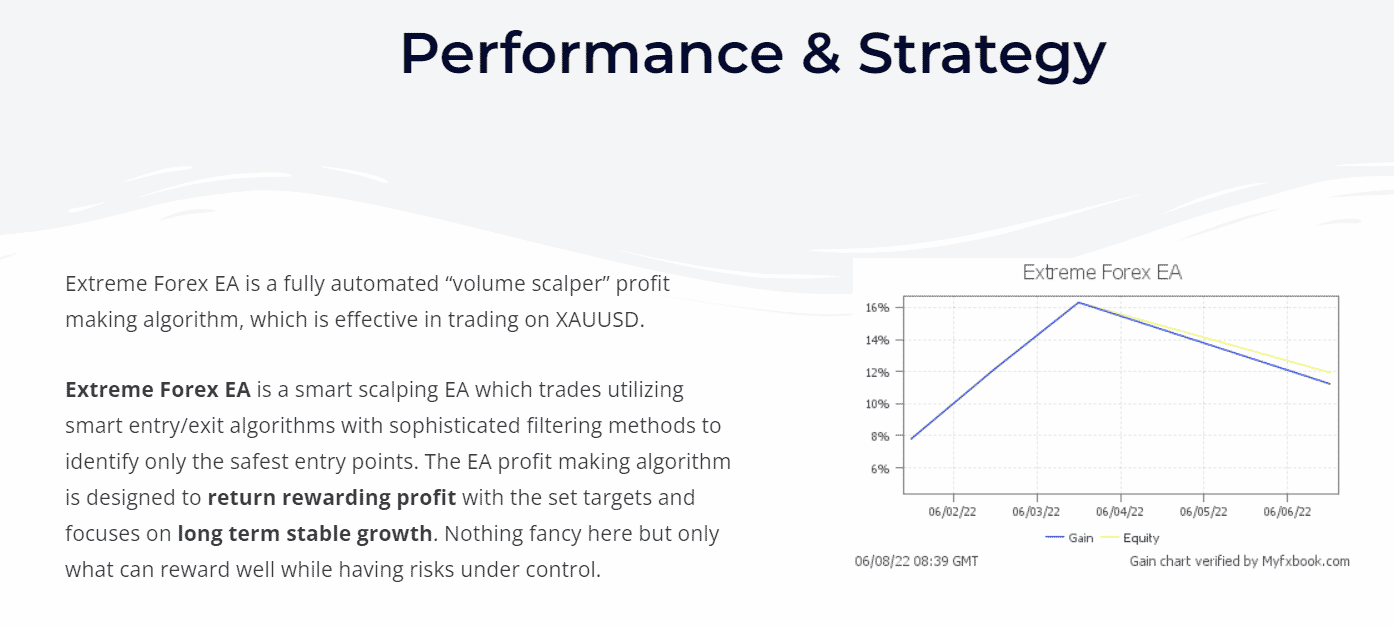 Unfortunately, no further explanations are provided on this concept. Though, this is the information we can confirm:
The EA works on the gold market
The recommended time frame is 15M
The EA doesn't use any hedging and grid trading strategies
One aspect of Extreme Forex's trading system is that the EA always executes three transactions in a row. This is apparent in the report below.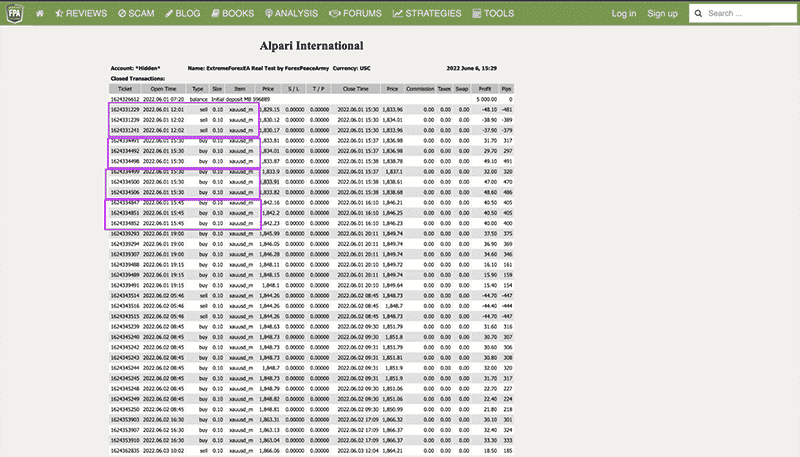 Sadly, this is the only statement we found when searching for this robot's unverified results. The report doesn't specify whether the trades happened during a strategy testing phase, or live, or demo account.
The other suspicious part is that the results only cover three days, suggesting this robot is probably very new. The report lacks the necessary details you'd expect, like the win rate, drawdown, profit factor, etc. However, we calculated the following manually:
Out of the 34 positions taken, 6 were losses while the rest were profits (82.4% win rate)
The total gain from a $5000 deposit was $739
Although the win rate is relatively high, the average profit and loss amounts were $31.5 and $50, respectively. This suggests a negative and unsustainable risk-to-reward ratio in the long run, despite an overall net account gain.
The developer states that stop loss and take profit orders apply for the EA. However, the report confirms otherwise, which is quite suspicious.
Extreme Forex live trading account review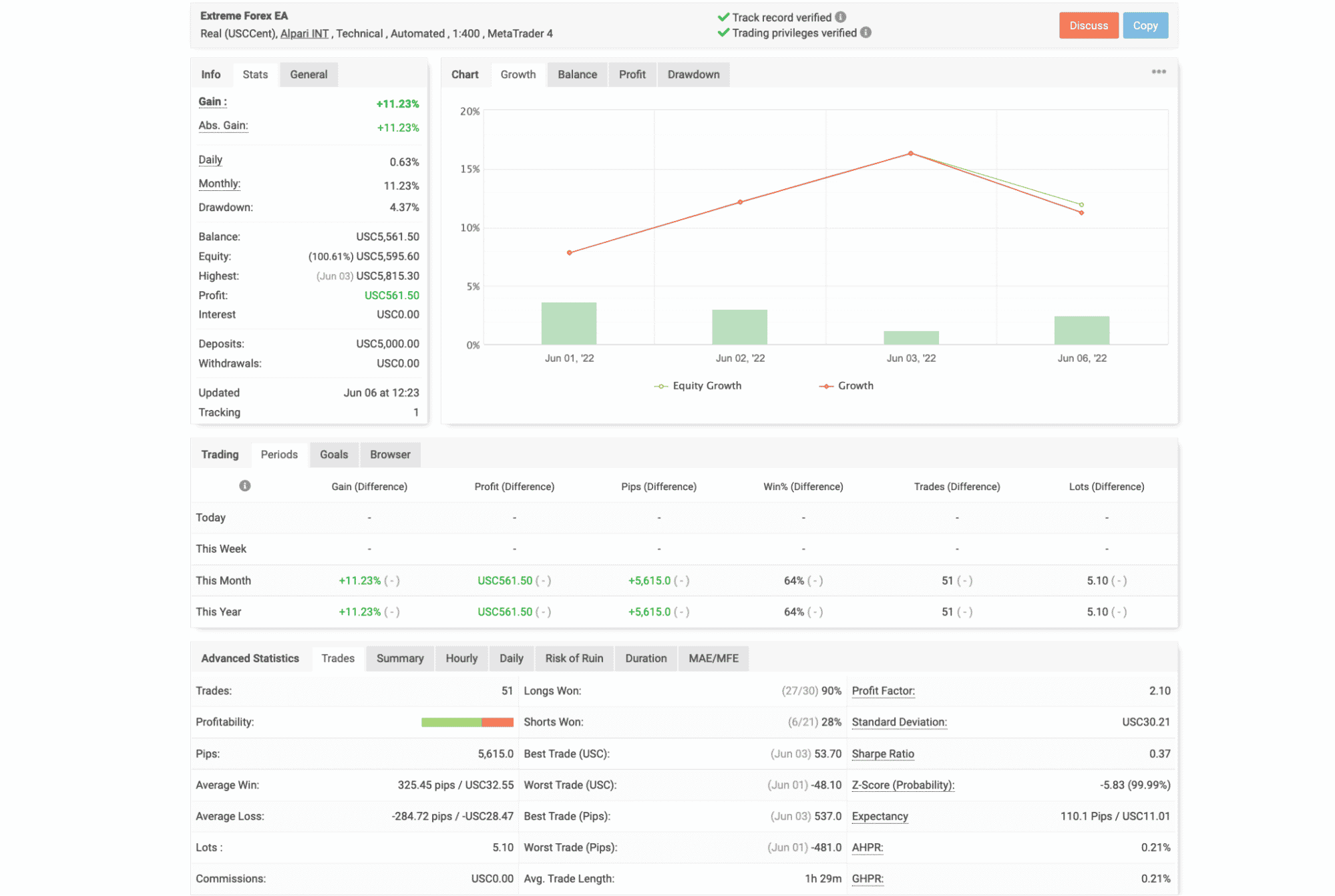 The only live trading results available for this robot come from Myfxbook. Here, the average win and loss amounts are $32.55 and $28.47, respectively, which doesn't indicate a negative risk-to-reward ratio.
We can also validate this by looking at the profit factor of 2.1, considered excellent by experts. The drawdown for this period was 4.3%, while the monthly gain was 11.3%.
Overall, while these results are positive, the main criticism is that they are over six days. This period is certainly not long enough to accurately assess any trading system's true long-term performance.
Pricing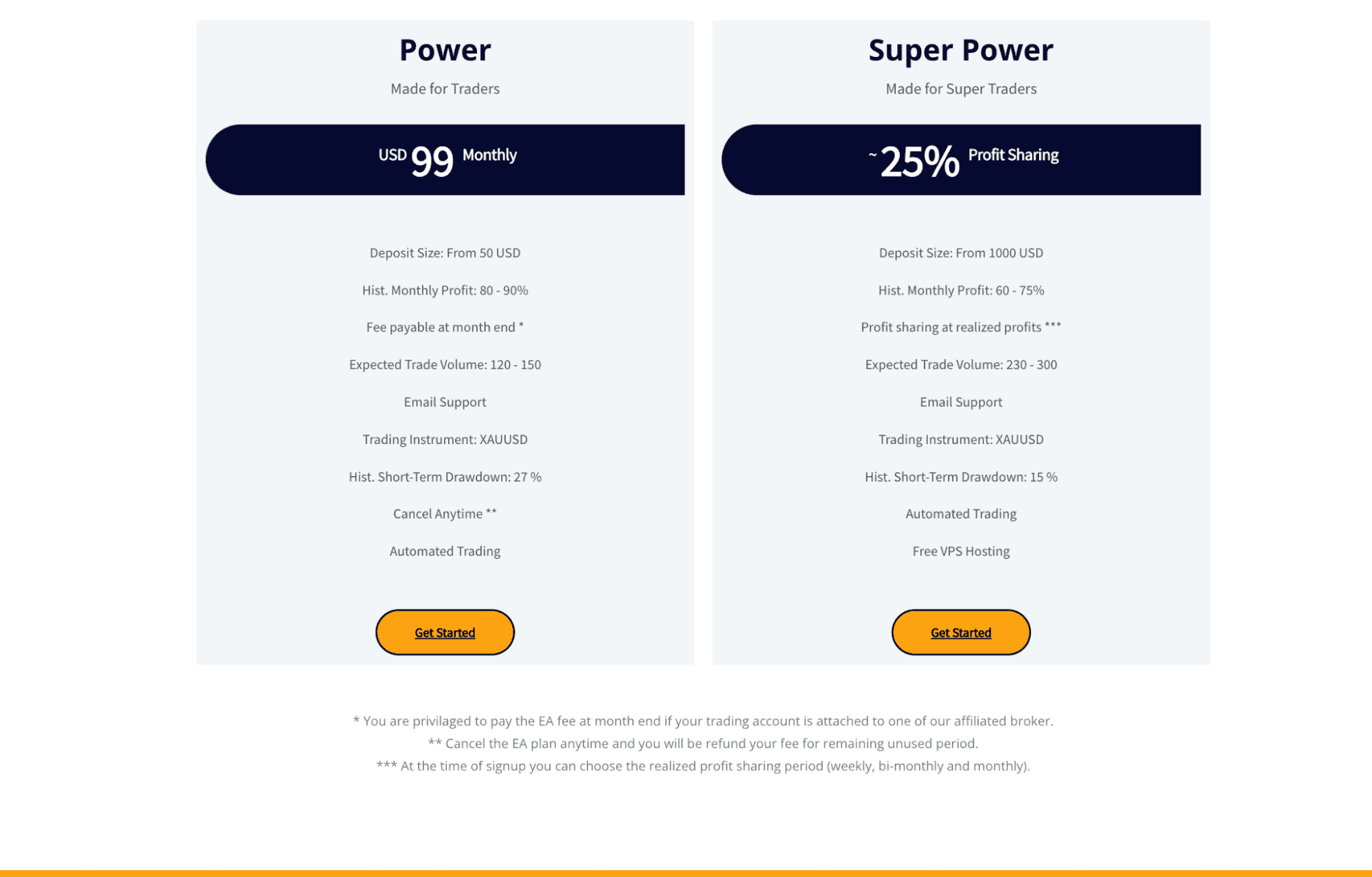 Extreme Forex comes in two packages: the 'Power' and 'Super Power.' Power costs $99 monthly (30% discount if paid yearly), a price higher than the market average.
The business model of most robots relies on a one-time purchase fee rather than a fixed subscription. Therefore, Extreme Forex is much more expensive, yet its limited services don't warrant this cost.
Super Power is not a payment-based package but a profit-sharing model. Unfortunately, the sellers don't expand on this concept on their website (especially on the higher deposit requirement of $1000).
On the Power plan, the website mentions a 14-day moneyback guarantee.
Is Extreme Forex a good system to rely on?
We don't believe this robot is reliable for several reasons. Firstly, we couldn't find user reviews on familiar platforms like Forex Peace Army, Myfxbook and TrustPilot. This tells us that Extreme Robot is relatively new and has no customer feedback yet.
While the website shows testimonials, it's challenging to make reasonable assumptions from these alone (not to mention that these might be fake).
The second factor is that the track record is not long enough to determine this robot's sustainability.
Thirdly, we found some inconsistencies with Extreme Forex's marketing. For example, the site mentions stop loss and take profit levels, while the report didn't include either.
Customer support
You can only receive customer support via an email contact form should you not find help in the website's FAQ section.