Red Hawk is a Forex EA launched on 12th October 2020 by Profalgo Limited. Trading in 9 different currency pairs, this system is capable of trading in a stable manner while keeping the drawdown to a minimum. As per the vendor, this EA uses a safe trading technique that maximizes the profits and minimizes the risk.
Red Hawk has been developed by Wim Schrynemakers, a trader based in Malta who works for Profalgo Limited. We don't know whether this person is a licensed trader and whether they have other people working under them. Apart from Red Hawk, this developer has also built systems like Grid King, gecko, Advanced Scalper, Night Owl, Momentum EA, Swing Trade Pro, AutoGenEA, etc.
Red Hawk Strategies and Tests
Red Hawk works on the Metatrader 4 and 5 trading platforms. It trades in nine pairs, namely USD/CAD, EUR/AUD, AUD/JPY, AUD/CAD, EUR/GBP, EUR/CHF, USD/CHF, GBP/USD, and EUR/USD. The recommended timeframe for trading with this EA is M5.
This Forex robot uses a strategy that requires swift execution and low spread. For this purpose, you are advised to use a decent ECN broker. For every trade placed by this robot, take profits and stop losses are used. It applies several trailing stop loss techniques in order to generate the most profits while keeping the risk low.
Risky trading strategies like Martingale or Grid can exhaust your account in no time, and as such, these are avoided by this robot. Red Hawk is capable of running in 100% automatic mode, so you don't need to manually intervene every now and then. Since it contains several in-built filters, it does not trade when the market conditions are not suitable. These include hectic markets and those where the spreads are large.
As per vendor recommendation, you should not use this EA on days where important international events are scheduled to take place. Setting up this EA is quite simple, and you simply need to use it with a chart for the M5 timeframe. You also need to select the level of risk with which you would like to trade.
Running this EA does not require any set files, since they are present in the internal settings of the robot for each pair. You have the option of changing the GMT setting, in case your broker uses a different one. The default trading lot size is 0.01, but by tweaking the StartLots parameter. Automatic lot size can be set according to risk per trade or balance.
On the MQL5 page for Red Hawk, the vendor has not provided us with any insight into the trading strategy used by this EA. We don't know how it spots profitable trading occasions or how it gauges the strength of a trend. The lack of information regarding the trading strategy may deter some of the more experienced Forex traders.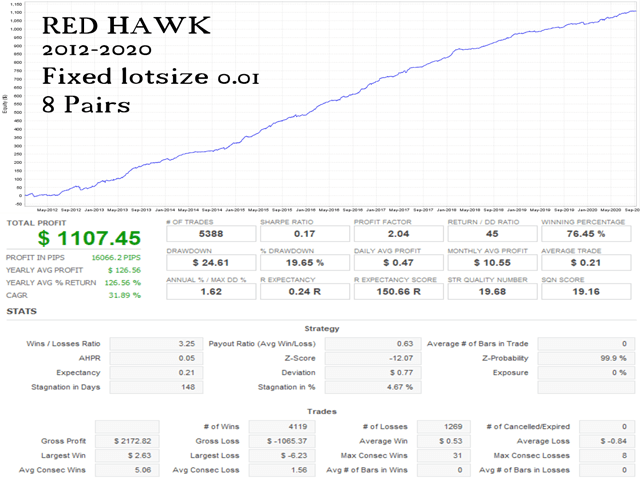 This backtest was conducted for eight different pairs and its testing period ranged from 2012 to 2020. After completing 5388 trades, it managed to generate a total profit of $1107.45. We can see that the drawdown is 19.65% and the profit factor of 2.04. The robot won 76.45% of all the trades it placed while maintaining a monthly average profit of $10.55.
Red Hawk Live Trading Account Review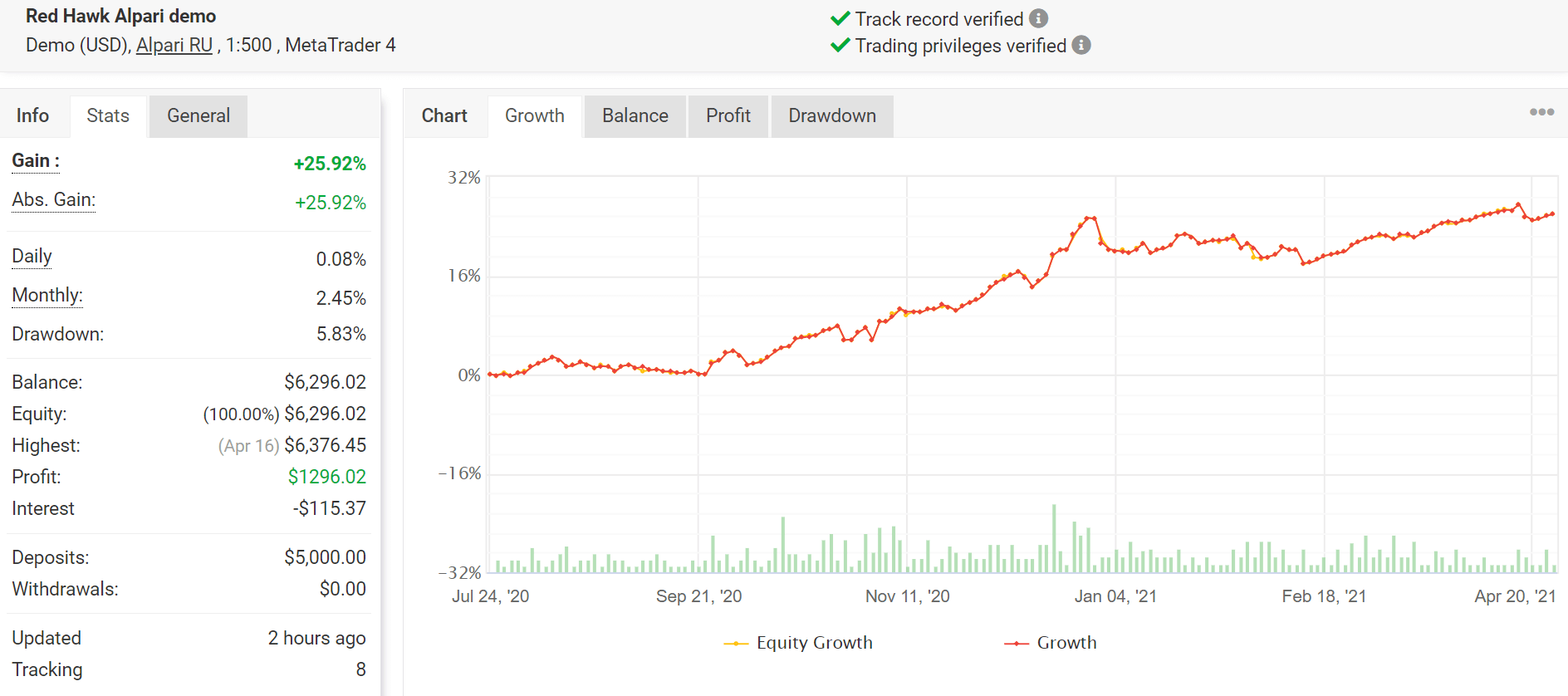 This trading account for Red Hawk has been active since 24th July 2020. To date, it has completed 390 trades and won 279 out of them, representing a win rate of 72%. Currently, the daily and monthly gains for this account are 0.08% and 2.45% respectively. This is nothing exceptional, and there are several Forex robots on the market that provide monthly profits of 5-10% or more.
The profit factor for this account is 1.45, which is semi-decent.
Pricing
Red Hawk can be purchased for $349, and we think this is an exorbitant price to pay for a newly launched robot. There are three rent options available, so you can rent the system for 1 month, 3 months, and a year for $110, $199, and $249 respectively. A free demo version of the EA is available, but there is no refund policy.
Is Red Hawk Robot a Scam?
Red Hawk is a robot that is heavily overpriced. It makes little sense to invest so much in a new Forex robot that has a short track record. Besides, we don't have too much information available on the trading strategy or the vendor. As such, it is quite possible that this is a scam.

While there are a few customer reviews on the MQL5 page, these cannot be considered genuine, since the vendor could have paid these users to write positive reviews.
Other Notes
The vendor recommends using the Alpari and ICMarkets brokers for this robot. For VPS, the 4xhosting website has been recommended.