FXLeaders is a company that provides signals for everyone and premium signals for those who can pay for them. They have a discussable reputation, according to feedback published on Trustpilot.
We may see signals that are published on the site. People with a premium subscription are allowed to know Entry Price, Stop Loss, and Take Profit levels.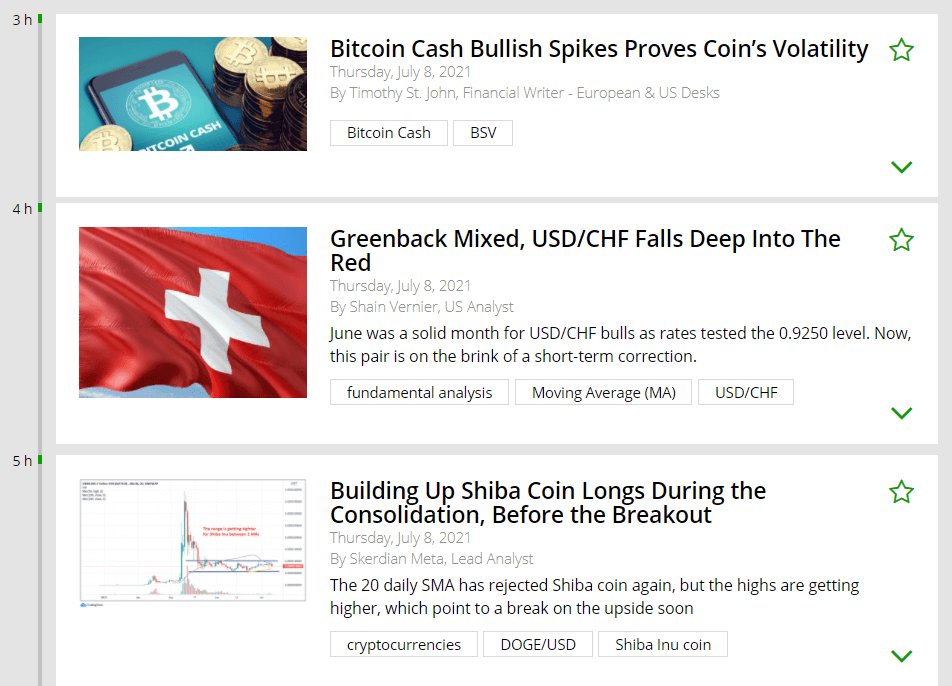 The news feed provides us with the required information. There are some free trading ideas provided.
FXLeaders Strategies and Tests
The presentation is flooded by wordy text that is not informative enough:
The signals are provided by real traders.
The developers mentioned that we could work with all pairs.
We have some free signals that are available for everyone.
We can start our trading journey on a demo account.
The orders have to be filled ASAP on the terminal.
There's a possibility to use copy trading software.
The signals have the same format: Symbol, Reason/Trigger, Current Status, Direction, Entry Price, Take Profit, and Stop Loss.
The developers use a huge number of indicators: "technical indicators which are followed very closely by our experts alongside with a fundamental analysis of the market and trend. 'Support and Resistance Levels', 'Fibonacci Levels', 'Bollinger Bands', 'Breakouts', 'Moving Averages', 'Oscillators' (trend determiners), and 'Stochastic Lines' (overbought/oversold indicators) are the technical indicators."
The presentation mentions these trading strategies: Trend, Price Action, Support and Resistance, and BreakOut.
There's another intro that signals can be generated only (?) for GBP/USD, USD/CHF, USD/JPY, and EUR/USD.
We are allowed to close trades manually.
The analysts work based on Technical and Fundamental news.
The premium users may enjoy Swing signals as well.
The signals Take Profit levels are from 80 and 250 pips.
Swing signals require much margin to be traded.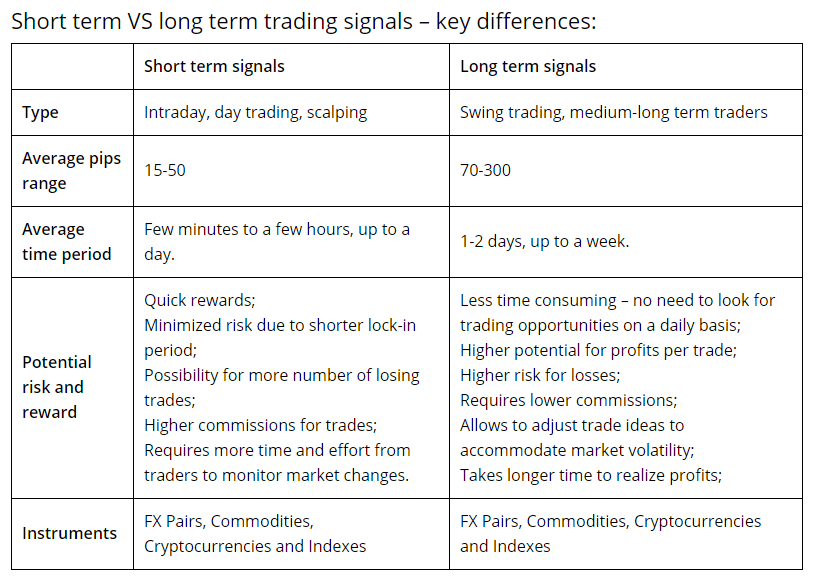 The presentation includes much info, but this sheet is quite viable to understand the difference between Short and Long term signals.
FXLeaders Live Trading Account Review
The presentation doesn't include any sign of backtest reports. So, we cannot be sure that these strategies were tested well by traders and analysts. Of course, it's only correct if they exist and there's no robot trading.
The same case we've got when we talk about trading results. We have some spreadsheets with random numbers. There's no proof that these numbers are in any way connected to reality where we and our real account with hard-earned money are. If everything is that great where we can see an account opt accounts from which we can copy trade (mentioned by devs) these orders on our terminal. We cannot trust blindly because these numbers don't include spreads, risks, execution speed, commissions, and swaps. All of this influences much on the final profitability.
Pricing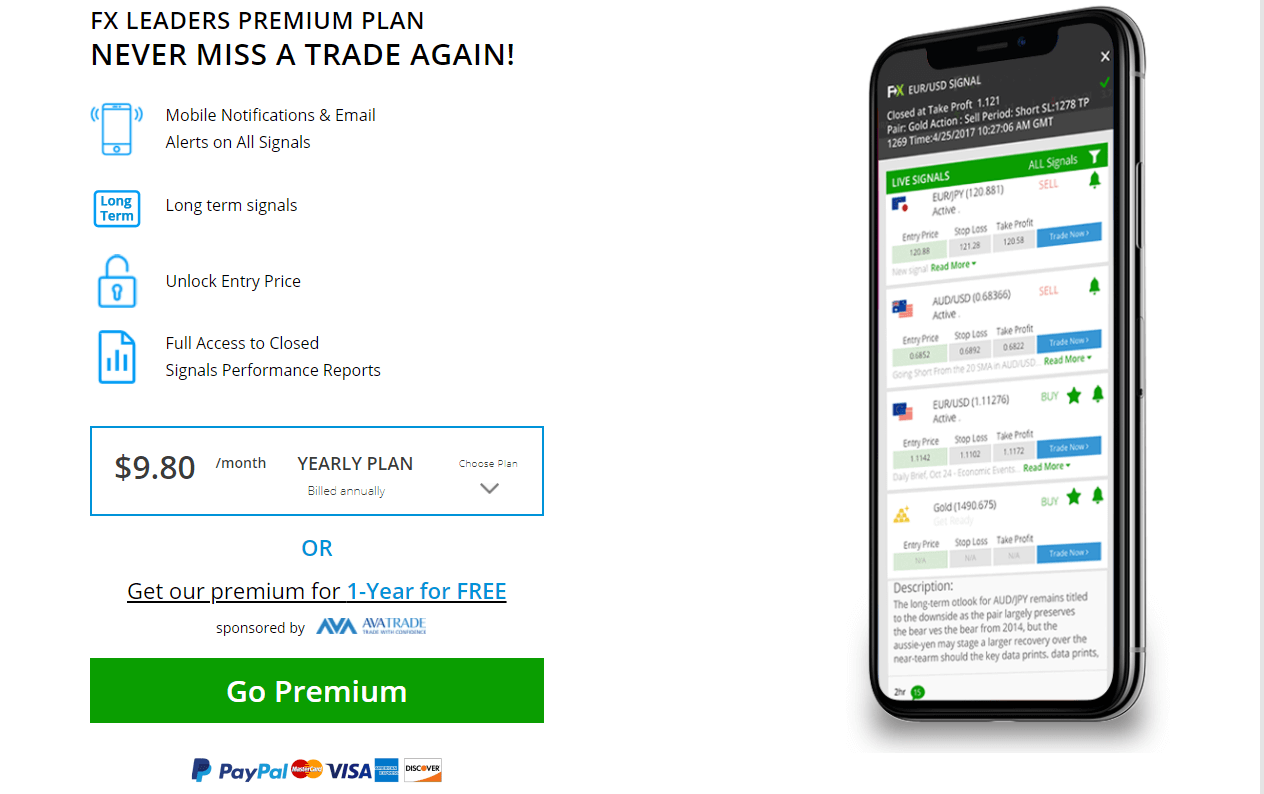 The service is subscription-based. The price starts from $9.80 a month, but we have to pay annually. It sounds like a scam. The package is featured by mobile and email notifications, Entry Price, Take Profit, and Stop Loss levels, and full access to closed signals performance reports. It's weird not to provide these reports for everyone right now.

We may obtain these signals for free. For this, we have to register an account on AvaTrade and deposit it at $250. It seems that this service belongs to AvaTrade. After approval, we are good to use the service.
Is FXLeaders a Scam?
There are high chances that these signals aren't accurate. We haven't seen these signals well traded. So, we can't be sure that they are viable, accurate, and low-drawdown.
People Feedback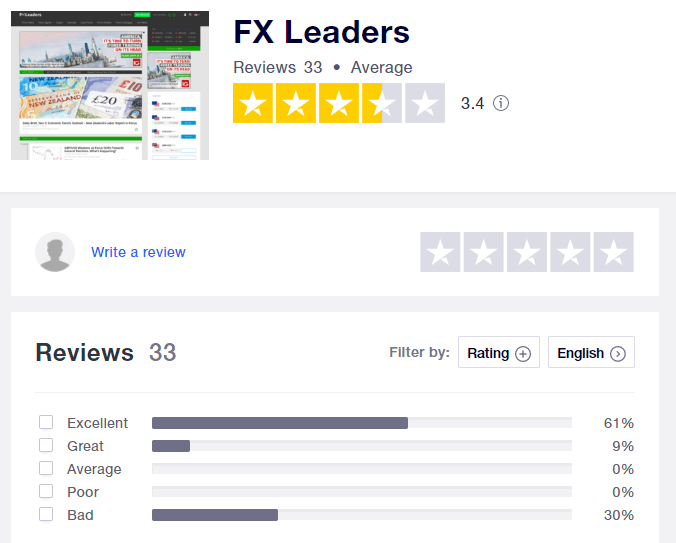 FXLeaders has registered on Trustpilot. We have had 33 testimonials published since the beginning. 30% of the people have given a one-star rate to this service.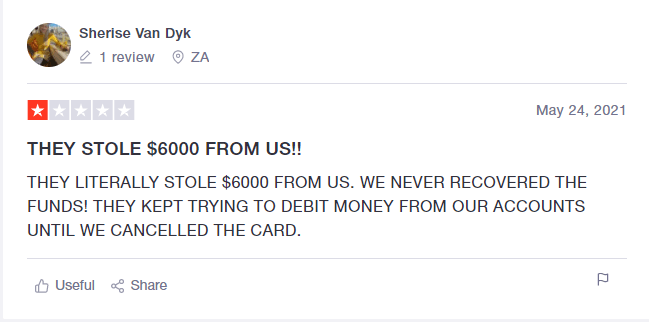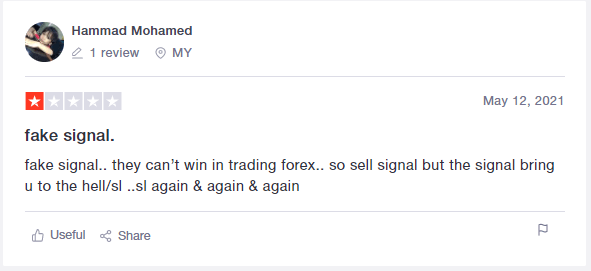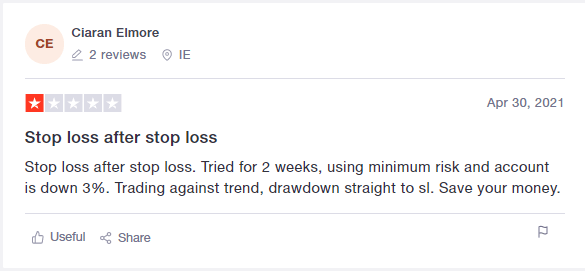 Most of the clients weren't satisfied because the service is profitable only on the pictures, but not in reality.