Promax Gold EA is a gold trading robot launched by the Sinry Advice team. This EA is capable of analyzing both fundamental and technical news with the help of a smart news filter. As per vendor claims, it can generate a monthly profit of 20 to 48%.
Sinry Advice Worldwide is a company based in Selangor, Malaysia. The team consists of developers and traders who build custom trading indicators and expert advisors for Metatrader 4. Their other robots include Swing VIP, MG Pro EA, Trend Reversal EA, Red Fox EA, etc. We don't have any information related to the team members so we don't know whether they have the required experience for building such systems.
Promax Gold EA Strategies and Tests 
Promax Gold EA is a 100% automatic system that allows for hands-free trading. It has automatic money management settings so the size of the trading lot is automatically set by the robot. According to the vendor, the default settings are the best for winning profits. You only need to pay for it once and all future updates are provided for free.
You can use this EA for trading in the XAU/USD air on the MT4 platform. The EA has in-built settings that allow for the analysis of fundamental news. After collecting all the necessary information, the robot starts placing trades. 
The vendor claims that Promax Gold EA is designed to trade with an accuracy of 88%. A smart grid is used to close the trades in case there is a drawdown. It takes around 5 minutes to install this EA on the MT4 platform. The vendor recommends starting with a balance of $1000 or more. 
It is recommended that you don't close the trades manually because it will interfere with the money management system. Also, you should run any other robots or indicators on the same account. This robot must be kept running for 24 hours and as such, it is better to use a VPS. As per vendor recommendation, you should use Promax Gold EA on an ECN account with a leverage of 1:500.
On the official website, the vendor has not clearly explained the trading strategy. The lack of strategy insight is a major red flag because the robot might be following a risky strategy that can lead to huge losses. It is always important to study the trading strategy because it lets us determine, to some extent, the profitability of the EA.
Backtesting results are missing for Promax Gold EA. There is no mention of the EA being tested using historical data, which makes us wary about investing in it. Backtests are considered vital by most Forex traders because they are conducted over a long time period, thus revealing the adaptability and durability of the robot.
Promax Gold EA Live Trading Account Review
Here we have the live trading results for a Promax Gold EA account on Myfxbook. It has been active since April 25 and to date, only 200 trades have been placed through it. The win rate for this account is 82%, but the drawdown is incredibly high at 53.02%. What we can gather from this is that the robot follows a risky trading approach. Furthermore, its trading history is much too short for us to form an objective opinion about its profitability.
Pricing
Promax Gold EA is sold for the price of $198, which is pretty close to the market average. The vendor offers a 14-day money-back guarantee for this robot.  
Is Promax Gold EA Robot a Scam?
On the official website, the vendor claims that the robot can generate 20-48% profit on a monthly basis. But the monthly profit for the live trading account is only 16.05%, which means the seller is making unrealistic promises. As such, it is possible that this Forex EA is a scam.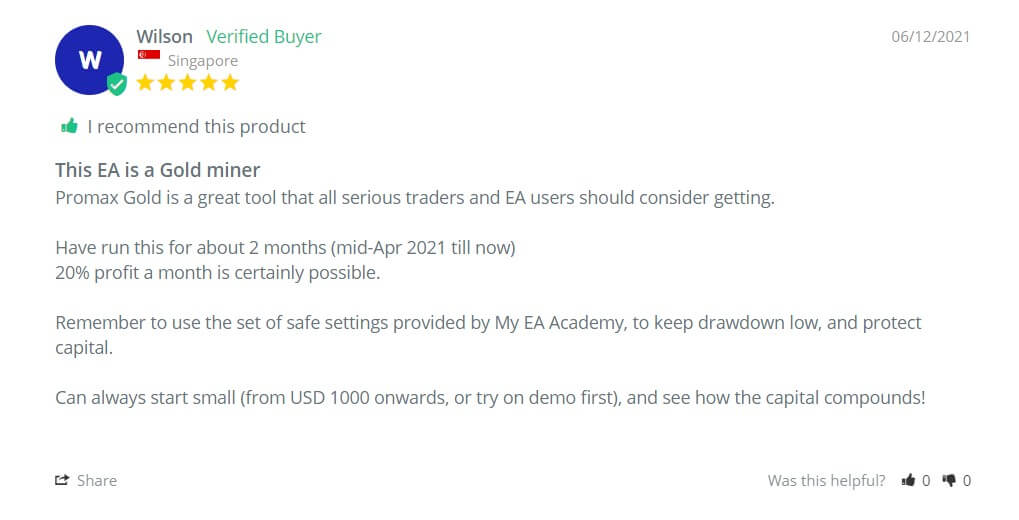 On the official website, we have numerous reviews from satisfied customers. These cannot be considered authentic, however, and we don't have any verified user reviews on third-party review websites. 
Other Notes
The vendor recommends using the robot with a broker that has low fees and a fast server. There is a Telegram channel for this EA where you can get the daily results and updates.
Summary
Features: 3/10

Strategy: 2/10

Price: 4/10

Performance: 3/10

Feedback: 2/10