FXHUNTER is a Forex robot that uses the grid trading system, following a simple buy cheap, sell high policy. It provides traders with access to a PAMM account supported by 8 years' worth of backtesting data.
At this moment, we don't know anything about the company selling this Forex EA. The vendor has not provided any information about the company on the official website. So, we don't know where it is located or whether the people working at this organization have the required experience and technical knowledge. It is unknown whether this team has built other robots in the past.
FXHUNTER Strategies and Tests 
This robot has in-built indicators that allow it to open trading positions. It opens a grid of orders of different sizes in the same direction. In case the market conditions turn unfavorable, the EA places new orders in the basket. It uses the same take profit level for all the orders, and when a new order is placed, this level changes.
Once you reach the take profit level, the EA closes all orders at the same time. It is evident that FXHUNTER uses a combination of grid and martingale strategies. Now, such a strategy can be extremely risky, which is why many traders choose to avoid it. Many EA vendors explicitly mention on their websites that their EAs do not use this dangerous strategy, because it has a bad reputation.
Normally, the robot trades in a single direction, but occasionally it conducts trade in both directions if the situation demands it. However, you cannot use this feature if your broker does not allow hedging. Prior to opening an order, the robot checks your remaining account balance. It cancels the opening of the order in case you are low on funds.
In the EA settings, there is a variable called MaxMarginUsagePct that you can modify to specify the maximum drawdown percentage. When you do this, the robot cannot open new orders above the limit. You can use this EA to trade in pairs like AUD/NZD, NZD/CAD, AUD/CAD, EUR/SGD, EUR/GBP, and GBP/CAD.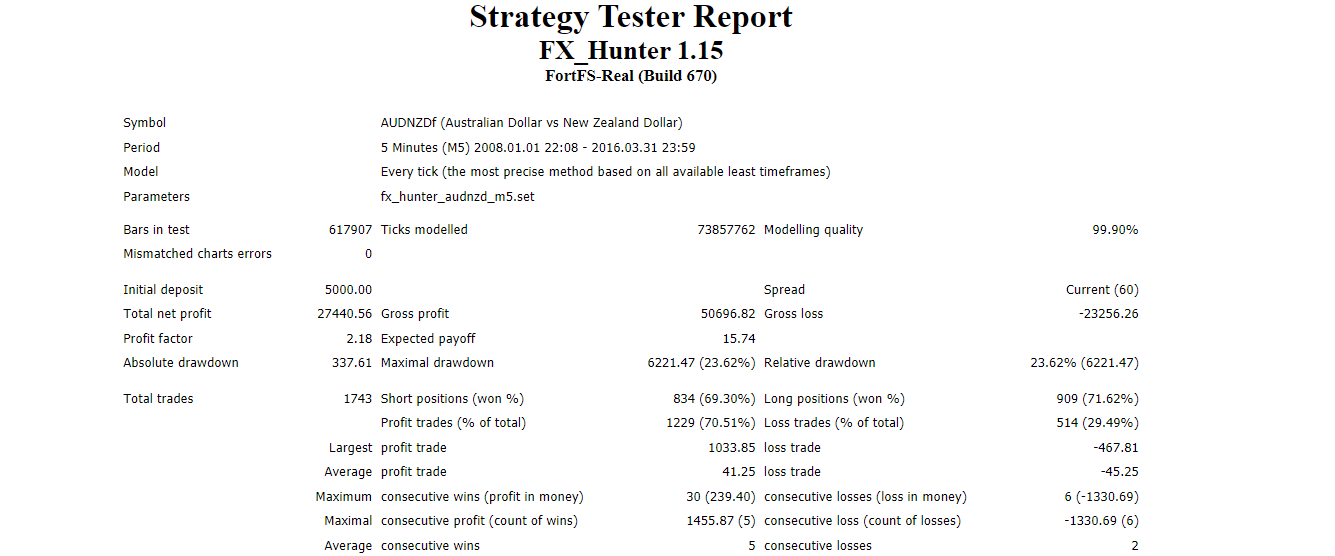 Here we have the results for a backtest conducted from January 2008 to March 2016 with 99.90% modeling quality. The EA placed a total of 17433 trades during this test, winning 1229 out of them with a win rate of 70.51%. As a result, it generated a net profit of $27440.56.
We can see that the relative drawdown for this backtest was 23.62%, which is a bit high. This indicates a risky trading strategy that can cause heavy losses. During this backtest, this EA had 30 maximum consecutive wins and 6 maximum consecutive losses.
FXHUNTER Live Trading Account Review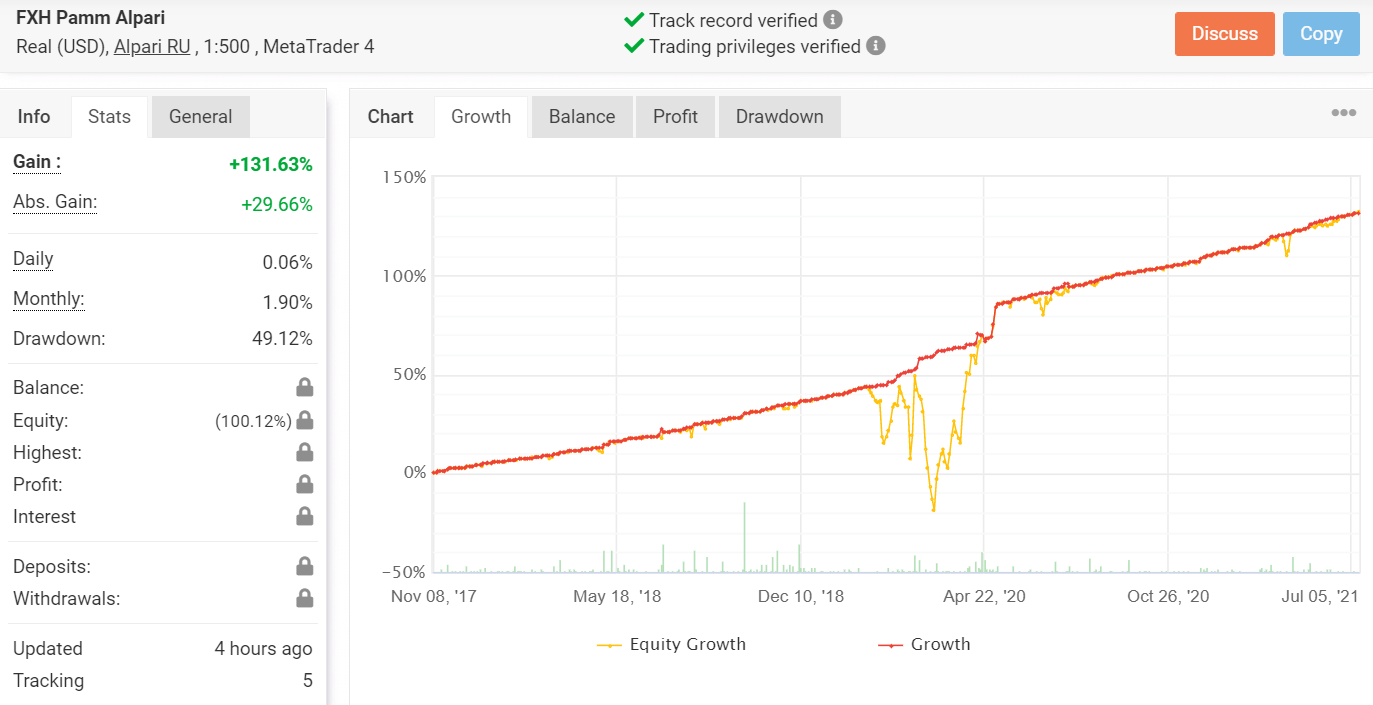 This is a live trading account for FXHUNTER that has been active since November 08, 2017. The EA has placed a total of 1289 trades through this account, maintaining a win rate of 72%, which is slightly higher compared to the backtest. The vendor has chosen not to reveal some of the important parameters like balance, equity, profit, interests, deposits, and withdrawals.
The daily and monthly profits for this account are 0.06% and 1.90%, respectively. Here, the drawdown is extremely high at 49.12%, more than twice what we saw in the backtesting results. We cannot check the recent trading history since the vendor has set it to private.
Pricing
There are three subscription plans for FXHUNTER. The 1-month, 3-months, and 6-months plans are priced at $29, $69, and $121, respectively. You can also purchase the EA for a one-time price of $500. The vendor offers a 30-day money-back guarantee only for the full license.
Is FXHUNTER Robot a Scam?
FXHUNTER is a robot that uses a dangerous martingale-grid combo strategy that can lead to high losses. It makes no sense to pay as much as $500 for a robot like this.

There is only one user review for FXHUNTER on the Forex Peace Army website. Here, the customer has claimed that the company did not activate their account even after they paid the subscription fee.
Other Notes 
The vendor recommends using a broker that offers high leverage of 1:300 or more. According to them, you should use brokers like IC Markets, Roboforex, Armada Markets, and Alpari.