Forex Trend Detector is a Forex robot from the FXAutomater team that promises stable and persistent outcomes. As per vendor claims, this is the only Forex EA on the market that is trusted by money managers and professional traders.  However, before we can determine whether this system can minimize risks while executing trades efficiently, a thorough analysis of the various system aspects is necessary.
The FXAutomater team has been manufacturing Forex robots since 2009. Based in Seychelles, this company employs developers having more than 15 years of experience. Apart from this robot, they have developed other systems like Forex Diamond EA, Forex Gold Investor, Wallstreet 2.0 Evolution, etc.
Forex Trend Detector Strategies and Tests
This Forex robot has an advanced drawdown compensating algorithm that protects user accounts by keeping the drawdown to a bare minimum. When used in combination with the volatility breakout strategy, it can be a potent trading medium.
This strategy involves following the market impulse and the vendor claims that it leads to consistency. It has been mentioned that the robot is able to adapt to the latest market conditions. For this, the system parameters are adjusted in real-time by the polynomial algorithm. The EA mainly trades in the GBP/USD and EUR/USD currency pairs.
The EA first tries to find out when the unpredictable session in a market is going to be concluded. After this, it identifies the volatility borders encircling the principal trend. The main focus is on scenarios where they take place near vital market levels. As the volatility breakout takes place, the robot executes the trades on the basis of forecaster price levels.
Among the top features of this robot are the tight stop-loss levels, accurate market entries, high risk to reward ratio, etc. The system is not dependent on spread and slippage and provides you with a visual indication of the risk level. According to the vendor, long-term profits are 100% guaranteed with Forex Trend Detector.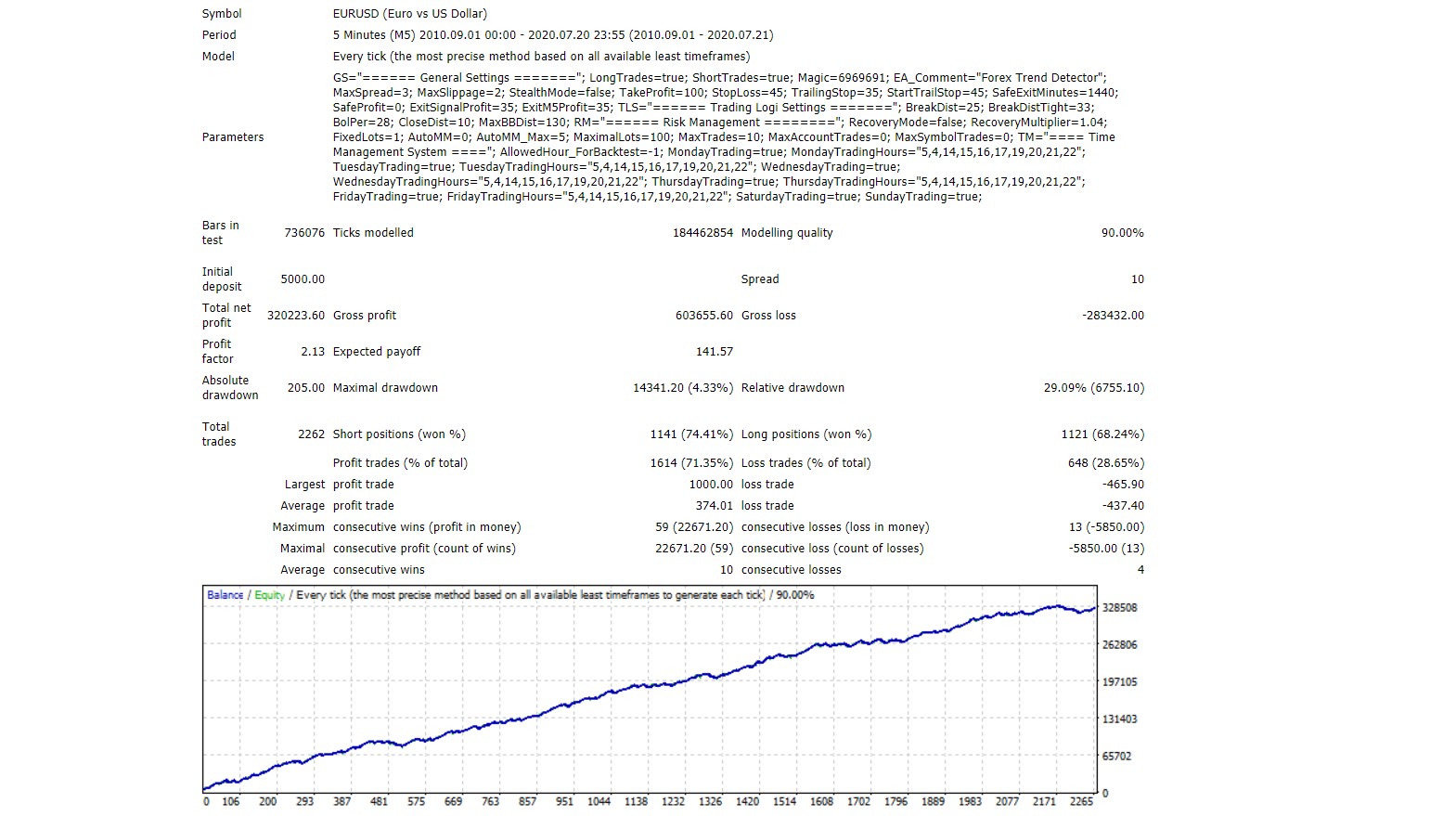 This backtest was performed on the EUR/USD pair from September 2010 to July 2020. During this time period, a total net profit of $320223.60 was generated from an initial deposit of $5000. A total of 2262 trades were placed by the robot, out of which 1614 trades were won, and this represents profitability of 71.35%.
For this backtest, Forex Trend Detector had 59 maximum consecutive wins and 13 maximum consecutive losses. One thing that concerns us deeply about this backtesting result is the high drawdown of 29.09%.
Forex Trend Detector Live Trading Account Review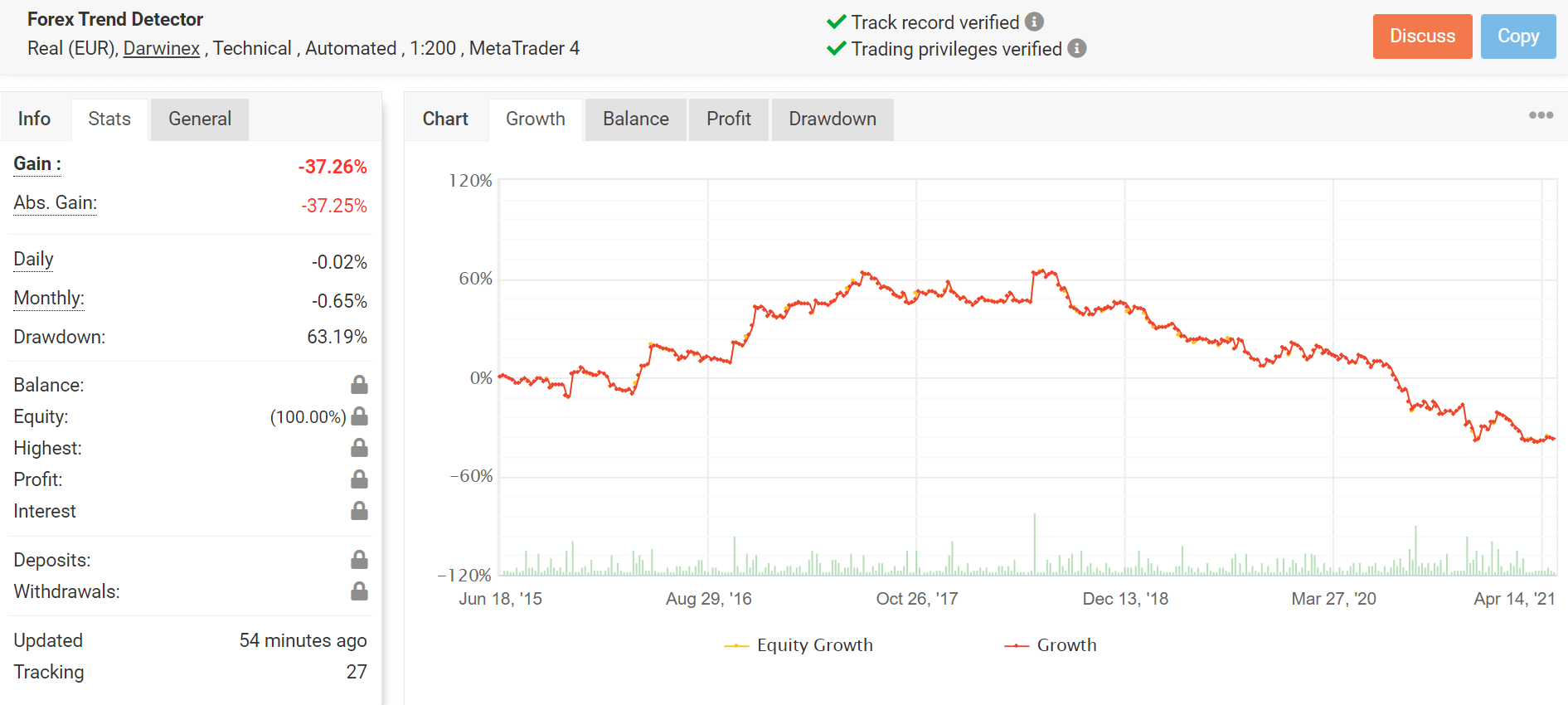 This is a live trading account for Forex Trend Detector that has been verified by the Myfxbook website. It has been active since 18th July 2015, and to date, 1149 trades have been placed through it. The robot has managed to win 45% of these trades, generating a time-weighted return of -37.26%.
Evidently, this account has suffered some huge losses along the way. No wonder the vendor has chosen to hide the profit, equity, deposits, withdrawals, and interests. Currently, it has an incredibly high drawdown of 63.19% and a low profit factor of 0.91. No Forex trader would be interested in a robot that has a win rate of less than 50% and a drawdown above 60%.
Pricing
Forex Trend Detector is available for $237, and when you purchase it, you get access to 1 real and 2 demo accounts. A 60-day unconditional money-back guarantee is provided by the vendor. Compared to other Forex EAs on the market, the price is pretty standard.
Is Forex Trend Detector Robot a Scam?
On the official website, the vendor makes some tall claims about minimizing the drawdown, when in fact both the live trading results and the backtesting data display high drawdown. This makes us think that Forex Trend Detector is not a safe investment, and chances are, it is a total scam.

On the Forex Peace Army website, we found a couple of user reviews about Forex Trend Detector. One user has complained about the low success rate of the trades. It is clear that this robot does not have a good reputation in the market.
Other Notes
The Forex Trend Detector website has a private members area where users are kept up to date on the latest software developments. Here, you can get fast access to software updates and professional support. The support team can also be contacted via email or through the contact form.