Forex Steam is a Forex robot that claims to be the longest-running robot of its type with an active group of developers. It is based on more than 10 years of proven track record and the vendor claims that more than 10,000 active accounts are running this system. A 100% automated system, it is said to have clients spread across 100 nations.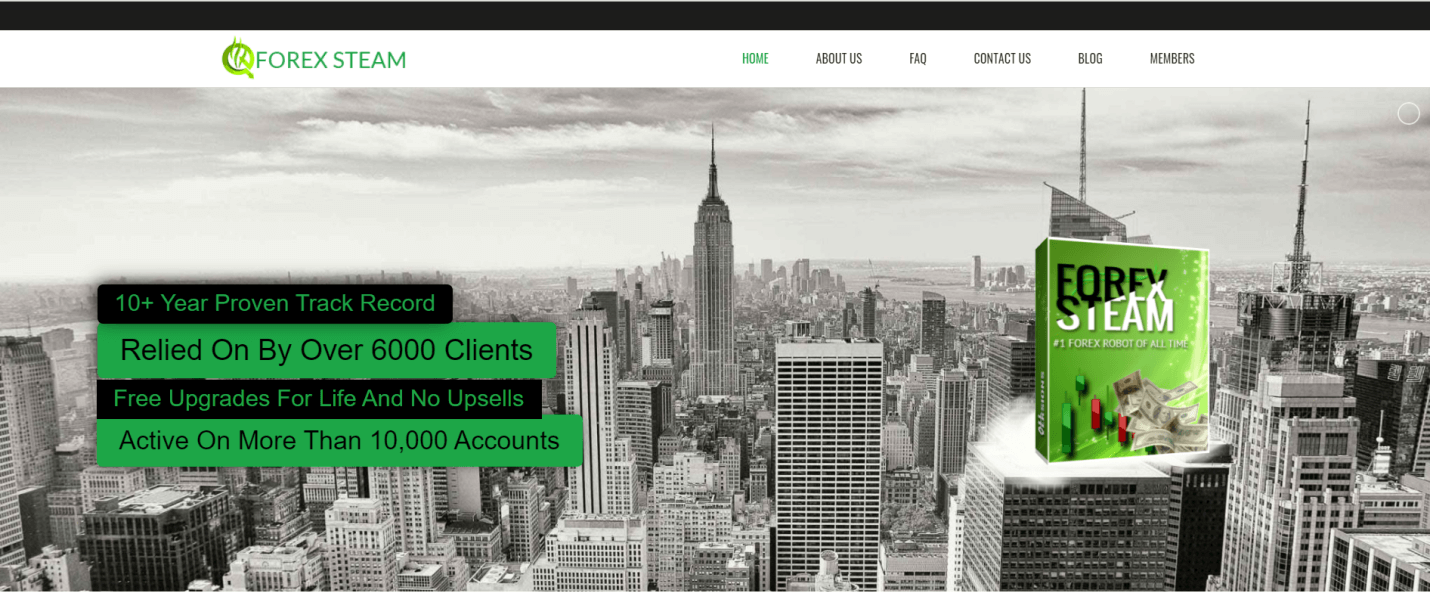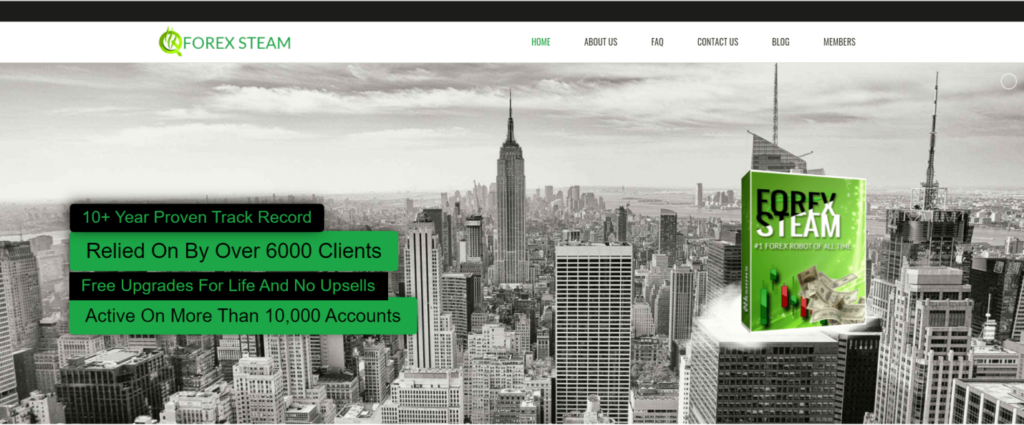 The Forex Steam team consists of Paul Demonde who has been the lead support member for more than six years, Dmitri Kozlov who is the coding team manager, an expert developer, Julie Zhang who looks after the marketing department, and Allan Brisebois who is a market analyst. It doesn't seem like this company has any other Forex EAs.
Forex Steam Strategies and Tests
Forex Steam claims to increase its profitability by 5-10% every year. Free updates are provided on a regular basis and the market is studied accurately by the development team for installing system improvements.
It has an advanced retrace technology that effectively limits the losses while ensuring wins. This technology works great in combination with a low-risk trading scheme, and both novice and expert traders can gain from it.
Forex Steam has a holiday filter owing to which it avoids trading on holidays when the prices in the market tend to move in an erratic fashion. Additionally, it has a spread filter that allows the system to trade only when all the conditions are favorable.
By being aware of the market condition at all times, the system minimizes losses. A trailing stop loss feature is used for securing bigger profits while the break-even feature sets a hard stop loss that remains fixed after a certain pip value is reached.
The robot trades from 0:00 to 06:00 GMT during the Asian trading session. The vendor claims that the strategy is useful for trading in multiple pairs. No further details about the strategy are revealed, however, which is a bit odd. We don't think this information is sufficient, and the vendor should have considered sharing further technical details about the trading strategy.
Forex Steam works on the MT4 platform, and you need to add it to the Expert Advisors list manually on the trading platform. The vendor states that the system is most suitable for trading in pairs like AUD/USD, EUR/USD, GBP/JPY, GBP/USD, USD/CAD, and USD/JPY. It is recommended that you use 3-4 pairs and split them for multiple accounts, if possible.
Backtesting data is not available for this Forex EA, which comes as a major disappointment. Most Forex traders look for backtesting results because it helps them assess how robust a system is and how well it can withstand long periods of market drawdown. Several key parameters about the system are also revealed in the backtests.
Forex Steam Track Record Review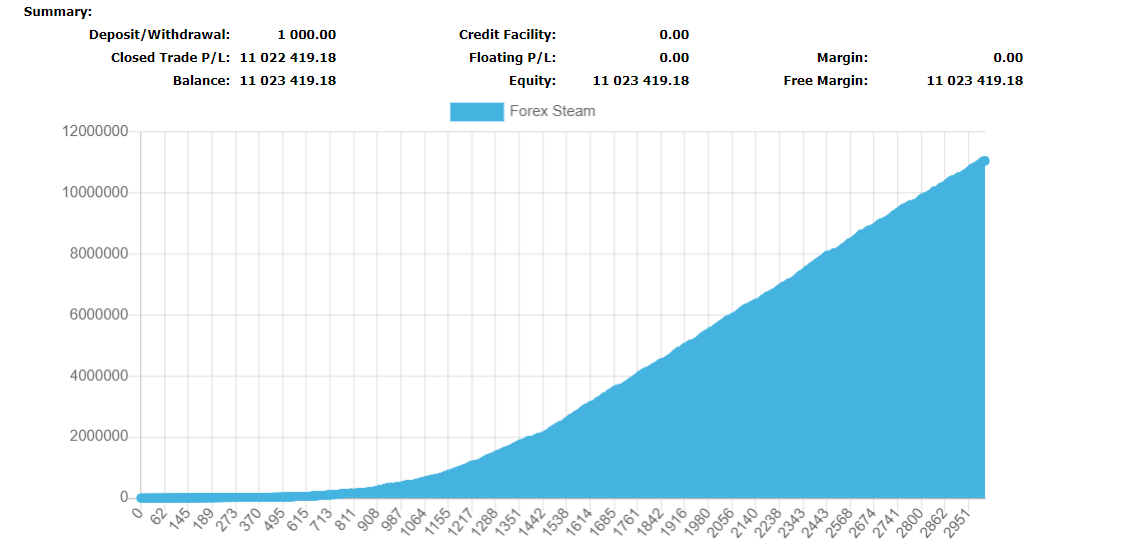 On the official website of Forex Steam, we have the trading results presented in tabular format, along with a graph showing the cumulative profit. We can see that a profit of $11022419.18 was made by the system from a deposit of $1000. While the result looks satisfactory, there is no way we can consider it authentic.
Most Forex traders look for live trading results that are verified by third-party websites like FXBlue or Myfxbook. The results shown on the website could easily have been tampered with, and the vendor might have shown us the favorable trades while intentionally concealing the losses.
Pricing
Forex Steam is available for a one-time payment of $117.99. This gives you instant access to all the different software versions of Forex Steam. You get 4 licenses and free installation with no upsells. Although the price isn't too expensive, the vendor doesn't provide any money-back guarantee for this product.
Is Forex Steam robot a Scam?
At first glance, Forex Steam does not look like a scam service provider making unrealistic promises to its customers. But, it has no verified track record of its trading results, which is a fact that concerns us deeply. While there is no sign of data manipulation and the pricing package is quite reasonable, we would like the vendor to share verified proof of its live market performance.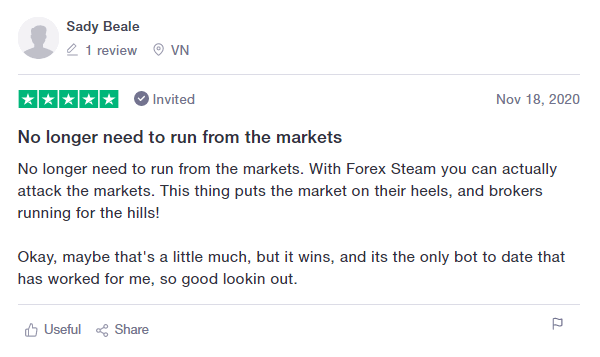 On the Trustpilot website, there are several user reviews for Forex Steam, with most of them being positive. One user has praised the fact that this robot can be used for aggressive trading, while also stating that this is the only Forex EA to date that has worked for them.
New Update
With the V10 update, Forex Steam is now compatible with both MT4 and MT5. The maxspread feature is another new introduction to the system. It is interesting to note that the news filter has been removed from the EA.