Forex Flex EA is a robot that works on new and innovative technology and has an automatic update system that allows it to stay abreast of the present market conditions. The latest version of the software has three verified strategies and now it works on the Metatrader 5 platform as well. It claims to be the best expert advisor for the MT4 platform from 2012 to 2021.
On the official website, there is no information provided on the developers, which is quite disappointing. Seasoned Forex traders always want to purchase robots from a reputed and trustworthy company, but we know nothing about the company behind Forex Flex EA. It is unknown whether they have built similar systems in the past.
Forex Flex EA Strategies and Tests
Forex Flex EA uses virtual trades technology where it opens virtual trades in the background. These are used for constant monitoring of the market, which allows the robot to find the most suitable entry point. After that, it starts placing trades and manages them automatically.
Since the Forex market is highly volatile, a system must keep updating itself regularly. Forex Flex EA undergoes regular updates and has built-in optimized settings that allow it to make the best trading decisions. Additionally, it is FIFO and NFA compatible.
As per the vendor, this robot is most suitable for trading in pairs like NZD/USD, EUR/GBP, EUR/CHF, EUR/JPY, AUD/USD, EUR/USD, USD/CHF, USD/CAD, USD/JPY, and GBP/USD. Since the set files are optimized beforehand, you don't need to spend much time making modifications.
Forex Flex EA also has a community forum where traders discuss ideas and offer assistance to each other. It is mentioned that customer support is provided by the person who developed the system, so they will know exactly where the problem lies. Owing to its money management features, this robot can adjust your lot size as per your account balance.
The news filter feature of this software lets you avoid news events that may have a profound impact on the price of currencies. It is mentioned by the vendor that the system is capable of utilizing 12 different trading strategies, but it is never once mentioned what these strategies are. We feel that vaguely mentioning the trading strategy is not enough and that the vendor should have provided us with some proper strategy explanation.
On the official website, the vendor has just provided us with the gain percentage, drawdown, and pips for two different backtests for the EUR/USD and GBP/USD pairs. This is an odd way to present the results, and there is no way we can verify whether this has been taken from an authentic source. Thus, when it comes to evaluating this robot's profitability, the backtesting data presented does not carry much weight.
Forex Flex EA Live Trading Account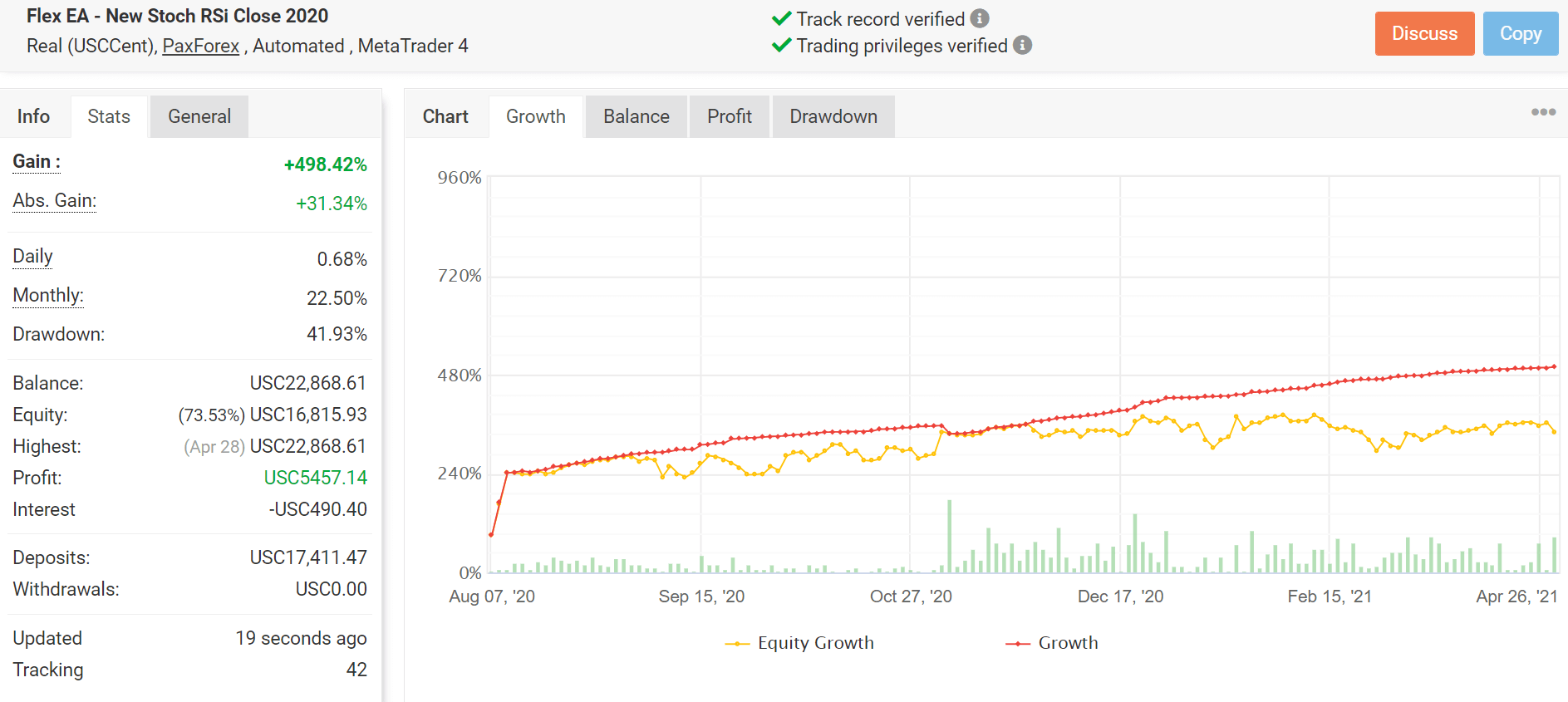 This live trading account for Forex Flex EA has been active since August 14, 2018, and has made a total of 828 trades during its long trading history. Winning 581 out of these trades, it has a high win rate of 70%. To date, it has accumulated a profit of USC 5457.14 and maintained daily and monthly profits of 0.68% and 22.50%, respectively. One thing that concerns us about this trading account is the high drawdown of 41.93%.
Pricing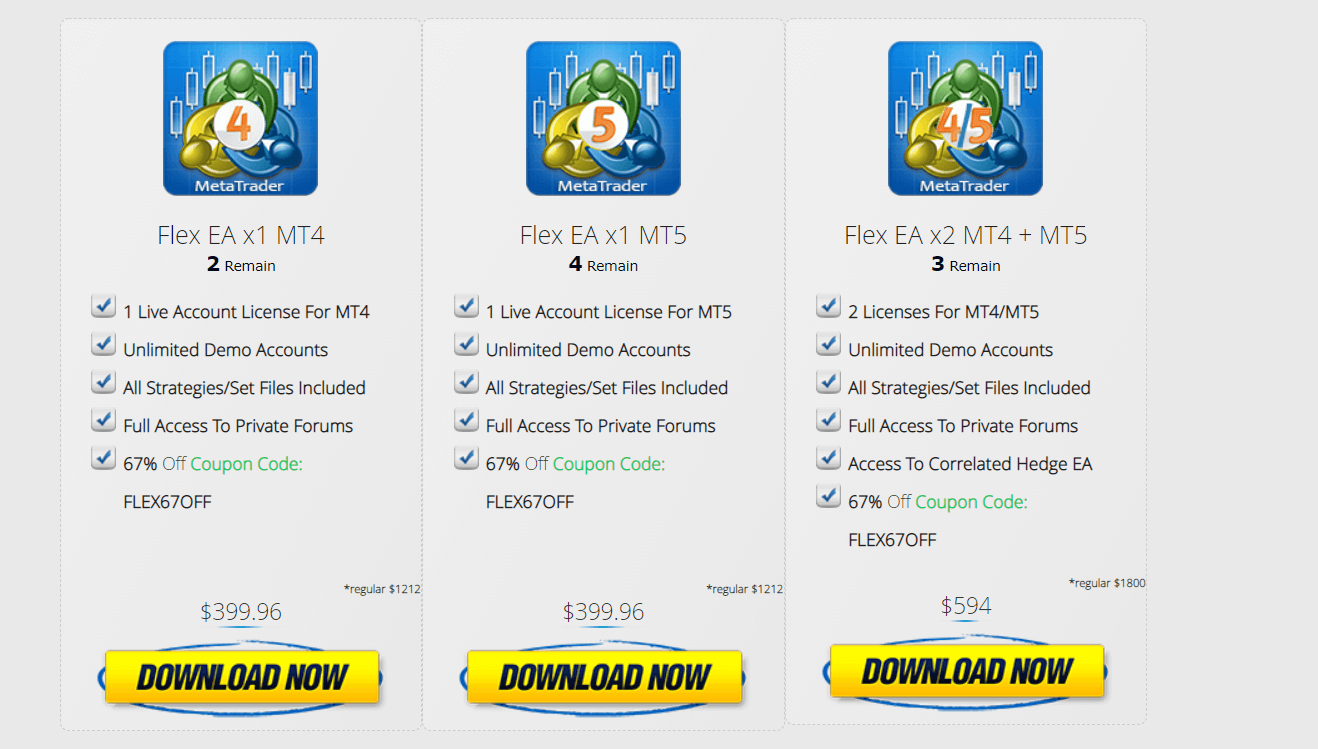 Forex Flex EA has three distinct pricing plans, one each for the MT4 and MT5 platforms, and another one that can be used on both platforms. While the first two plans are priced at $399.96, the third one costs $594. The vendor also provides a 30-day money-back guarantee.
Is Forex EA Robot a Scam?
There are certain issues with Forex Flex EA that cannot be overlooked. First of all, we know nothing about the vendor whatsoever, so there is no guarantee that it is a legitimate company. The backtesting data provided does not seem to be from a reliable source, and additionally, no explanation is provided for the strategy. As such, this may be a scam service that's trying to rob traders off of their hard-earned money.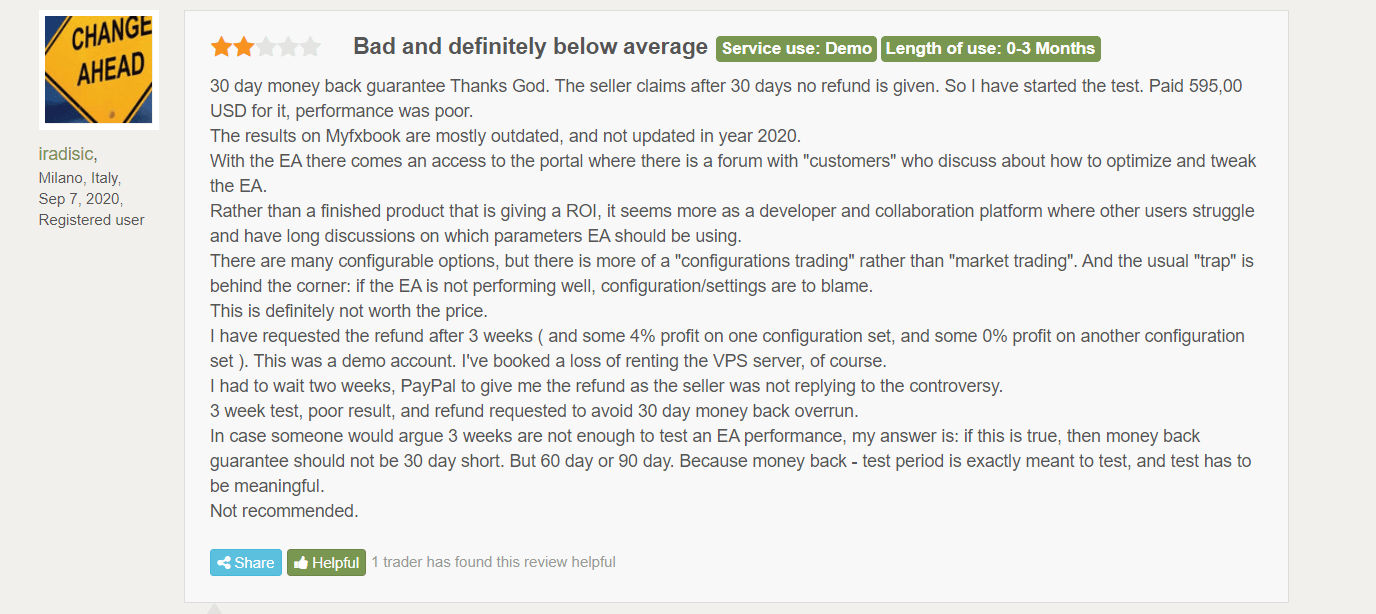 On Forex Peace Army, we found that the user complained about the system's bad performance. It is mentioned that there is a lot of confusion regarding the EA settings.
Other Notes
This Forex robot uses equity trailing TP, which means no physical pip-based TP is required for the trades. Rather, all trades are followed in a basket and when the size of the basket reaches a certain value, the TP is triggered and half the profit is locked in. Those who wish to trade manually can use this feature to control their take profits.