Blueshift is a Forex Expert Advisor that is specially designed for Intraday traders. As per vendor claims, this robot maintains an extremely high win rate for its trades while avoiding risky strategies that may lead to losses. Furthermore, it has been claimed that the system has shown excellent results in backtests performed with 99.90% accuracy.
This robot has been developed by an Italian trader called Marco Solito. Apart from Blueshift, he has created other systems like Dark Mimas, Dark Titan, Dark Oscillator, Dark Absolute, Dark Venus, Redshift, Dark Moon, etc. No further information is available on this person, and there is no way we can verify his credentials and work history.
Blueshift Strategies and Tests
The Blueshift Forex EA is a fully automated system based on Williams Percent Range (WPR) and Moving Average (MA) indicators. It has a dedicated trading channel on Telegram, where you can find resources related to the system, and conduct trading discussions. It mainly trades in the XAU/USD and XAG/USD pairs with increased accuracy.
The market orders are placed using a trend following and counter-trend approach, but it is not clear how exactly the robot spots the profitable opportunities. We feel like the information provided on the strategy is quite vague. Most Forex traders look for some kind of strategy insight before purchasing an EA, and they might be disappointed not to find the same.
As per vendor recommendation, you should use this robot for trading in the M15 timeframe. Although this is not a broker-sensitive robot, the vendor recommends using ECN brokers like Just2Trade and IC Markets. Moreover, the minimum starting deposit of $100 is suggested, along with a leverage of 1:10. Blueshift has different versions for the Metatrader 4 and 5 platforms.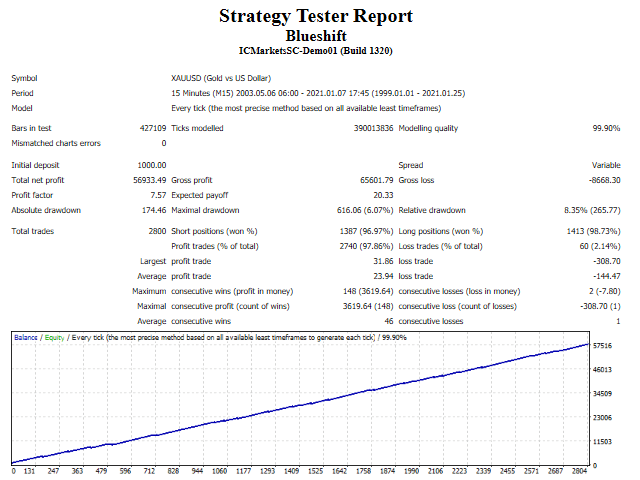 Here we have a backtesting result for the Blueshift Forex EA. It was conducted on the XAU/USD pair starting from May 2003 to January 2021 while using a 99.90% modeling quality. An initial deposit of $1000 was used for this test, and in the end, the total profit generated was $56933.49.
During the backtest, a total of 2800 trades were placed by this robot, and out of these 2740 were won. This represents an extremely high win rate of 97.86%. While the largest profitable trade was $31.86, the largest loss was $308.70, which is significantly higher. There were 148 maximum consecutive wins and 2 maximum consecutive losses.
Other things to note about this backtesting data are the high profit factor of 7.57 and the low relative drawdown of 8.35%. While the backtesting result does look promising, it is no guarantee of decent performance in the live market. Hence, we must analyze the live trading results before forming an opinion about the system's profitability.
Blueshift Live Trading Account Review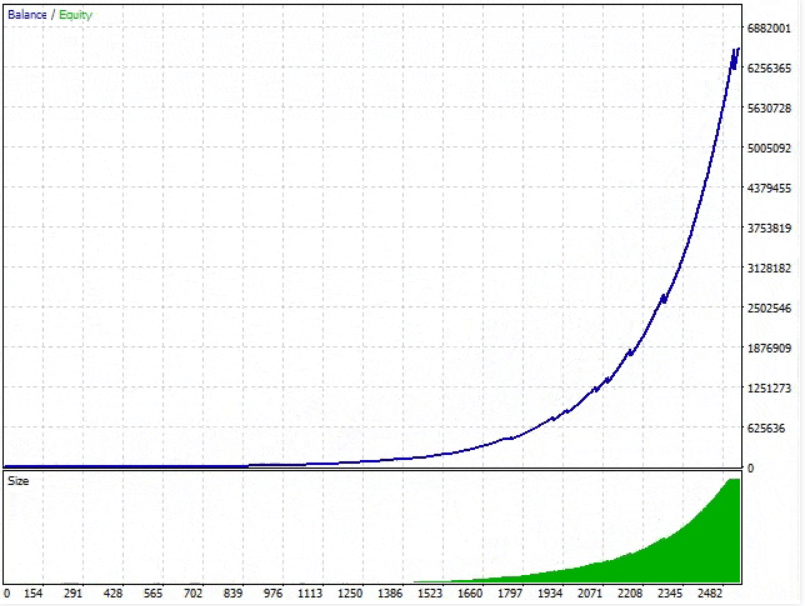 Unfortunately, there are no verified live trading results available for Blueshift. As such, we cannot tell whether this robot can make profits in the Forex market, day in and day out. The absence of live trading results will no doubt be taken as a huge red flag by most Forex traders. Not only is it a mark of authenticity, but also reveals some of the important performance parameters related to the system.
Pricing
Blueshift is currently available for $399, and the vendor mentions that there is only a single copy left at this price. After it's sold, the price will be increased to $499. This seems like a marketing strategy aimed at luring in buyers.
You have the option of renting the robot for one month at $369. If you wish to test its performance before using it for live trading, you can use the free demo version. No money-back-guarantee is provided by the vendor.
Is Blueshift Robot a Scam?
Marco Solito makes some tall claims about Blueshift, like the high success rate of trades for example. But he fails to provide any authentic proof of the same. Since no live trading results are available for this robot, the vendor's claims fall flat, and there is no way we can trust this robot to make us profits in a real-time trading scenario. It is quite possible that Blueshift is a scam service trying to siphon off your money.
We were unable to find any user reviews for Blueshift on the popular review websites. Evidently, it has not managed to build a reputation for itself yet.
Other Notes
This Forex EA has several parameters that you can tweak to suit your trading style. You can set the values for maximum spread and slippage, and also enable the spread filter. Other customizable parameters include risk percent, lots, money management, trading days, trading directions, etc.