Zenith is a Forex robot being sold on the MQL5 website. It is a manual learning EA that can trade in 5 different currency pairs. The developer selling this product is a USA-based trader by the name of Olena Skrynnik. There is no available information on this person's qualifications and experience. Other systems developed by Olena Skrynnik include CoinTradefields, Tradefields, Humblebee, and Pepper.
We don't know whether there are other people working alongside this person. The only way to get in touch with them is to send them a message via the MQL5 website. Thus, from a vendor transparency perspective, we are not too impressed.
Zenith Strategies and Tests  
Zenith follows a low-frequency trading approach and does not use a scalping system. However, the vendor mentions that it has a grid parameter. The robot is based on the artificial bee colony algorithm that mimics the foraging nature of honey bees.
Just like bees in a colony are assigned different tasks, the Zenith algorithm has different elements that scan the market patterns, read the graphs to locate issues, trains the network to adapt to the data, and performs simplification and classification of trading patterns.
The EA starts trading from 12 PM on Mondays. As per vendor recommendation, you should use it with H1 charts. It is suitable for all types of accounts. The EA uses a neural network for placing trades. Such a system scans historical data for learning purposes and also performs extensive testing. It has several modifiable parameters, like lot size, take profit, stop loss, maximum positions, maximum spread, etc.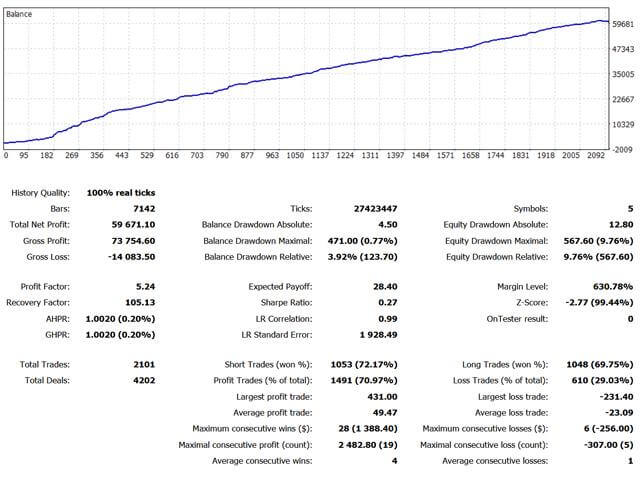 Here we have the results for a backtest conducted with 100% real tick data. The EA placed a total of 2101 trades during this test, managing to win 1491 out of them. Thus, it had a win rate of 70.97%. At the end of the test, the total net profit generated was $59671.10.
For this backtest, the EA had a profit factor of 5.24. There were 28 maximum consecutive wins and 6 maximum consecutive losses during this test. The Sharpe Ratio is quite low – 0.27.
Zenith Live Trading Account Review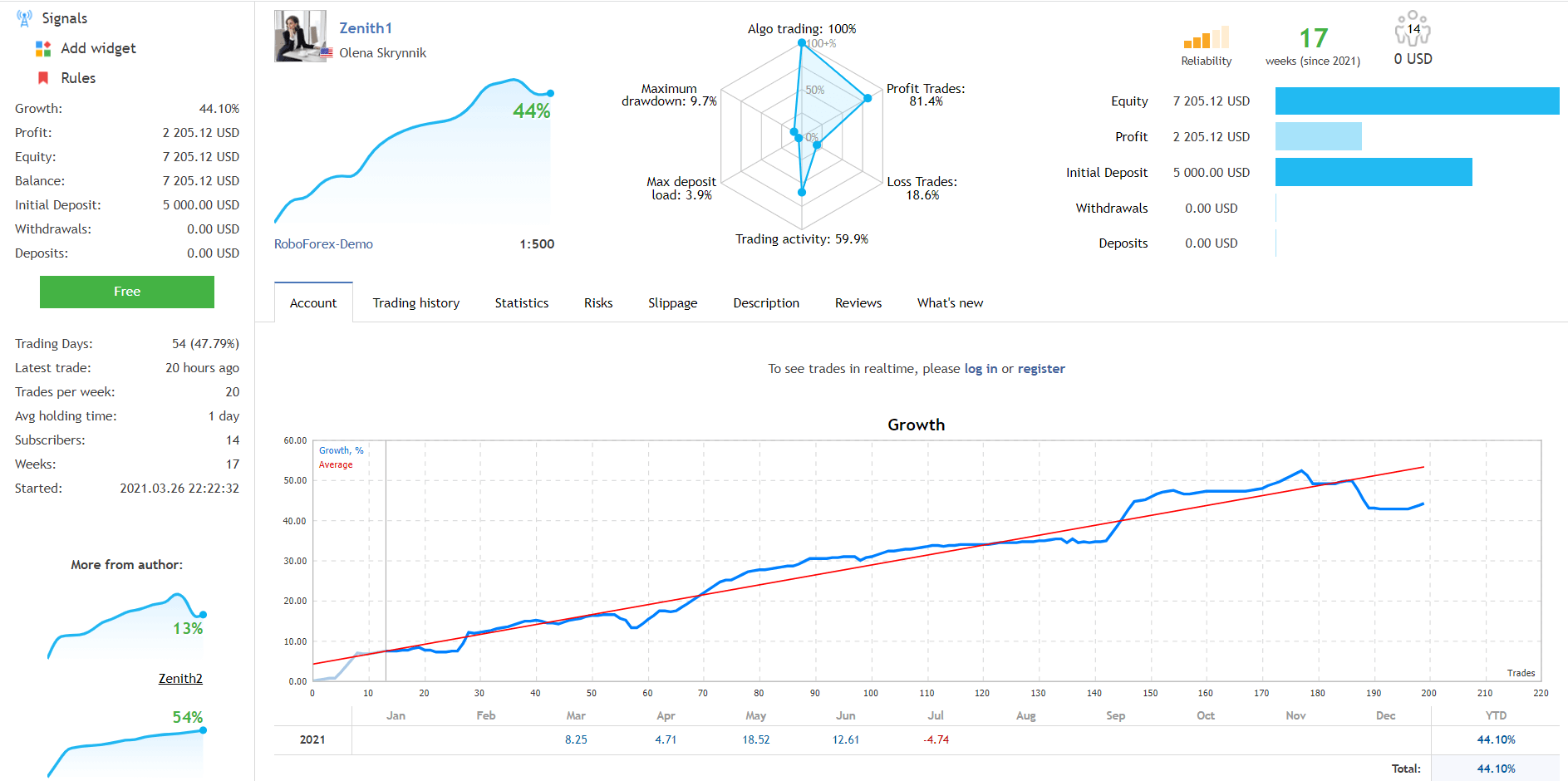 The vendor has shared the live trading results for Zenith on the MQ5 website. This account has a trading history of 54 days, which is not exactly a long track record. During this time period, the robot has placed 199 trades, winning 81.40% of them. So the win rate is slightly higher compared to the backtest. Currently, the total profit generated through this account stands at $2205.12.
Now, since these results are not verified by a third-party website like Myfxbook, FXBlue, or FXStat, we cannot consider them authentic. Seasoned traders always look for verified trading results, because the vendor has no chance to manipulate them. Trading accounts on third-party websites reflect the true performance of the system, and without them, most traders would think twice before investing in an EA.
Pricing
You can purchase the EA for the price of $199. This is pretty close to the market average price for Forex robots. The vendor has a free demo version available and you can download this to practice your trading skills. Unfortunately, the vendor does not provide a money-back guarantee for this EA.
Is Zenith Robot a Scam?
Zenith is very likely a scam robot because there is no verified track record of this system profiting in the live market. Without any such evidence, it becomes difficult to trust the system with your hard-earned money. Moreover, the vendor does not offer a money-back guarantee, which makes it an even riskier investment.

We were unable to fund any user reviews for Zenith on trusted third-party websites. On MQL5, there are a few customer reviews for this Forex EA, with many of them being in foreign languages. We cannot consider these authentic, and it is clear that this robot does not have a decent reputation in the market.
Other Notes 
Using the MaxPosition parameter, you can control how many trades you have open. If you wish to turn off the trailing stop feature, you need to set the value of Trailing Stop to 0.