Wrenfx EA is a Forex robot that is powered by Artificial Intelligence technology. According to the vendor, this is a versatile platform that offers more in terms of convenience and flexibility. Nevertheless, we need to do our own research to find out whether you can win steady profits while trading live with this system.
We don't know anything about the developers who built Wrenfx EA. The vendor has not shared any information about the company, its location, and its history. There is a general lack of vendor transparency and we don't know whether the EA has been built by experienced professionals. It is known whether the company has built other EAs in the past.
Wrenfx EA Strategies and Tests 
Wrenfx EA is a 100% automated system that has been designed using the MQL4 language. It is compatible with the MT4 trading platform and can trade on a full-time basis. You can start trading with this EA by making a minimum deposit of $200.
This robot can work on different account types, like micro, Standard, NDD, and ECN. The developers have programmed some preset rules into this EA and it follows them to complete all its tasks, including the transfer of orders, adjusting stop losses, and finding the profit levels.
According to the vendor, Wrenfx EA avoids using strategies like scalping and hedging. It has a smart money management feature that modifies the size of the trading lots based on the current market conditions. The support team remains active 24/7, so you can get in touch with them if you face any issues.
You can use this EA to trade in pairs like USD/JPY, EUR/CHF, USD/CHF, and EUR/USD. After completing the payment, you have to share your MT4 account number with the service team via email. Your account gets activated within 12 hours.
The vendor has explained the strategy by saying that the robot follows the trend on higher time frames while looking for reversal points in lower time frames for making its entry. We think this is a vague way to describe the trading strategy. The vendor should have provided some technical details, mentioning the indicators that this system uses.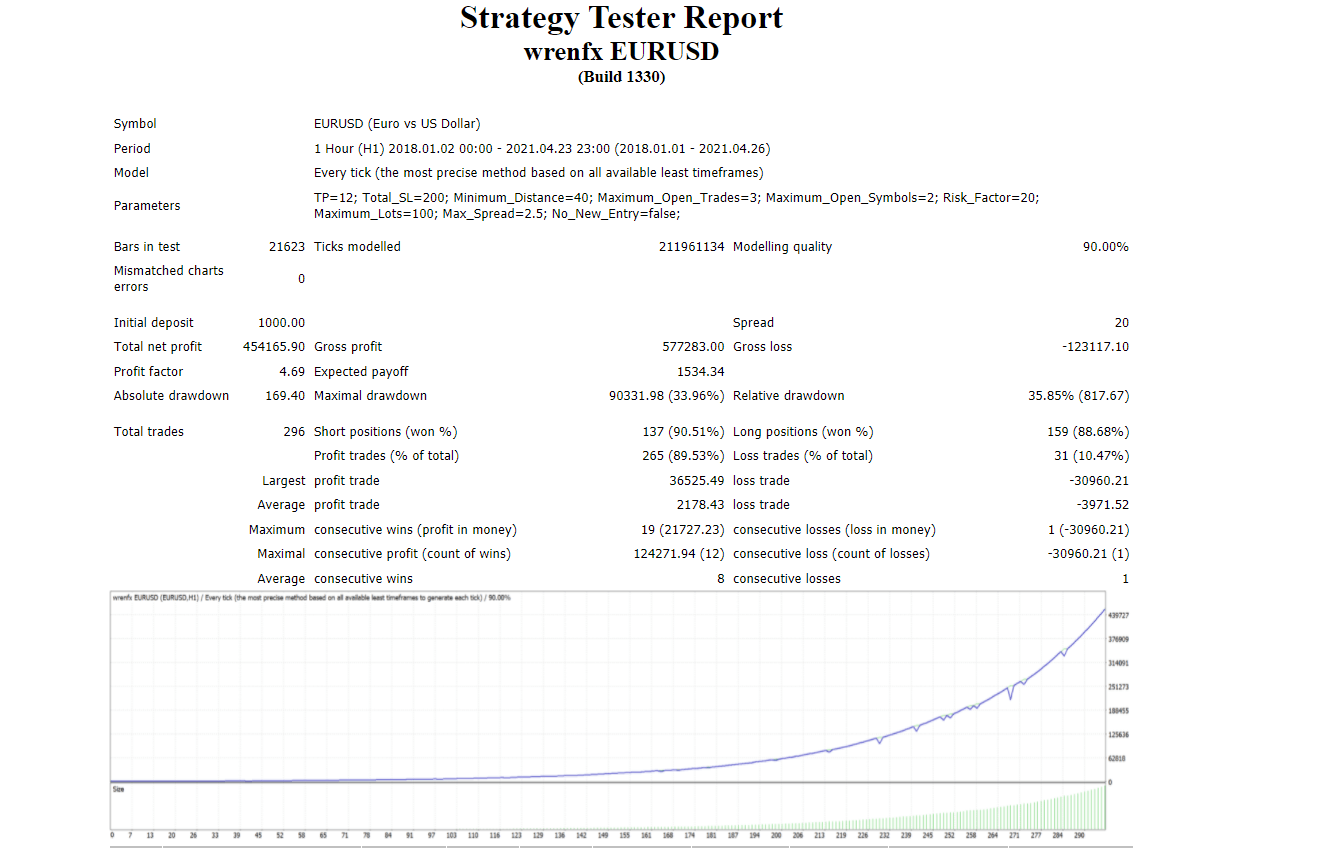 This backtest was conducted for the EUR/USD pair starting from January 2018 to March 2021. The EA placed a total of 296 trades, winning 89.53% of them. As a result, it generated a total profit of $454165.90, using an initial deposit of $1000.
During this backtest, the EA managed to make 19 consecutive wins and 1 consecutive loss. The profit factor was 4.69 while the relative drawdown was 35.85%. Such a high drawdown tells us that the robot follows a high-risk trading approach.
Wrenfx EA Live Trading Account Review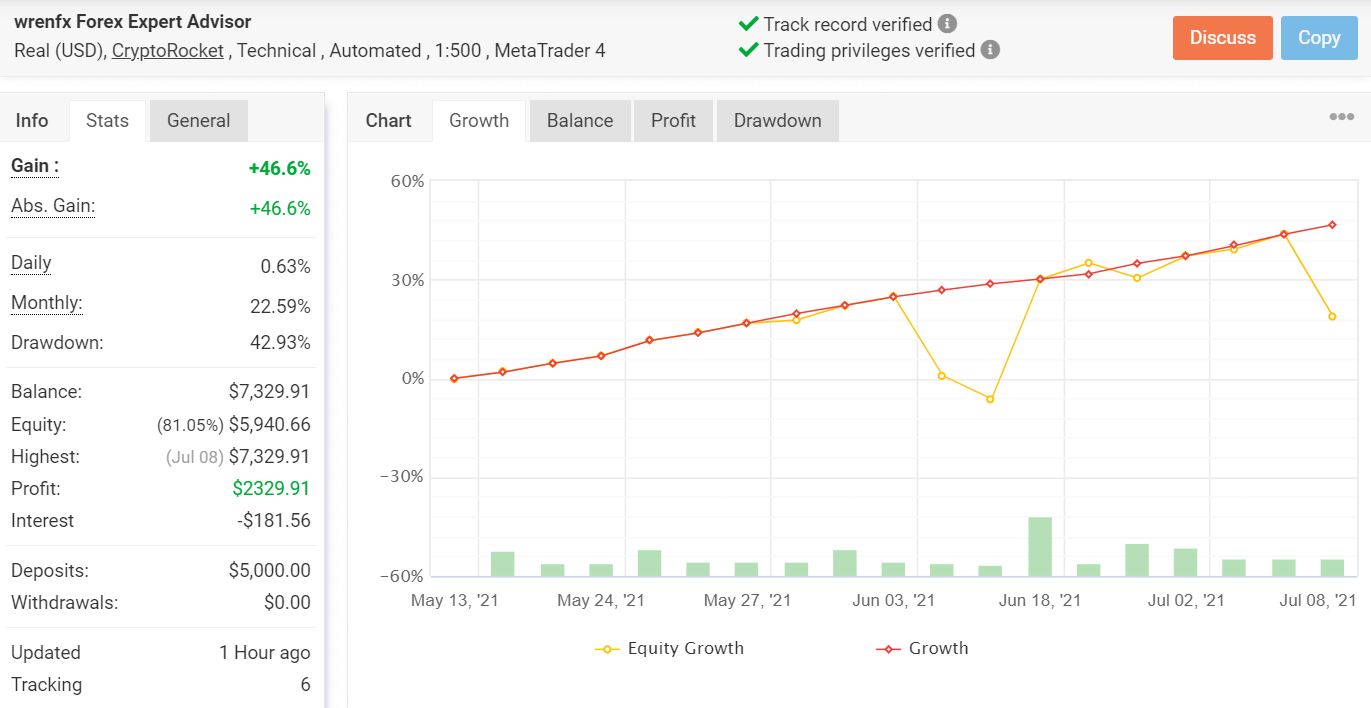 Here we have a live trading account for Wrenfx EA that was launched on May 13, 2021. Thus, it has a short trading history during which the robot has placed only 27 trades. We cannot possibly gauge the profitability of Wrenfx EA by studying these results, since the sample size is so small.
For this account, the EA has a win rate of 74%. Currently, the daily and monthly gains are 0.63% and 22.59% respectively. The drawdown is even higher than the backtest at 42.93%. Thus, it is clear that the EA uses a risky strategy that can drain your account. Looking at the recent trades, we can see that the EA has made some large losses.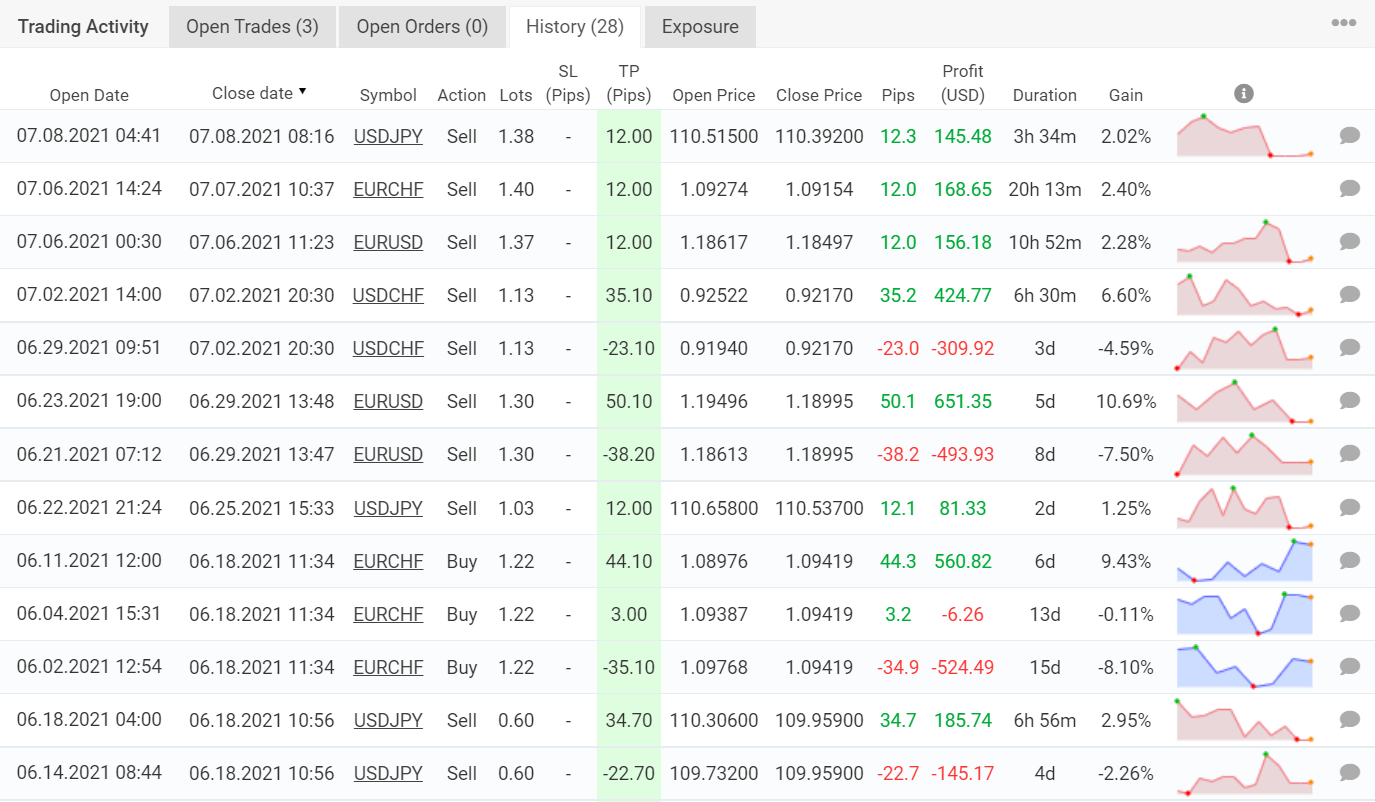 Pricing 
There are three distinct pricing plans for Wrenfx EA, namely Basic, Pro, and Enterprise. The prices of these plans are $299, $399, and $499, respectively. They differ in terms of the number of trading accounts you can access and the license duration. The vendor offers a 30-day money-back guarantee for this product, but the plans are a bit expensive.
Is Wrenfx EA Robot a Scam?
Wrenfx EA is very likely to be a scam. It is sold by an unknown vendor who does not provide any information on the trading strategy. Moreover, the trading results exhibit a high drawdown, which is a cause for concern. There are no customer reviews for this EA on popular review websites, and this tells us that it does not have much of a reputation as of now.
Other Notes 
You have the option of changing your registered account number. For this, you need to get in touch with the support team.