WallStreet Forex Robot 2.0 Evolution is the latest version of the long-standing expert advisor released over five years ago. This is one of the main reasons why we have decided to conduct a detailed analysis of this FX trading system so that our readers know whether it is a worthwhile trading solution in 2021.
FX Automater is the team that stands behind this EA. They've developed many EAs, including Forex Diamond, Forex Trend Detector, Gold Scalper Pro, Omega Trend EA, and many more. The developers of WallStreet Forex Robot say that they've kept the best elements from the proven, core trading principles of this original, but made some major adjustments to take the EAs functionality 'to a whole NEW LEVEL'. According to the sales page of the product, FX Automater has designed 'Broker Spy Module', a 'first in its kind'. This trading tool was designed to protect traders' accounts from 'unethical brokers' that can hurt traders with high spreads, high negative slippage, or delayed order execution. The updated version also has a real-time update system that automatically checks new settings, updates the EA, and restarts the robot for you. In addition to this, the FX Automater team claims that the new EA version goes with increased profitability thanks to improvements the team has made for WallStreet Forex Robot.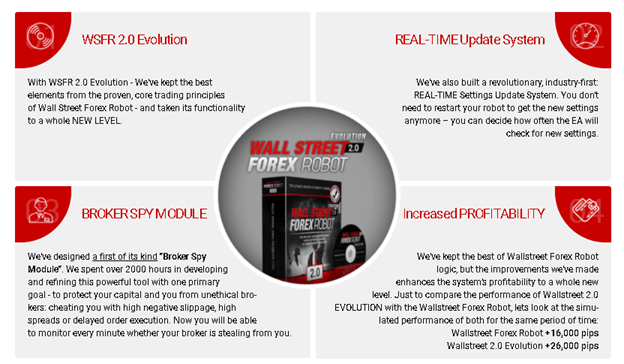 WallStreet Forex Robot Strategies and Tests
Now let's jump to the system performance, its key features, and trading strategy details:
It is a completely automated EA
The WallStreet Forex Robot 2.0 Evolution comes with a real-time update system and increased trading frequency

It guarantees increased profitability
It has a NEW, Improved Exit Trading Logic
The team claims they have decreased the risk to the minimal reasonable level
There's a possibility of using Pending Stop and Limit Orders

It trades on EURUSD, GBPUSD, USDJPY, USDCHF, USDCAD, NZDUSD, and AUDUSD on the M15 timeframe
It has 20 years of backtesting data, showing 80% of the win rate, low drawdown of only 6, 24%, medium profit factor of 1, 41, and over $165K of profit.
The minimum deposit to get started with this EA is $1000
The recommended leverage is 50:1
This Forex expert advisor was designed to follow short and medium-term trends. This method of trading has proven its worth ever since Forex has been traded online. It is an effective way of generating profits for traders who use it.
It's impressive that the devs share multiple backtesting reports for every currency pair on the sales page. Let us analyze one of them in detail.
It's a EURUSD backtest performed on the M15 time frame. The modeling quality was 90.00%. The initial deposit was $10K. For 20 years of trading, the EA could generate $15636, 45 of profit. The profit factor was high – 3, 12. The maximum drawdown was 30, 79%. It traded 2926 trades and won 2692 were winning ones. The win rate for short positions was 92% when for long positions it was 88, 91%. The average loss was x3 times higher than the average win: -$315,16 and $85, 48.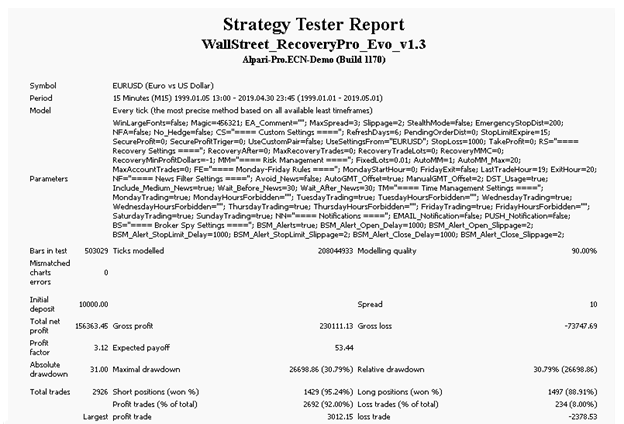 WallStreet Forex Robot Track Record Review
It's an areal (AUD) account that runs automatically on the MT4 platform. It works under IC Markets brokerage and trades with 1:500 leverage. The account was deposited at A$866.10.  Since the date of its activation (December 22, 2017), the system has generated A$1225.26 of profit. The total gain is 170.18% when an average monthly and daily gain is 2.48% and 0.08% respectively. The peak drawdown was 21.17%, which is acceptable for trading.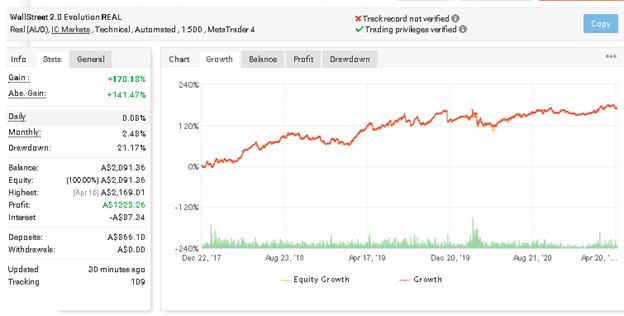 The robot traded 2982 trades and 9269.2 pips. It trades both short and long directions equally: 78% and 79%. An average loss is the same we see in the backtest report: it's 3 times higher than the average win: 40.89 pips/-A$15.45 and 14.85 pips/A$4.64, meaning that the risk-reward ratio is 1:3. An average trade frequency is 4 hours and 54 minutes. The profit factor is lower than the one we have in the backtest report – 1.13.
The most frequently traded as well as the most profitable currency pair is GBPUSD: 1531 trades and $718.15 of income. The robot trades 24/5 with the highest trading activity on Mondays (626 trades) and Thursdays (630 trades). It trades with medium risks to the account balance. In the case of 14 consecutive losses in a row, 10% of the account balance will be lost.

As you can see, losses are from 2 to 35 times higher than winning trades: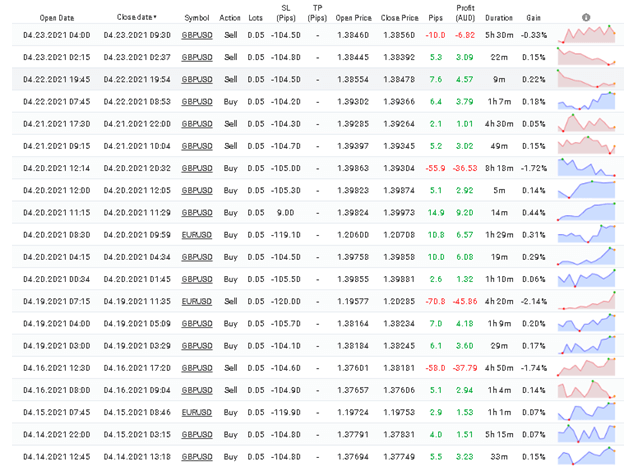 The good thing is the EA does not use martingale to recover, which is good for trading.
For the last period (since the beginning of March till April 23), the robot cannot perform moving forward and it is just sustaining at the level it is at: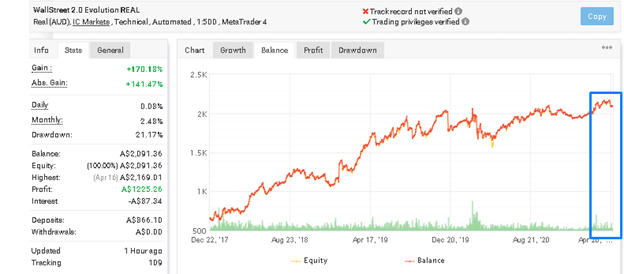 Although there are steady numbers, the nature of the growth of this trading account has not been stable: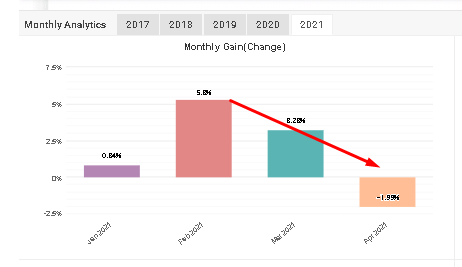 Pricing
The EA is sold with -$110 discount and instead of paying $347 traders can buy the robot for $237. The discount will be valid for a couple of hours.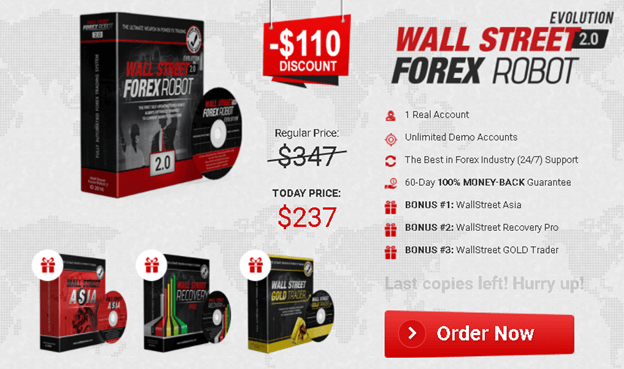 The package includes a real and an unlimited number of demo accounts, full-time support, and a 60-day money-back guarantee. As a bonus, for this price, you'll get 3 EAs for free: WallStreet Recovery Pro and WallStreet Gold Trader.
Is Wall Street Forex Robot a scam?
No, it is not a scam. It is a safe trading system that has been on the market for years. However, its efficacy has significantly decreased for the last period.
User Reviews
There is a WallStreet Forex Robot page on FPA. It has a 2, 8 out of 5 star rate based on 18 reviews from their customers.

The last customer review has a 2-star rating. It was written a year ago, so that should be kept in mind. The company did not answer any customer feedback.