Forex Scalping EA is a fully automated robot that runs on the Metatrader 4 platform. It trades multiple currency pairs on the M5 timeframe with universal settings. According to the vendor, it uses market analysis for assessing correct exit and entry points. The company promises that with this EA you can 'scalp the forex market successfully.' In this Forex Scalping EA review, we will check out the veracity of the vendor's claims to find out whether they can back up their promises.
On the official website of Forex Scalping EA, we have little or no information about the company that stands behind this robot. None of the team member's identity has been revealed and no address has been provided for the company either. We don't even know if any other systems have been developed by this company. So we can say that Forex Scalping EA is definitely lacking in the vendor transparency department.
Forex Scalping EA Strategies and Tests
This Forex EA looks to take advantage of small market movements by entering quick trades. As such, the trades typically do not last for more than a few minutes. So you no longer have to wait for days and weeks for closing your trades.
The strategy used by this Forex EA utilizes reversal trades for scalping purposes. The vendor recommends using a broker with fast execution and tight spreads. Users have full control over their own trading and can modify the system parameters as needed. You should start with a demo account first to make yourself familiar with the EA and understand the risks involved with scalping.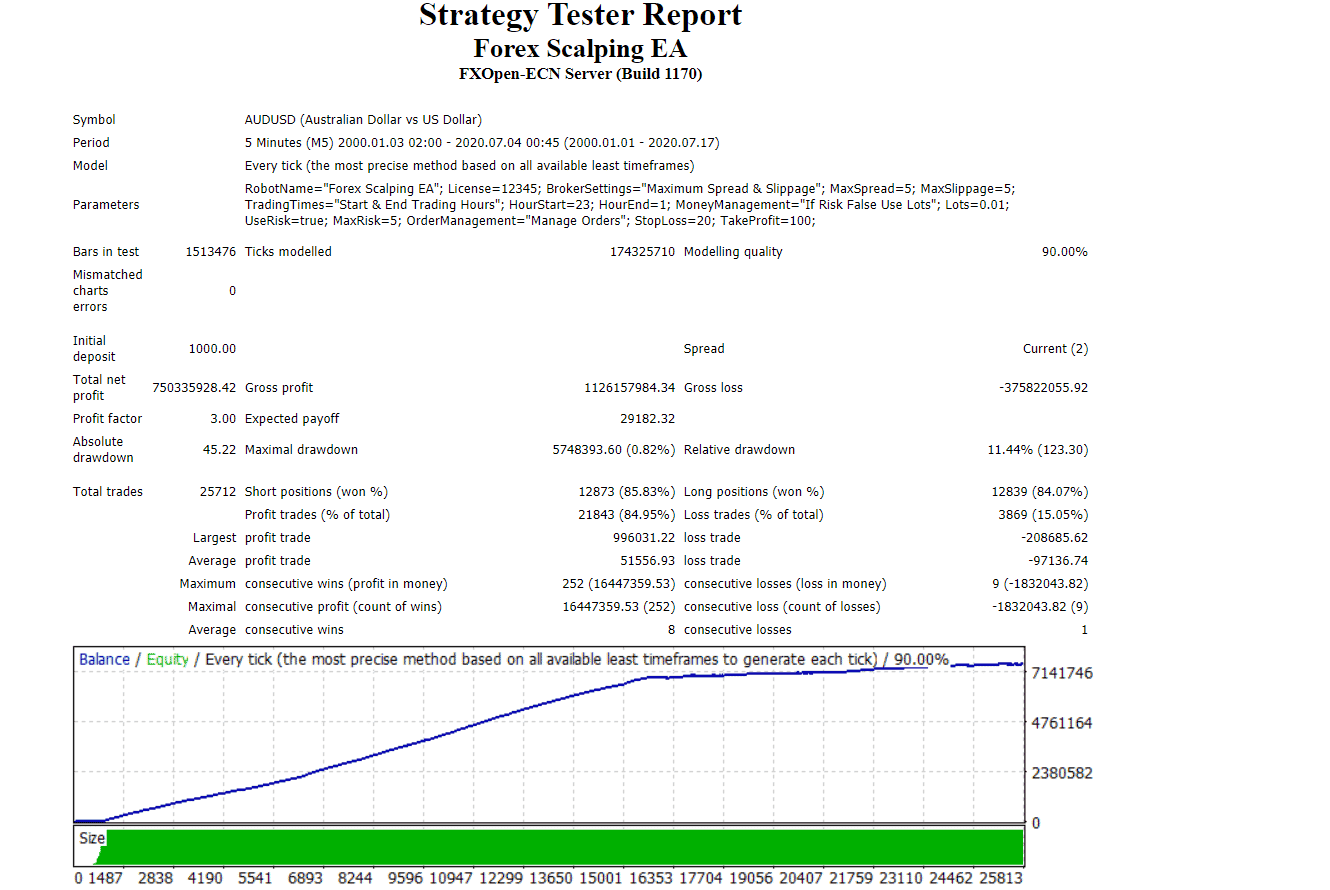 While the vendor has provided multiple backtesting results for various currency pairs, here we will discuss the one provided for the AUD/USD pair. This backtest was conducted from 2000 to 2020 with a modeling quality of 90%. An initial deposit of $1000 was made for this test, out of which a total net profit of $750335928.42 was made by the robot.
We can see that a total of 25712 trades were placed during these 20 years, out of which 21843 trades were won. This represents a high win rate of 84.95% and it tells us that Forex Scalping EA is capable of closing most trades in profits. The relative drawdown for this backtest was 11.44%, while the profit factor was 3.
Forex Scalping EA Live Trading Account Review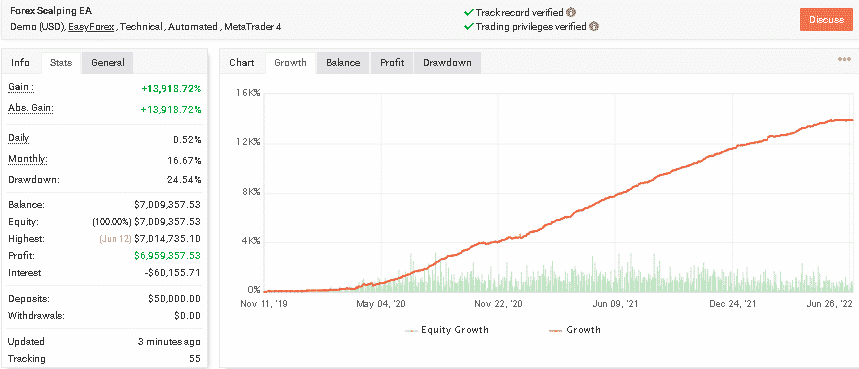 This is a demo live trading account for Forex Scalping EA that was launched on 11th November 2019. It trades under the EasyForex brokerage on the MT4. It was deposited at 50K USD. Currently, the profit generated by this account stands at over $6,9M.
The daily and monthly gains are 0.52% and 16.67% respectively, while the drawdown is moderate at 24.54%. The growth chart looks smooth, but it's too good to be true. Equity curve you see on the chart above talks about the risky approach used. Having analyzed its trading history, we've found a combo of Grid plus Scalping approaches. Although Martingale is not applied, the high Lot size (50) the system uses to place orders is too risky.
Some unsuccessful orders led to huge losses ranging between 400-1800 USD in June 2022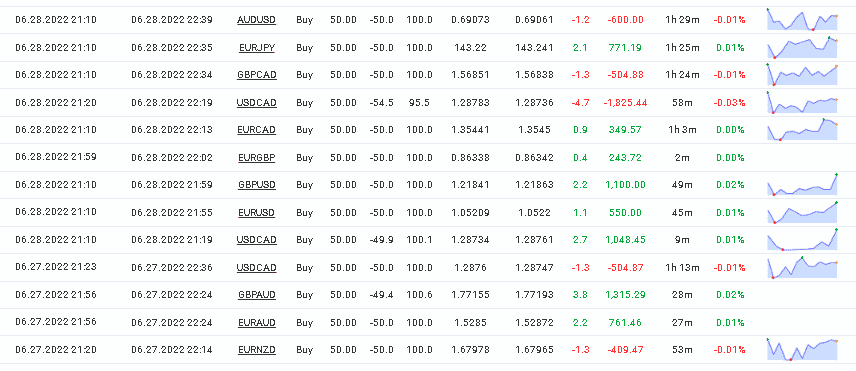 In comparison with the backtesting data, the drawdown is twice higher here. The profit factor is 4,23, however, which is an improvement from the backtesting data.
Pricing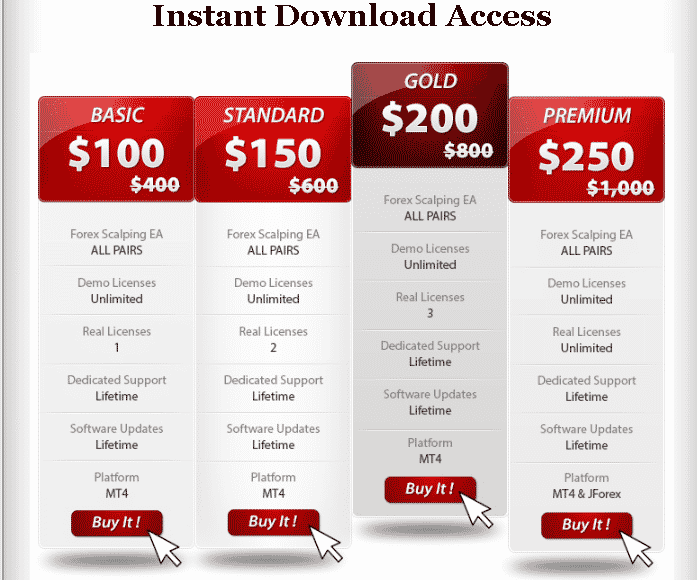 There are 4 pricing plans for Forex Scalping EA, namely Basic, Standard, Gold, and Premium, which are priced at $100, $150, $200, and $250, respectively. The prices are pretty standard, and the difference between these plans is the number of demo and real account licenses you get with them. It has been mentioned by the vendor that no refund is offered for this Forex EA.
Is Forex Scalping EA Robot a Good System to Rely On?
Although the vendor-provided live trading results, they are attached to the Demo, not a Real account. Secondly, zero vendor transparency. It's difficult to trust money to a person, who is unknown to us.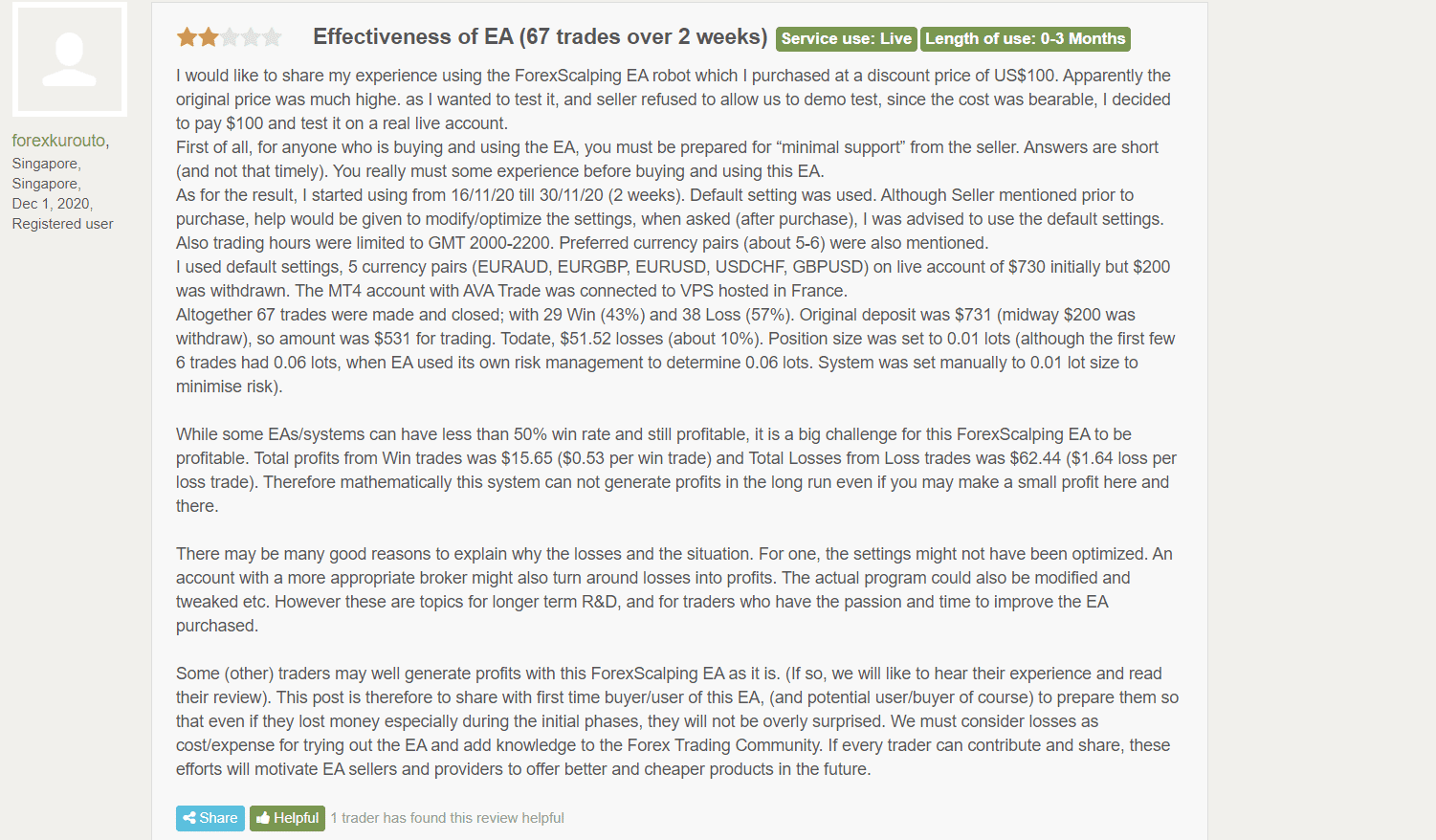 We found a couple of user reviews for this Forex robot on the FPA website. One user has mentioned that the support provided by the company is minimal and that it is somewhat challenging to make profits with this system.