Forex Scalping EA is a fully automated Forex robot that runs on the Metatrader 4 platform. It is based on 20 years' worth of backtesting data and step and by step instructions are provided along with the software for the convenience of users. This scalping robot analyzes the market efficiently for finding scalping entry and exit points.
On the official website of Forex Scalping EA, we have little or no information about the company that developed the robot. None of the team member's identity has been revealed and no address has been provided for the company either. We don't even know if any other systems have been developed by this company. So we can say that Forex Scalping EA is definitely lacking in the vendor transparency department.
Forex Scalping EA Strategies and Tests
This Forex EA looks to take advantage of small market movements by entering quick trades. As such, the trades typically do not last for more than a few minutes. So you no longer have to wait for days and weeks for closing your trades.
The strategy used by this Forex EA utilizes reversal trades for scalping purposes. The vendor recommends using a broker with fast execution and tight spreads. Users have full control over their own trading and can modify the system parameters as needed. You should start with a demo account first to make yourself familiar with the EA and understand the risks involved with scalping.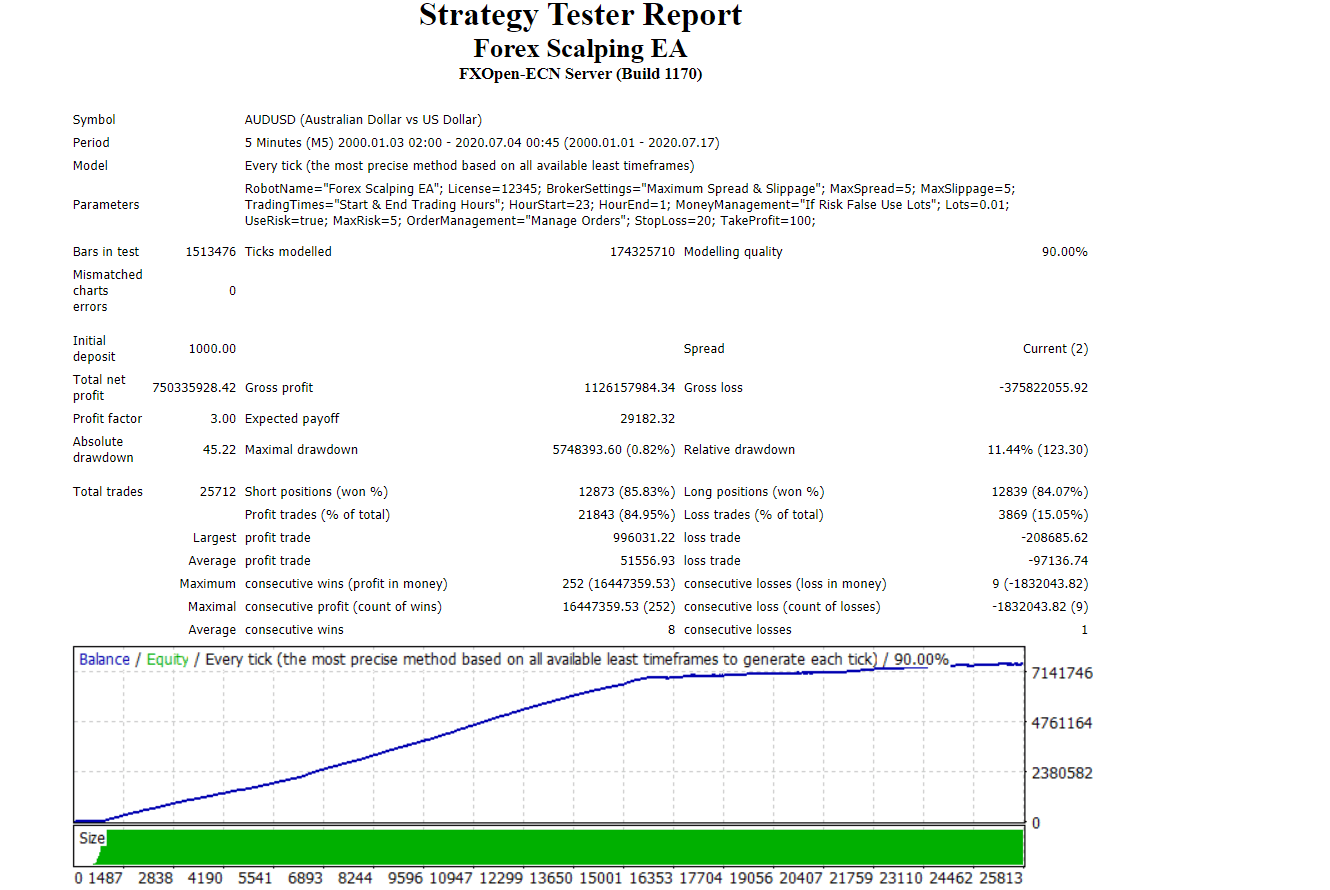 While the vendor has provided multiple backtesting results for various currency pairs, here we will discuss the one provided for the AUD/USD pair. This backtest was conducted from 2000 to 2020 with a modeling quality of 90%. An initial deposit of $1000 was made for this test, out of which a total net profit of $750335928.42 was made by the robot.
We can see that a total of 25712 trades were placed during these 20 years, out of which 21843 trades were won. This represents a high win rate of 84.95% and it tells us that Forex Scalping EA is capable of closing most trades in profits. The relative drawdown for this backtest was 11.44%, while the profit factor was 3.
Forex Scalping EA Live Trading Account Review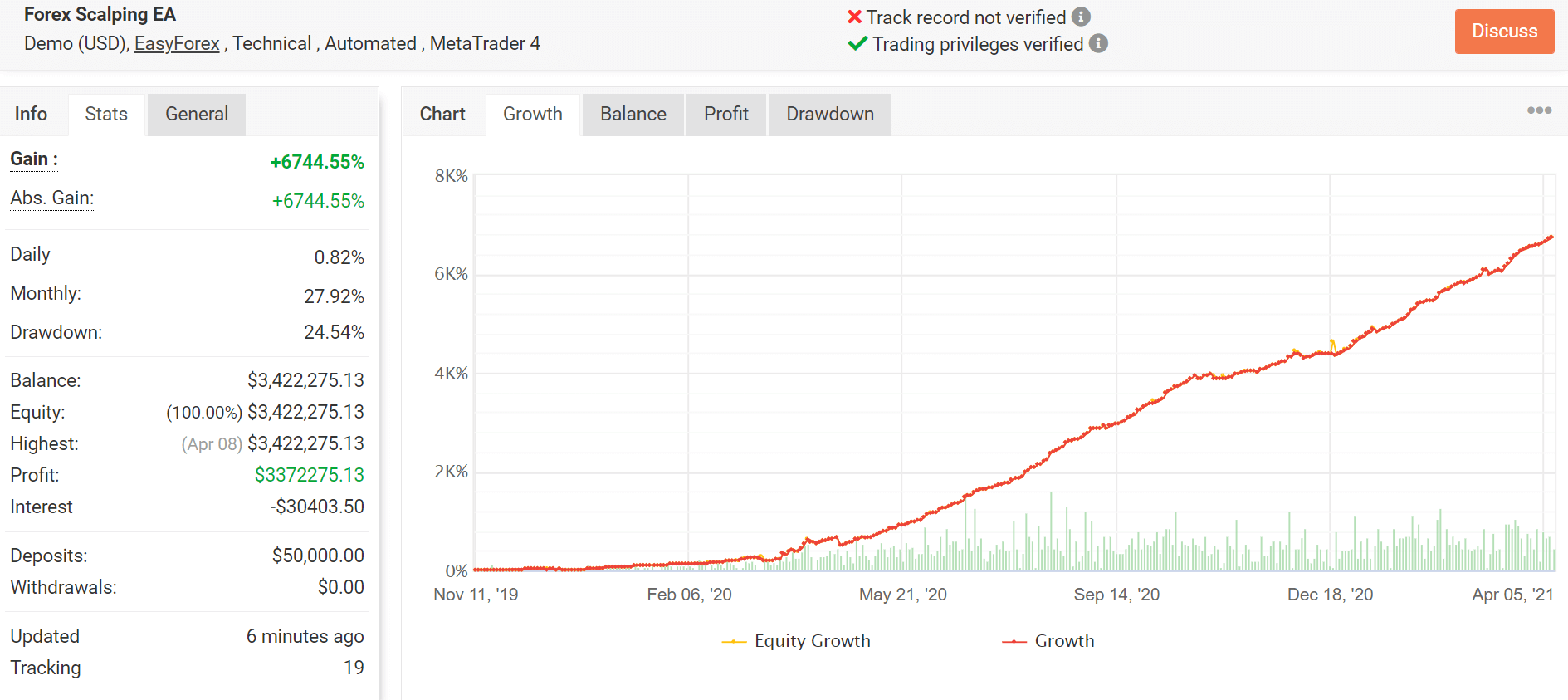 This is a demo live trading account for Forex Scalping EA that was launched on 11th November 2019. To date, 3468 trades have been placed through this account, out of which 2975 have been won. This means that the robot has a high win rate of 86%, which is similar to what we saw in the backtest.
Currently, the profit generated by this account stands at $3372275.13. The daily and monthly gains are 0.82% and 27.92% respectively, while the drawdown is moderate at 24.54%. In comparison to the backtesting data, the drawdown is a bit high here. The profit factor is 3.66, however, which is an improvement from the backtesting data.
We cannot see any major losses from the trading history, and although the profits have been made in small percentages, they look consistent.
Pricing
There are 4 pricing plans for Forex Scalping EA, namely Basic, Standard, Gold, and Premium, which are priced at $99, $149, $199, and $249, respectively. The prices are pretty standard, and the difference between these plans is the number of demo and real account licenses you get with them. It has been mentioned by the vendor that no refund is offered for this Forex EA.
Is Forex Scalping EA Robot a Scam?
After looking into the various system aspects, we have reached the conclusion that Forex Scalping EA is not a scam service. The vendor has provided ample backtesting and live trading results for this robot, all of which are verified by third-party sources. There is no evidence of data manipulation or unrealistic promises, and the prices seem reasonable.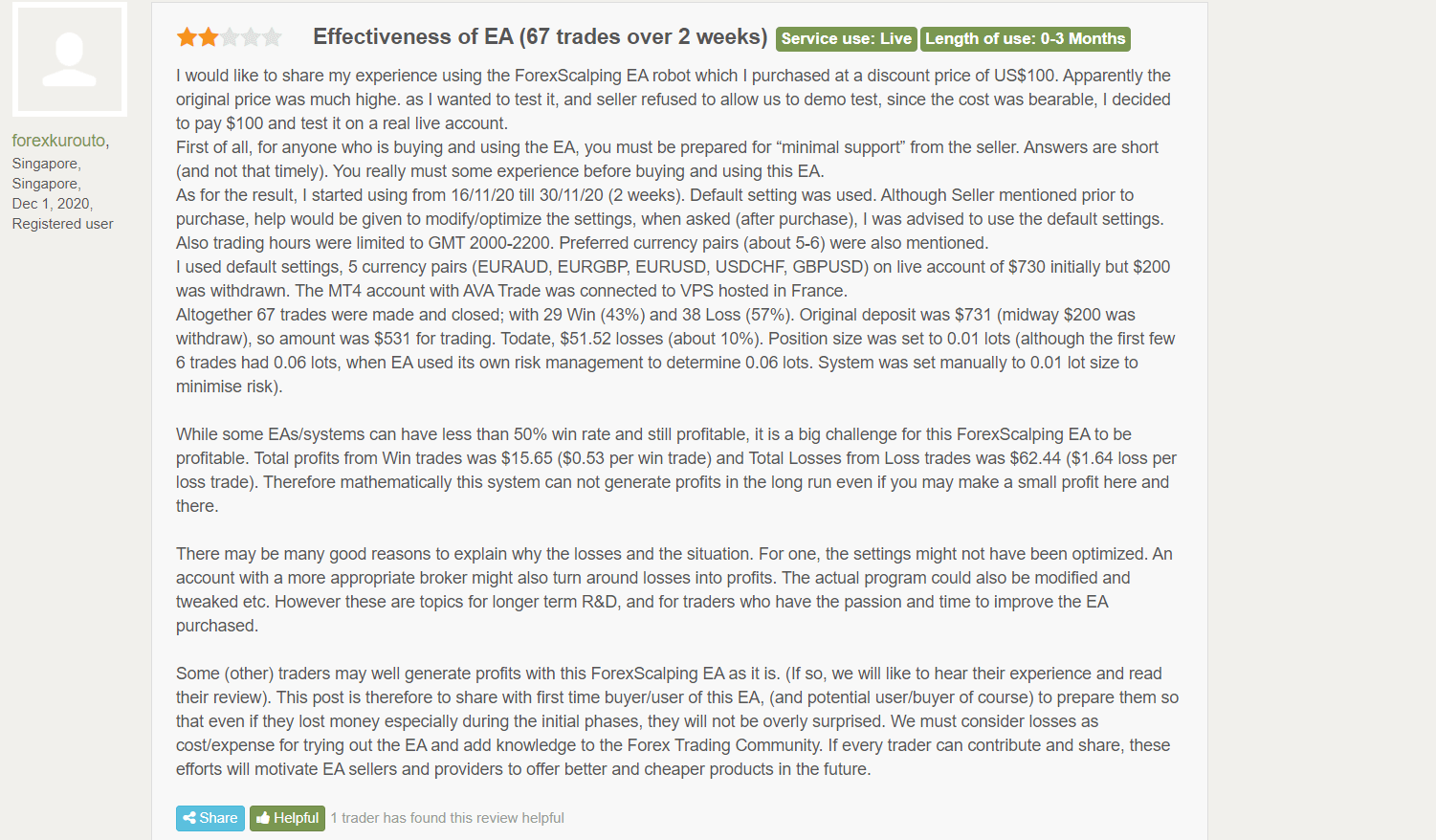 We found a couple of user reviews for this Forex robot on the FPA website. One user has mentioned that the support provided by the company is minimal and that it is somewhat challenging to make profits with this system.
How to Use
After purchasing the software, you need to download Forex Scalping EA and install it on the Metatrader 4 platform, adding it to your list of expert advisors. The vendor provides users with step-by-step instructions, and you can seek support on a 24/7 basis. It is advisable that you start with a demo account first.