Vigorous EA is presented as one of the best EA's ever developed. There are claims that it has been successfully backtested for more than 21 years. It can trade up to 100 times weekly and make profits daily. On average, it trades 11 times per day and makes 50-100 scalp trades weekly. The monthly profit is estimated to be between 1% and 3% with default settings. Since 2005, it has managed to execute more than 65,000 trades. It has a history of raking in profits for 5 consecutive months.
Ryan Brown is the developer behind this EA. He is the founder of ResponsibleForexTrading.com. He alleges that he has been trading for over 15 years. During this period he has created several other robots which include the Ranger EA, Pinpoint EA, and Redemption EA.
Vigorous EA Strategies and Tests
The EA executes orders automatically and applies a combination of grid and martingale strategies. It puts buy and sell orders at fixed intervals around a certain market price so as to make profits from movements in the market. The bot also focuses on increasing the position size of the account following a loss. In particular, it seeks to double the trading size when it faces losses.
Furthermore, the developer mentions a scalping strategy. According to him, the EA analyzes the market trends and identifies the best places it can take 3-9 pip scalp trades within the dips of the bigger trend.
The EA has the following features:
It is fully automated
It trades on the EURUSD currency pair
The EA offers customer support
It runs on the MT4 platform
The recommended leverage is 250:1
The recommended minimum deposit is $5,000
It uses flex-grid management
Below is a screenshot of the EA's backtest report: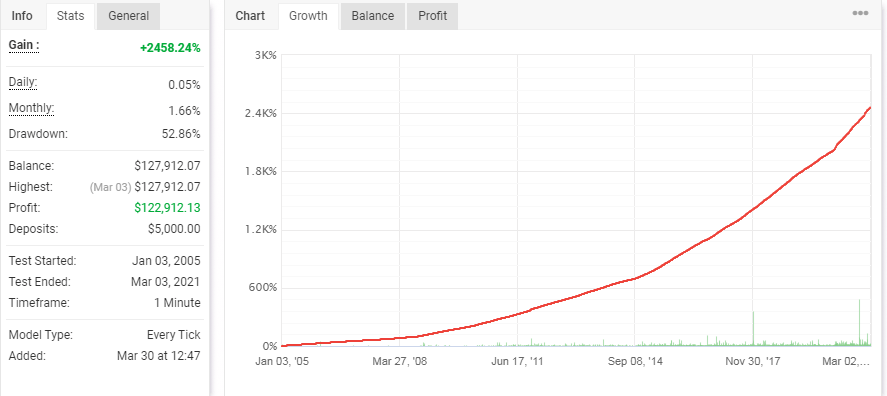 The system traded between January 2005 and March 2021. It grew the account balance from $5,000 to $127,912.07. It particularly generated a profit of $122,912.13 which represents a gain of 2458.24%. These gains are quite small considering that the account traded for 16 years.
The daily and monthly profits stood at 0.05% and 1.66% respectively. The drawdown which was 52.86% was huge, an indication that the account applies a high-risk approach. This increases its probability of incurring losses.
Vigorous EA Live Trading Account Review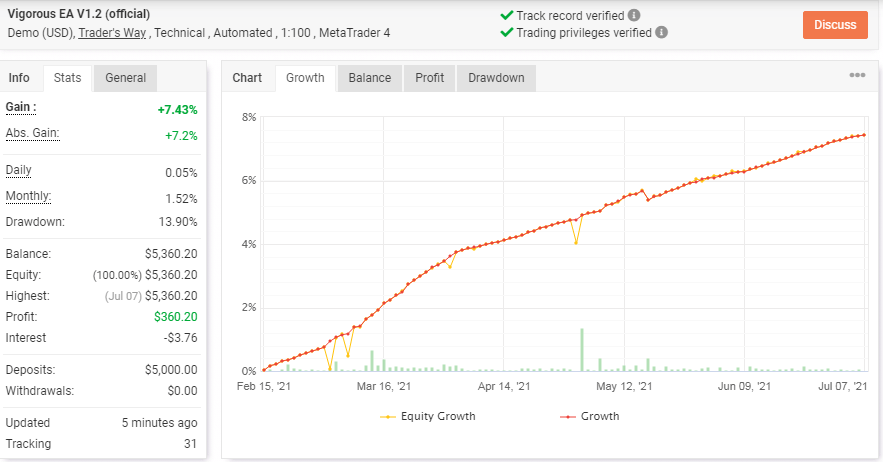 From the screenshot above, it is evident that the system has been able to increase an initial deposit of $5,000 to $5,360.20. It has made a profit of $360.20 which is equivalent to a gain of 7.43%. The daily profit is 0.05% whereas the monthly profit is 1.52%. These gains are very small. The drawdown is 13.90% and is way lower than the one shown in the backtest report.

Up to date, the account has made 1334 trades, and out of these, it has attained win-rates of 70% and 71% for longs and shorts respectively. The profit factor which is 1.48 is relatively mediocre. The pips made are 245.6. The average loss (-11.35 pips) is almost three times higher than the average win (4.90 pips). This is not good because it indicates that the account's risk of making losses is high. The lots traded are 22.08. This lot size is high and further draws our attention to the account's escalated risk of losing money.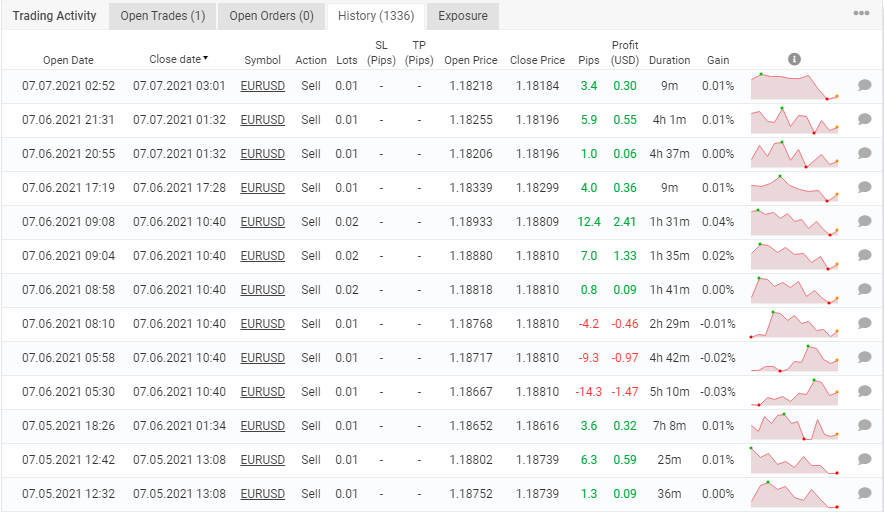 Clearly, the gains made from the account are so small. The EA trades using quite widespread grids of orders. Martingale is also applied.

The EA trades with low risks to the balance. For it to lose 10% of the account, it has to lose 278 deals in a row.
Pricing
Vigorous EA costs $247. We believe that this price is expensive. There are other EAs that are way cheaper and have higher profitability rates and lower trade risks compared to this robot.
Is Vigorous EA a Scam?
We believe that Vigorous EA is a scam. In addition to discovering that it delivers very small profits, we also found out that it applies a high-risk approach. Therefore, a trader stands to lose a lot of money if they are not careful. A martingale strategy with a 70% win-rate is very risky.
User reviews are absent. We visited websites like Forex Peace Army, Trustpilot, and myfxbook but could not find any user testimonials for the bot. Therefore, we do not know if users are satisfied with its performance or not.