Trend Signal is an educational company that teaches people for half a year how to trade on Forex. The presentation doesn't include much information about their previous trading experience and what we should expect. The main claims are "Learn a powerful trading strategy – LIVE. Attend our FREE webinar & learn exactly how to use our Sniper trading Strategy to trade FX, Indices, Commodities & Shares."
Trend Signal strategies and tests
The presentation is based on the wording of how everything will be great, skipping the fact of what trading results these claims lay on.
The developers insisted that we don't have to trade all day long.
Trading can take 20 minutes daily.
The developers know rule-based strategies.
There's an indicator that will help us to trade.
It's based on a Sniper strategy.
We have no idea what this means.
The vendor consistently works to improve the strategy.
The indicator was tested on "Forex, indices, Commodities, and Shares to suit a variety of lifestyles and trading styles."
We haven't seen any tests done.
The service offers one-on-one coaching if we need to be more convinced.
The developers provide full support during the education process.
The courses take six months to master.

We may trade on the real account with the additional help of professional traders.
There's an exclusive indicator provided.
The company unites a team of "highly experienced analysts, and professional traders have created our own exclusive indicators and expert scanning tools for you to use anywhere in the world. This gives all Trendsignal Plus users the unique edge they need to compete and, more importantly, to succeed."
They teach us various strategies that we can use in trading.
They provide us with interaction workshops, "including live trades, analysis, and interactive Q&A. These interactive sessions give us the unique opportunity to interact live with professional traders, asking questions and learning first hand, with all session recordings available to review in your own time."
The developers have designed a member area with all content they produce at the same place.
There's a "Complete Trading Course" pack published.
Trend Signal live trading account review
We have no backtest reports provided. It's a significant disadvantage because the system must have been tested during the design period. If the developers don't provide us with the reports, it means that there can be something wrong. We don't know if it worked correctly with provided broker tick data, what results it could have achieved, win rates, deals closed.
The same we've got when we take a look at the site searching for trading results. The developers that have been exiting on the market since 2003 must have trading accounts, both demo and real, where they shape their skills, experimenting, testing systems both indicators and robots, and of course, make profits. These results should be published on sites like Myfxbook, Fxblue, and FXStat or at least MQL5. Without results that the indicator can make, we are sure this system is dangerous.
Pricing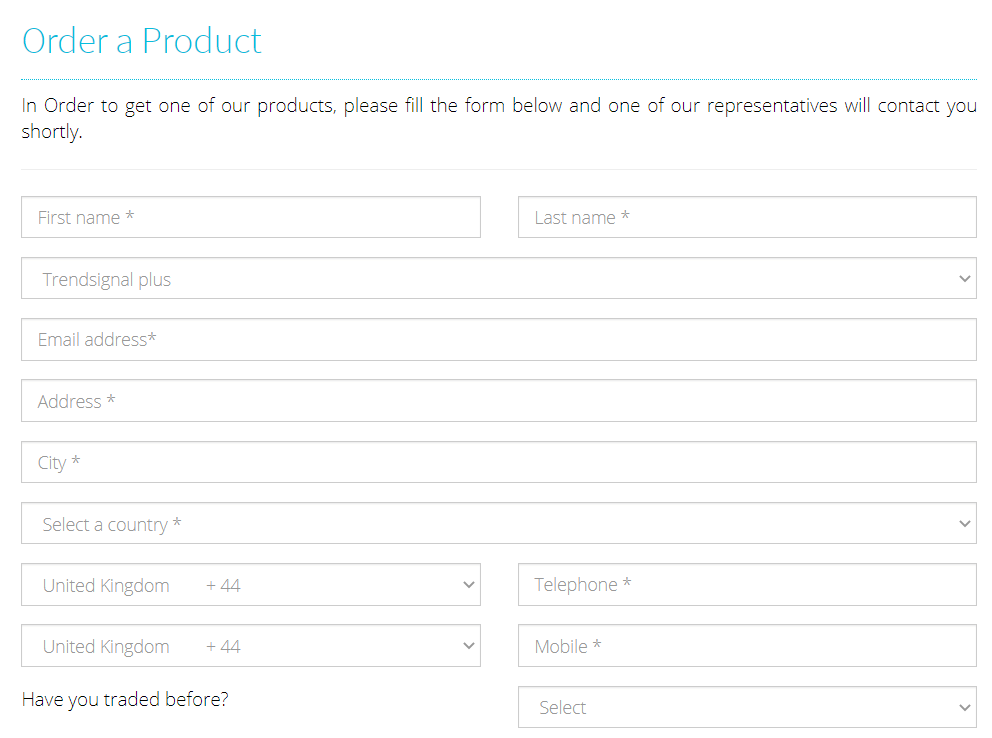 We have no idea why we need to register just to know pricing. The developers ask us for much more intel than we have to provide any similar service to get started.
Is Trend Signal a scam?
Most likely, the service is a scam. We have proof that they are relevant traders that have proper experience on the Forex market to be our teachers.
People feedback
The presentation includes some positive feedback that couldn't be relevant for us.
There's a Trend Signal page on Forex Peace Army with a 2.61 rate based on 33 reviews. It doesn't include trading results connected to it.
People are angry that developers don't have proper experience in trading to teach courses and that the indicator doesn't make profits as it should have to do.