Perfect Score is a Forex EA launched on 2nd July 2020 by Sergei Riebin, a Russian professional algo trader who has developed other systems like GoldenBot, SharkEA, To The Moon EA, and RocketEA in the past. As per vendor claims, both experienced as well as new Forex traders can work with this system comfortably. It is also said to be user-friendly and non-broker-sensitive expert advisor.
Perfect Score Strategies and Tests
Perfect Score makes its market entry when the London Stock Exchange opens. It makes use of short-term reversal patterns which are caused by the likelihood of currency prices moving towards the mean price while this session is active. The vendor has mentioned that this Forex EA does not use risky strategies like arbitrage, martingale, and grid.
It does not use any indicators for trading and employs protection against high spreads. Additionally, you have the option of trading with an automatic or fixed lot size. While trading with this robot, you can start with a minimum account balance of $50 and trade in the M5 timeframe. The vendor recommends using it for trading in the EUR/USD pair.
Perfect Score uses stop loss with each and every trade and does not use risky money management techniques. You even have the option of turning off the grid functionality. The system is said to be resistant to unforeseen market events and has been tested for stress with 99.90% tick data.
It must be said that the vendor has not provided a clear explanation of the trading strategy. We were expecting to find some technical details about the strategy, but at this moment, we don't know how the robot measures the strength of a trend or how it analyzes the market.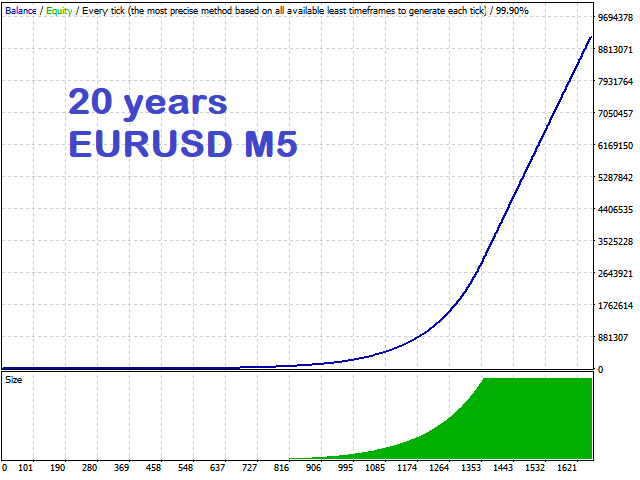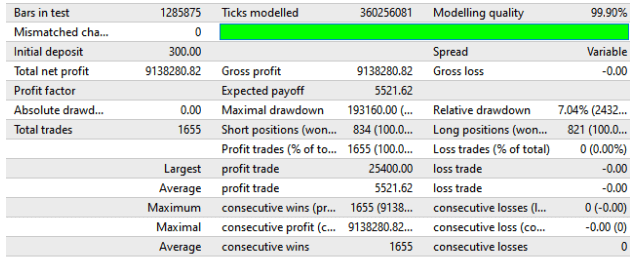 Here we have a backtest conducted for 20 years for the EUR/USD pair on the M5 timeframe. A total of 1655 trades were placed during this time period, and each one of them was won by the Forex EA. Now, a 100% win rate seems too good to be true, and it makes us wonder whether the backtesting was manipulated since it has not been verified by a third-party source.
An incredible profit of $9138280.82 was generated during this test, and the relative drawdown was as low as 7.04%.
Perfect Score Live Trading Account Review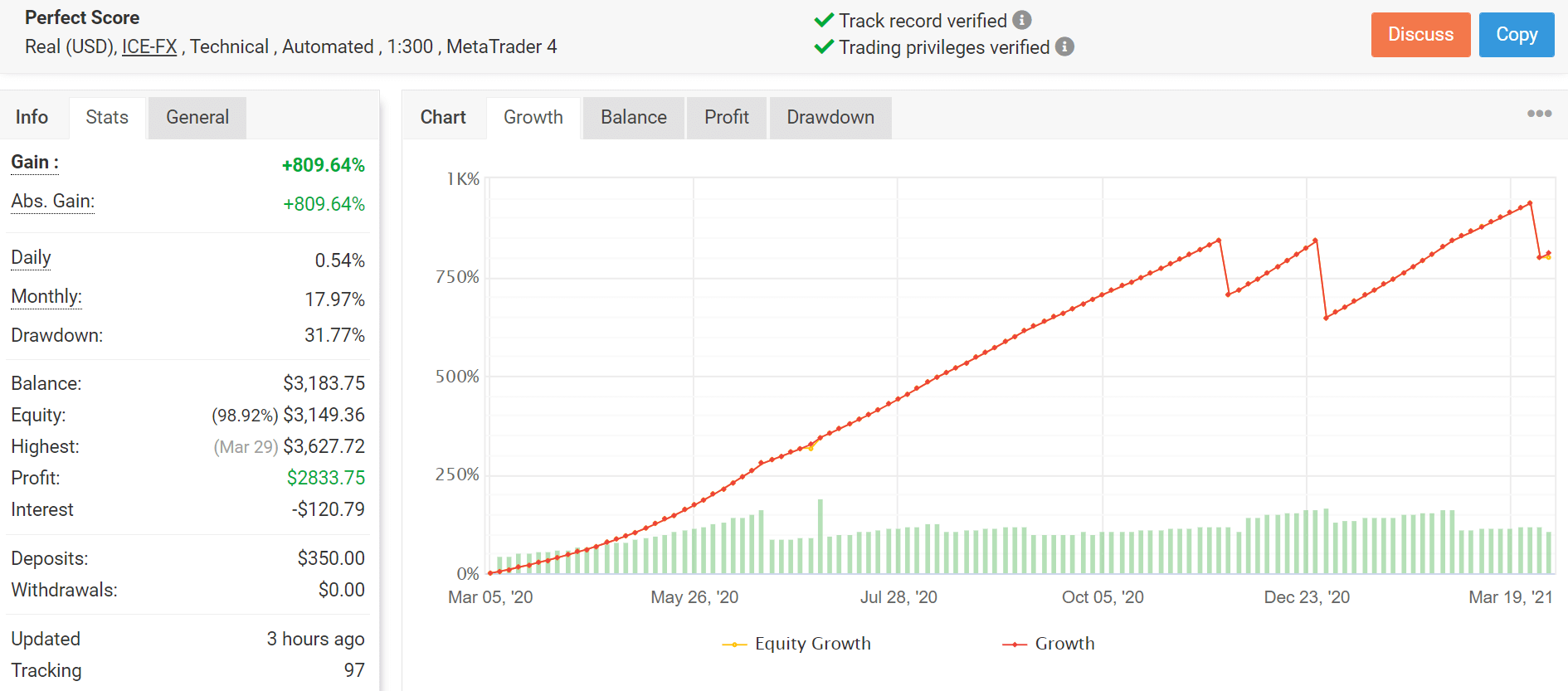 This live trading account has been active since 5th March 2020, and to date, 110 trades have been placed through it. Although the system does not trade too frequently, it has managed to achieve a gain of $2833.75 and a time-weighted return of 809.64% with an impressive win rate of 97%. The daily and monthly gains currently stand at 0.54% and 17.97%, respectively, and these are higher compared to other Forex EAs on the market.
Here, we should mention that the drawdown of 31.77% is a bit high. Although most trades have been closed in profits, the few losses suffered have been substantial. These were recovered quickly through a series of successful trades, however. For the account, the profit factor is 2.73, which is quite an impressive figure.
Pricing
Perfect is available for a price of $1499, which is quite expensive compared to the market average. Most Forex traders will be unwilling to pay so much for a robot. You have the option of renting the software for 3 months at $399, and there is a free demo version available as well.
Is Perfect Score Robot a Scam?
From what we can gather, Perfect Score is not a scam service. Live trading results are available for this Forex EA, and they look quite impressive. The vendor is experienced in developing Forex robots, so this is not some amateur developer trying to sell their unproven EA.
The extremely high price is a cause for concern and it would be risky to invest so much for a Forex EA that has only completed over 100 trades in the live market. There are no user reviews on the web for this robot.
EA Settings
In the EA settings, you have several modifiable options, such as maximum risk per trade, balance for every 0.01 lots, maximum lot size, volatility ratio, maximum slippage, maximum spread, etc. You can also set the take profit in pips and enable or disable hiding the stop loss. The trailing stop-loss, along with the hour and minute for opening a trade can also be set by the user.