Hot Profit Robot is a Forex EA that promises accurate trade execution and exit. As per vendor claims, it has more than 10 years of experience in the Forex market. However, a thorough analysis of the different performance aspects is necessary before we can deem it a trustworthy system.
We don't know anything about the company that built this robot. The vendor has not provided any information related to the company's service history and location. It is unknown whether they have manufactured other robots in the past. Thus, we are a bit disappointed from a vendor transparency perspective.
Hot Profit Robot Strategies and Tests
This is an EA that analyzes the Forex market round-the-clock to find trading opportunities. You have the option of receiving alerts on your mobile phone via push notifications, or you can receive them on the Metatrader 4 platform.
After purchasing the EA, you will receive a user guide that will help you understand how the system works. You can also use this guide to set up the software. The EA has the fixed lot size option, but it can be configured to change based on the account balance. After the order execution is over, the robot does not exit the trade. Instead, it calculates the stop loss and take profit prices.
For a ranging market, Hot Profit Robot uses the range trap strategy. It focuses on areas of support and resistance and candle patterns, looking to take advantage of the price bounces. When there is a major global event or when a major news event gets released, you can often see sharp price shifts in the Forex market. In such a scenario, the robot uses the Momentum Rider strategy, calculating early execution and exit.
Apart from this, the robot also uses the Trend Capture strategy, following the long-term trends through technical and fundamental analysis. Unfortunately, the vendor has not shared the backtesting results for this system. Tests based on historical data are something that all experienced Forex traders look for, because they reveal, to some extent, the profit-making capability of the expert advisor. Since these tests are carried out over several years, we also get to know whether the EA can survive long periods of market drawdown.
Hot Profit Robot Live Trading Account Review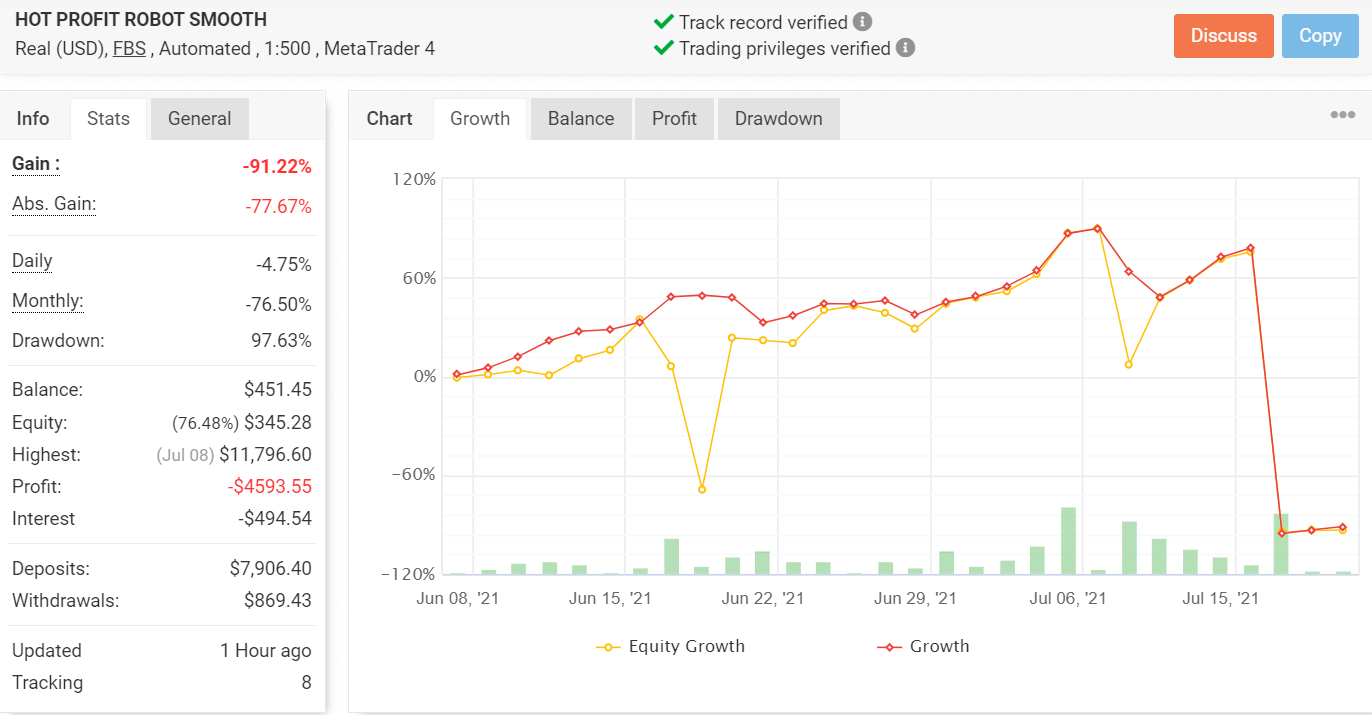 This is a live trading account for Hot Profit Robot on the Myfxbook website. This account was started on June 01, 2021, so it has an extremely short trading history. During this short period, the robot conducted 315 trades, winning 68% of them, but this does not tell the entire story. It has an extremely high drawdown of 97.63%, and currently, the account is running at a loss of -91.22%, which is unacceptable.
The daily and monthly profits for this account are -4.75% and -76.50%, respectively. Rather than generating a profit, it has caused a total loss of -$4593.55. The profit factor for this account is below 1, and there is no way a serious Forex trader would consider purchasing the robot after looking at these results.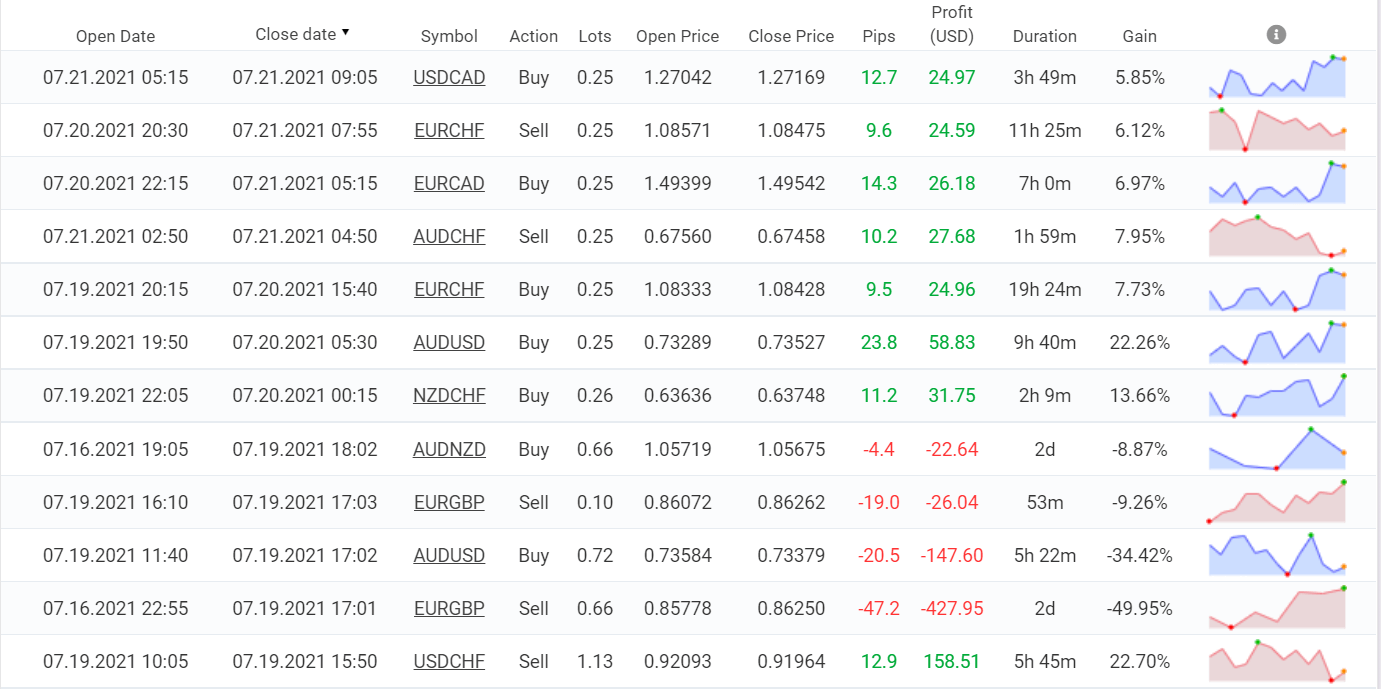 As you can see from the recent trading history, the robot has suffered some huge losses while trading through this account. We can see losses as large as -49.95%. When almost half of your account can get drained through a single trade, it is evident that the EA follows an extremely risky trading strategy.
Pricing
There are three pricing plans for this Forex EA, namely Mini, Smooth, and Aggressive. Mini is a weekly plan costing 17 Euros per week. The other two are monthly plans that give you access to 1 and 2 trading accounts respectively. While the Smooth plan costs 64 Euros per month, the Aggressive plan is priced at 99 Euros per month. The vendor does not offer a money-back guarantee for this product.
Is Hot Profit Robot a Scam?
Hot Profit Robot promises to grow your account swiftly, but as we can see from the live trading results, its performance is quite dismal. Additionally, it is not backed by a refund policy, so we can assume that the vendor is trying to scam traders.
There are no user reviews for this robot on popular review websites, which tells us that it does not have much of a reputation in the market.
Customer Support 
For the Mini plan, the vendor only provides configuration support. Monthly support is provided for the Smooth and Aggressive plans only.