There's a Forex Robotron presentation that looks like something from the previous century. That type of site design was actually so far ago and we truly surprised that developers skipped the marketing part of introducing the system to the audience. It's awkward that developers didn't make it more modern and fancy.
Forex Robotron Strategies and Tests
The presentation has a short list of features we would like to describe:
The system executes deals fully automatically.
It focuses on trading mostly past Midnight.
There are five symbols under management: EUR/AUD, EUR/CAD, EUR/CHF, EUR/GBP, and EUR/USD.
It executes orders on the short-term time frame – M5.
We can expect 500 deals will be closed annually.
The settings are free to be customized to increase our trading experience.
There's a feature "Option for NO Trades Open Over Weekend."
It's a great feature that keeps our deals aside from the sharp Monday past-Midnight moves.
The robot works following NFA and FIFO restrictions.
The system can be applied to Islamic accounts.
There are no risky strategies on the board like Hedging, Grid, Martingale, or Arbitrage.
The installation process will take little time because the user guide provided.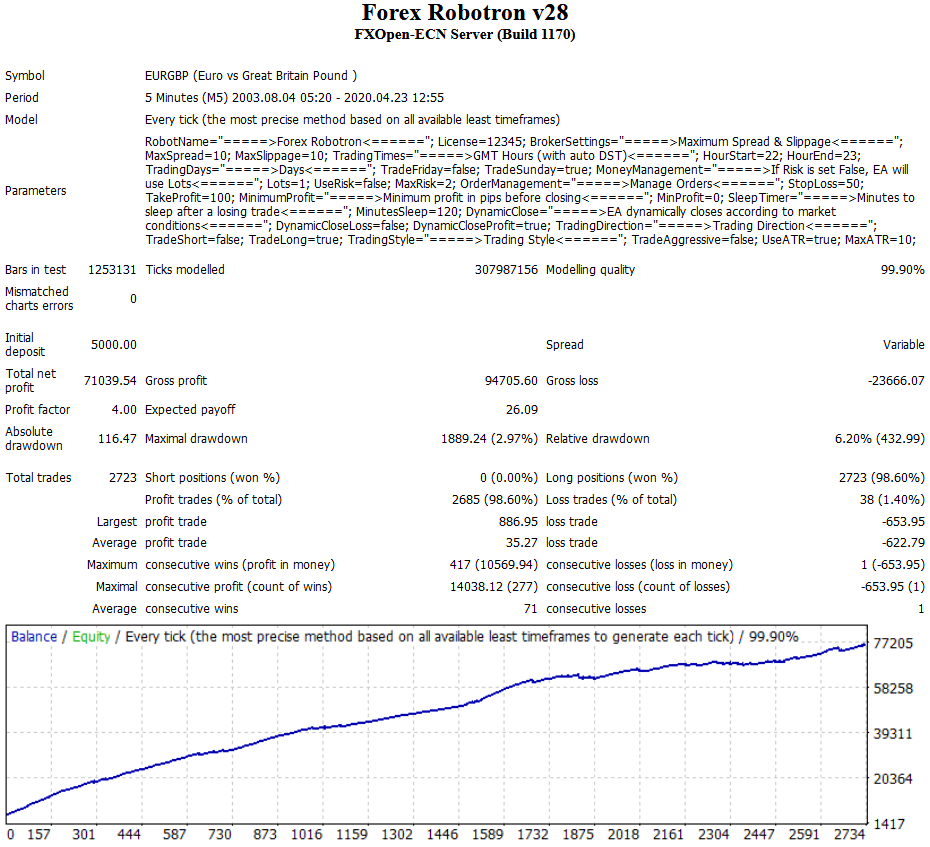 We can discuss a EUR/GBP backtest on the M5 time frame. There's seventeen-year data used. The modeling quality was 99.90%. An Initial Deposit was $5,000. The net profit has become $71,039.54. The Profit Factor was 4.00. The maximum drawdown was only 2.97%. The relative drawdown was 6.20%. It has closed 2723 deals with a 98.60% win-rate for only Longs. We have no idea if it trades Shorts direction.

We can check what symbols are better to trade according to a backtest screenshot made from StrategyQuant.
Forex Robotron Live Trading Account Review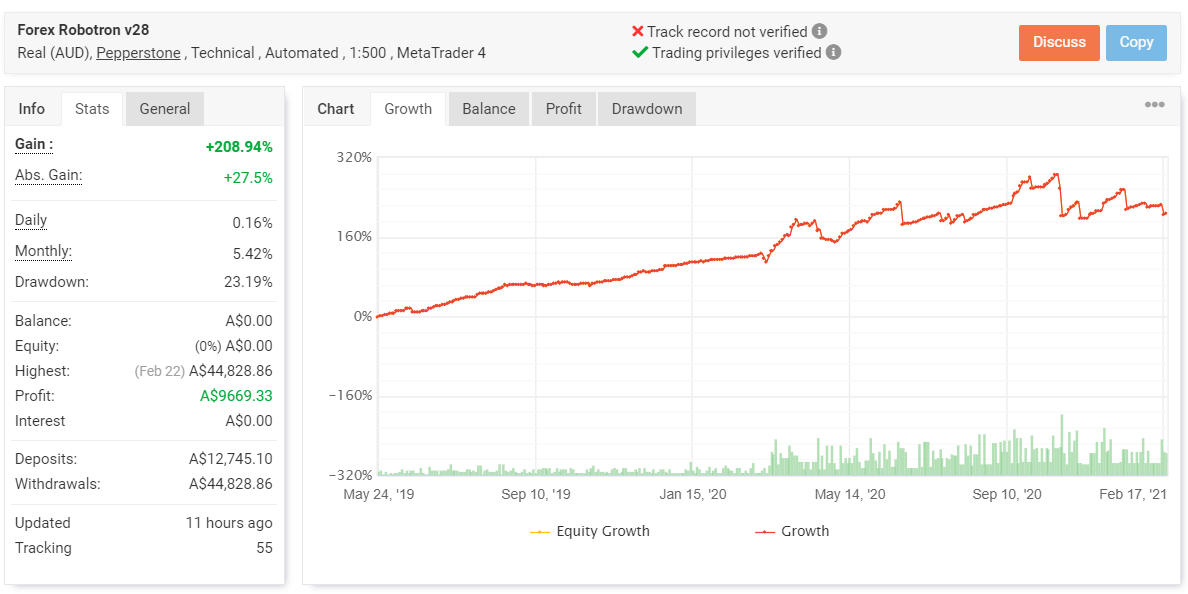 We've got a Forex Robotron v28 real AUD account on the Peeperstone broker. This account was created on May 24, 2019, and deposited at A$12,745.10. The last trading activity performed on this trading account was in February 2021 (the devs withdrew over A$44K). The system ran charts automatically using technical data from indicators. The leverage was 1:500. There's no track verified badge. So, there could be removed periods of trading activities. Since then, the absolute gain has become +208.94%. An average monthly gain was +5.42%. The maximum drawdown was 23.19%.

The robot traded 821 deals with 1625.9 pips. An average win was 4.28 pips when an average loss was -7.02 pips. The system traded 1,103.20 Lots. The win-rate was 79% for Longs and 25% for Shorts. In the shorts direction, there were only four deals traded. An average trade length was one hour and twenty-three minutes. The Profit Factor was 1.29.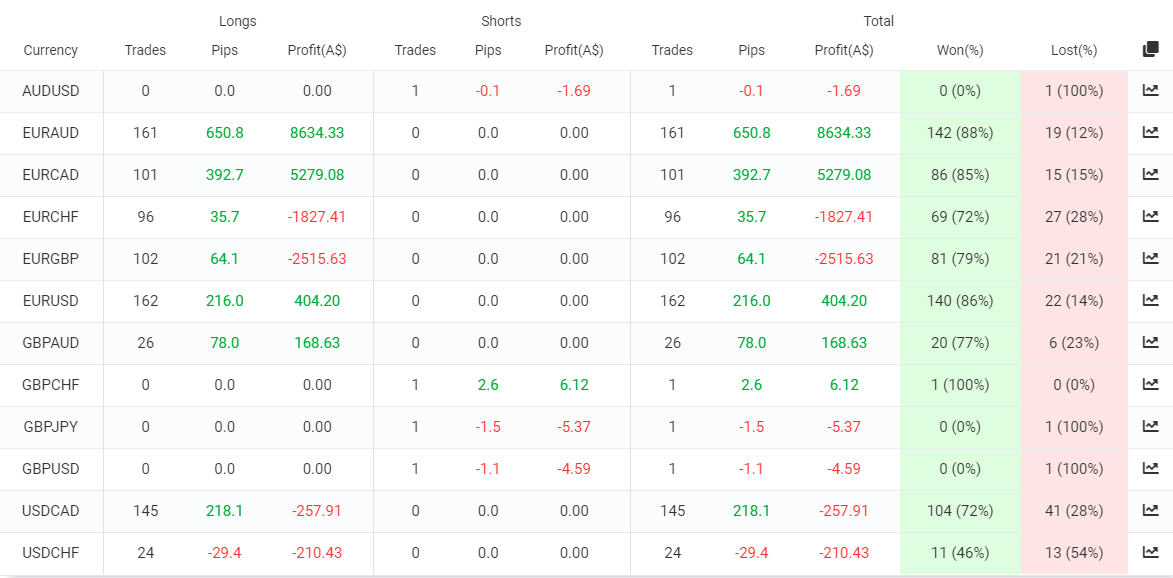 Most of the profits have been obtained on EURAUD ($8634) and EURCAD ($5279) symbols.
Most deals get opened in the past midnight hours.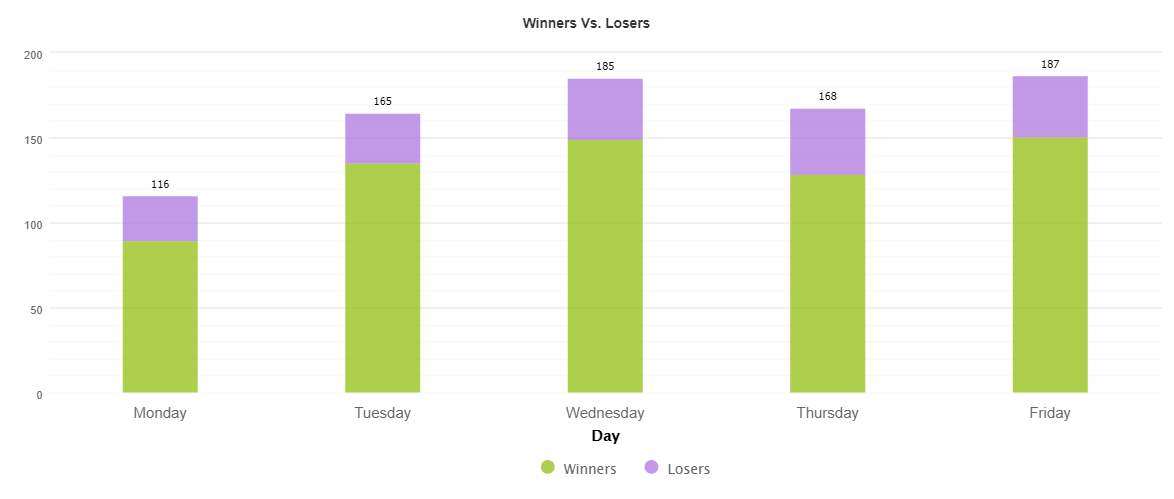 Monday was the less traded day. It's because the market makes a sharp move right after Midnight on Monday.

The robot executed deals with low risks to the balance.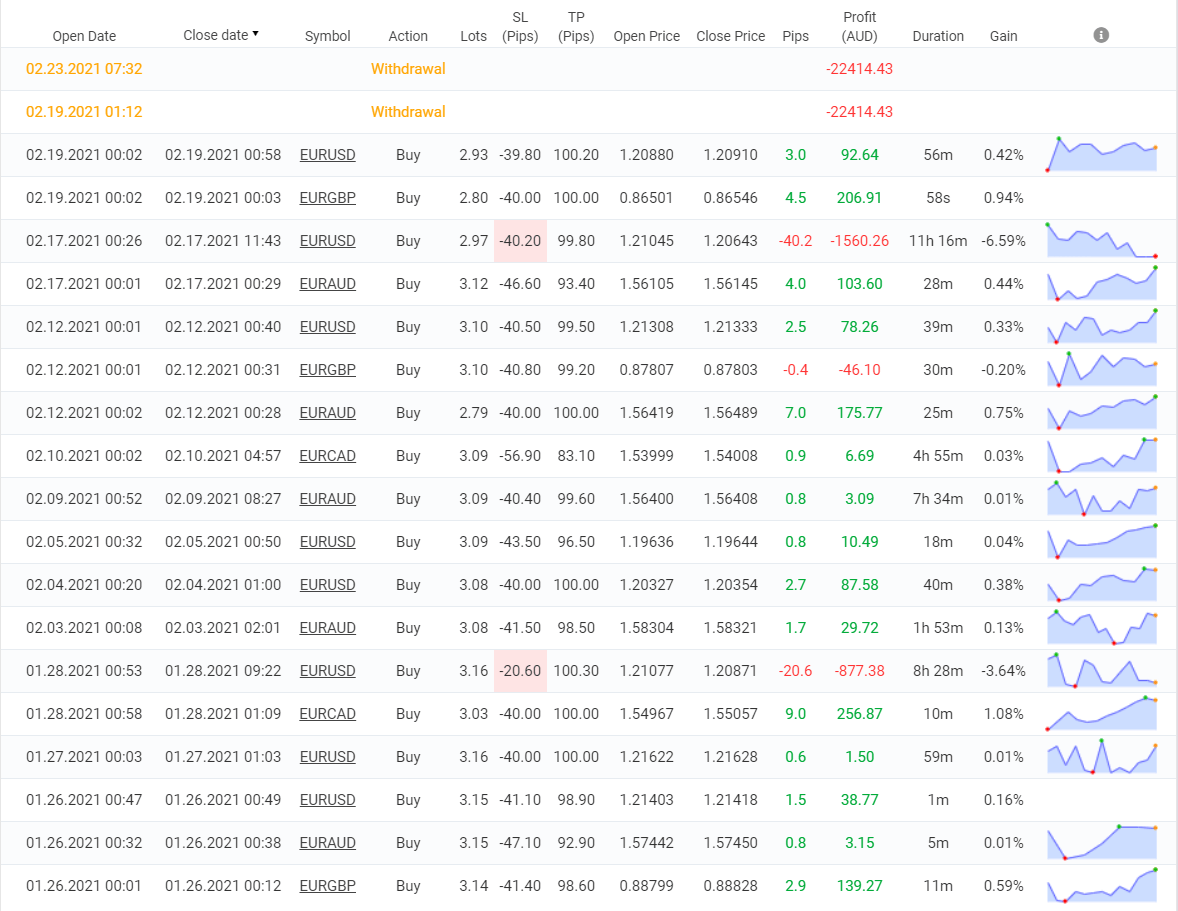 The developers have decided to withdraw the account and stopped trading activities.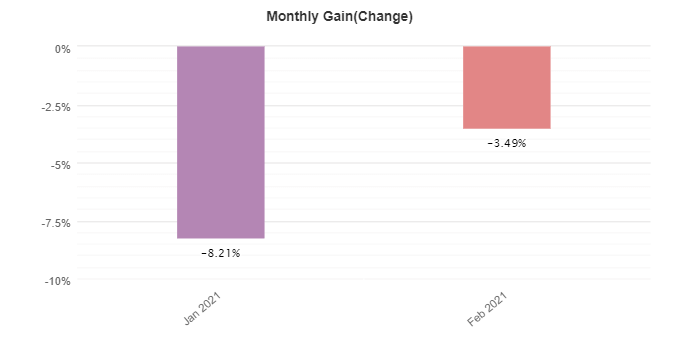 The system doesn't look like the one that makes us rich.
Pricing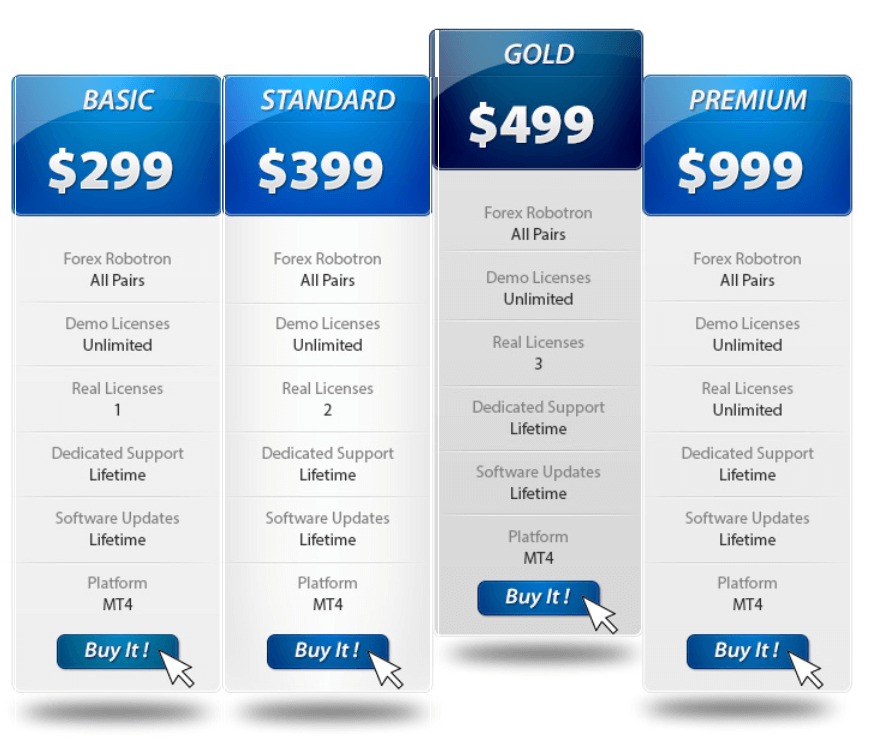 Forex Robotron is introduced in four packages that vary by included licenses: Basic, Standard, Gold, and Premium. The Basic pack is available for $299. It includes one real account license. The Standard pack is available for $399 price. It includes one more real account. The Gold pack costs $499. There are three real licenses provided. The Premium costs a scam-like price – $999. It includes unlimited real accounts licenses. We can rely on that the packages have: an unlimited number of demo account licenses, welcome and lifetime support, lifetime free updates, step-by-step user manual.
Is Forex Robotron a scam?
Yes, it is. It looks like that. We'd never invest in the system that was stopped and which account was provided withdrawn to the ground. There's no margin left to trade, even if the robot will be turned on.
People feedback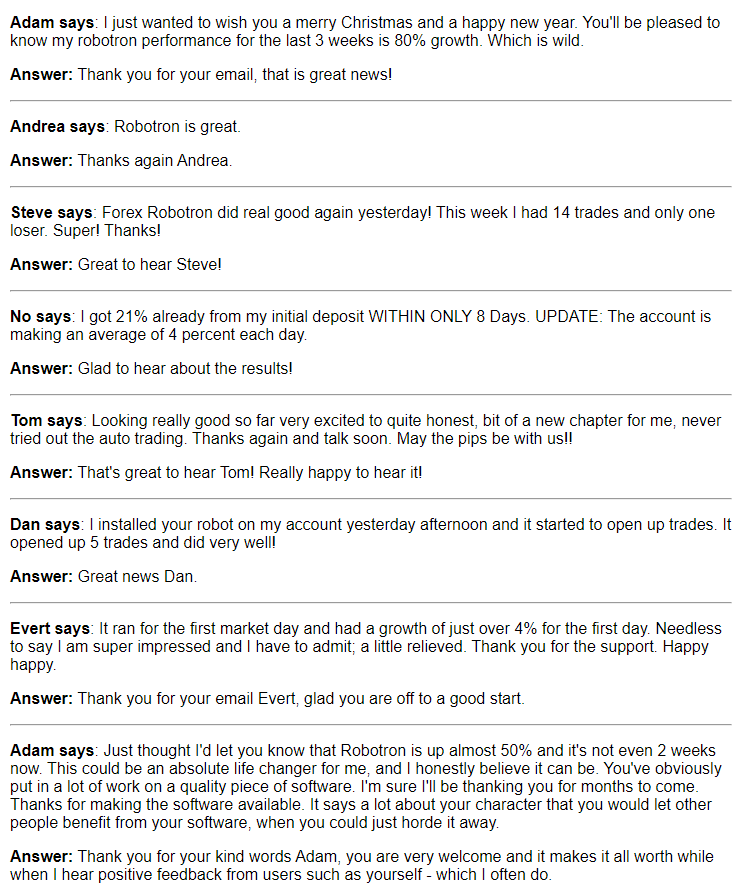 There are some reviews published on the site.

There's a page of the company on a Forex Peace Army site with a single comment.

The client wasn't happy because the system didn't show the performance he or she expected to see.