Forex Gump EA has a short presentation with almost no explanations provided. Although we know that the system trades 29 currency pairs on MT4 and MT5 terminals and offers four risk levels, we do not know how well its algorithm works in the long run. Despite the devs' claims of the total return of +2,711.4% for 1058 days, the absence of the verified trading results simply zeroes these statements.
Forex Gump Strategies and Tests
We have grouped up all available information about the robot and its features:
The robot executes deals automatically.
It supports both MT4 and MT5 terminals.
The robot offers four levels of risk: High, Middle, Low, and Conservative. So, traders can choose the mode that will suit their trading needs and preferences.
The expert advisor supports 25 currency pairs. You can choose all or a few currency pairs. Major currency pairs are the best ones to trade as they have lower spreads and less slippage due to their high liquidity.
It executes orders from the M1 to D1 timeframe.
The robot trades 24/5.
 The minimum deposit should be $4000 and $40 for cent/micro-accounts.
The leverage should be set at 1:100 or higher.
The developers mentioned that they are not selling the EA through the MQL5 market.
The system uses a combo of price action, news, and trend filters.
The devs don't provide us with backtest reports that would help us to compare current trading results with the performance on the past data. Although the backtest report could provide info on the historical performance, it cannot guarantee future performance. For the utmost accuracy, backtests are conducted using real tick data, 99,9% modeling quality, variable spreads, swaps, and slippage info.
Forex Gump Live Trading Account Review
This is a live trading account that trades 25 currency pairs on the H4 timeframe. It has a trading history of 83 days on FxBlue. For this period its account balance has grown to 5,643 USD with a closed profit of 1,643 USD. The floating P/L is -592 USD. Its total gain is 56.7% with an average weekly and monthly gains of 3.9% and 17.4%, respectively. Its profit factor is average and equals 1.77. The system holds a trading position open for a long period. It closes a deal in 37 hours on average.
The system trades multiple currency pairs. The most frequently traded are GBPJPY, EURAUD, GBPAUD, and CADJPY. An average win result is 87%.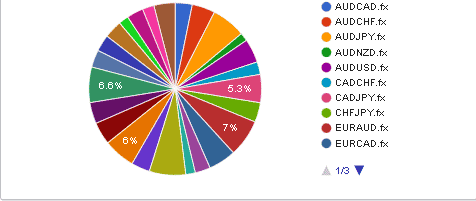 Pricing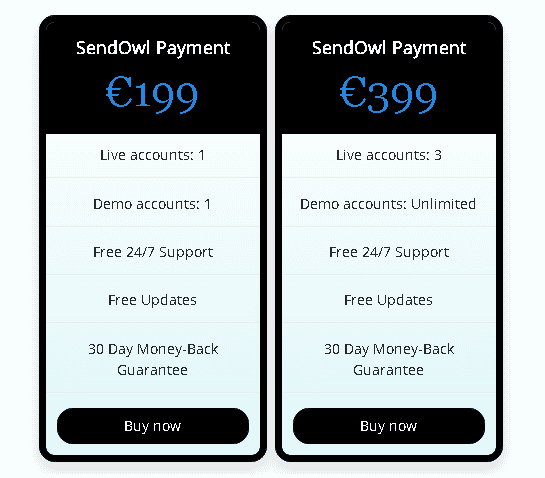 The presentation includes two packages with lifetime licenses. For 199 EUR, we can get one live and one demo account licenses, free 24/7 support, free updates, and a 30-day money-back guarantee. For 399 EUR, we will receive three real account licenses and an unlimited number of demo licenses, and the rest is the same. Traders can commit a purchase using SendOwl. We haven't seen this paid company before.
Is Forex Gump a good system to rely on?
It is difficult to say so. The dev is not transparent enough to convince us that we can safely recommend Forex Gump EA  to traders.
People feedback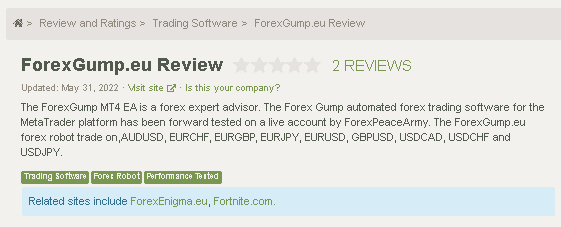 The company runs its profile on Forex Peace Army. There's also the real account connected 79 weeks ago. For this span, its P/L weekly stats has achieved 0,12%. The gross amount is 10,356%.

There are only 2 testimonials written. One of them is negative and was published on April 29, 2022. The trader warns us not  to buy the robot: