Belkaglazer EA is a long-lived robot that was published on April 6, 2017, by Dmitriy Shal. The system was updated many times until the version became 2.169 on December 14, 2020. It was demo downloaded 8113 times.
Belkaglazer EA Strategies and Tests
The presentation includes some explanations which we want to mention in the list:
The advisor executes orders automatically for us.
The system works only on the MetaTrader 4 platform.
We can apply the system for trading Forex, Crypto, Indices, and others.

There are four parts of decision making: Model, Filters, Execution, Management.
We have four trading logics: PriceAction, PRNG, PriceChannel, Pivot.
The robot works with 4 and 5-digit quotes.
The robot executes momentum, breakout, counter-trend, mean-reversion, scalping, and other strategies.
It can execute Limit, Stop, Market or Pending orders, and Instant execution orders.
The risky strategies (Grid, Hedge, or Martingale) aren't applied.
It can work with only EUR/USD and GBP/USD symbols.
There's a High-Impact News filter.
It can detect GMT Offset automatically.
The money management covers open deals with proper Stop Losses and Take Profits.
We can customize the settings we want.
The backtests had 99.9% modeling quality and variable spreads.
"There is a possibility to create a FIFO compliant portfolio."
The developer mentioned that the robot can lose some years in a row. It's a scam.

We have some "additional" strategies on the system.
It requires to be used on a VPS service only.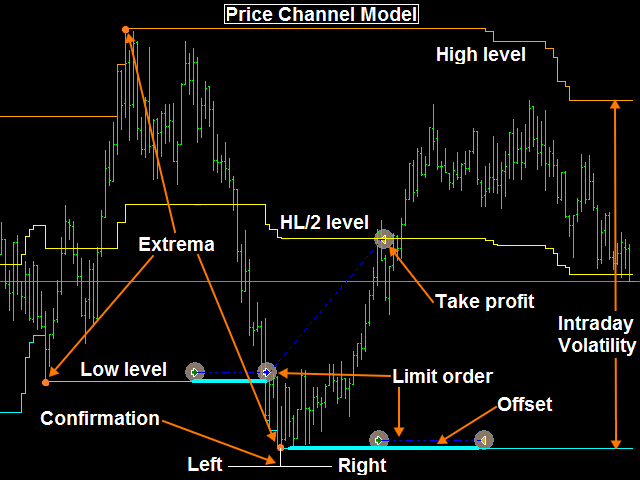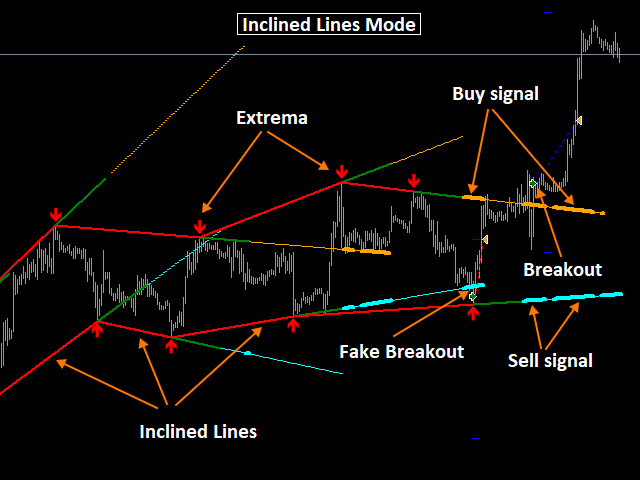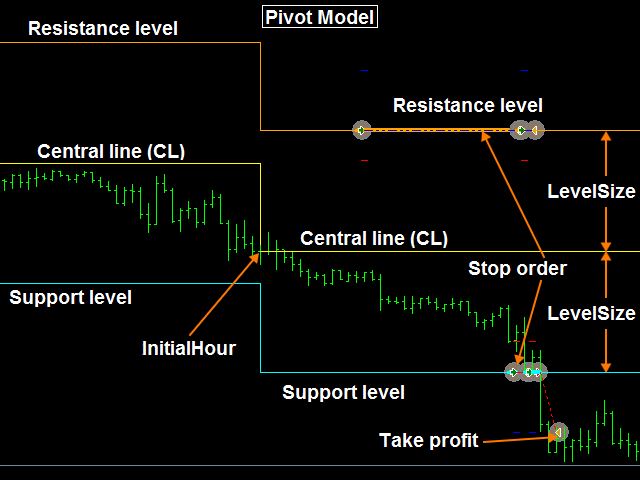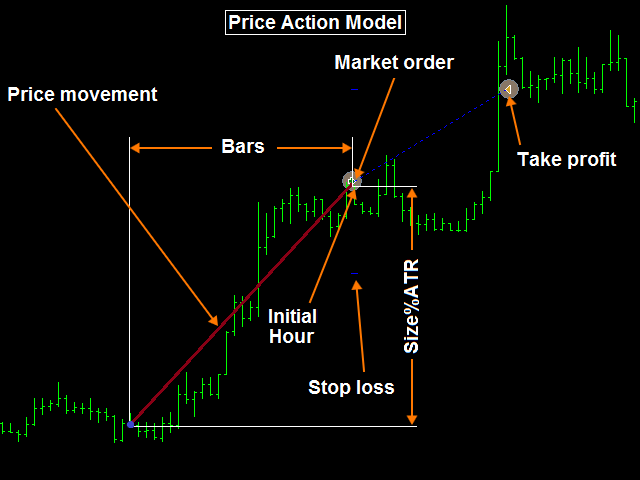 We have some screenshots that no one cares about because the robot has been wasting an account for the last year.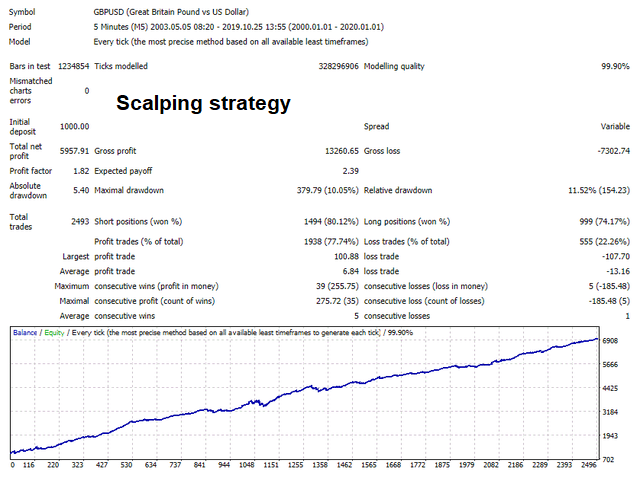 We have a backtest report for a scalping strategy on GBP/USD on the M5 time frame. The data united 2013 and 2019 years. The modeling quality was 99.90% with variable spreads. An initial deposit was $1000. The total net profit was $5957. The Profit Factor was 1.82. The maximal drawdown was 10.05% ($379.79). Belkaglazer EA traded 2493 deals with 80.12% of the accuracy rate from Shorts and 74% for Longs.
Belkaglazer EA Live Trading Account Review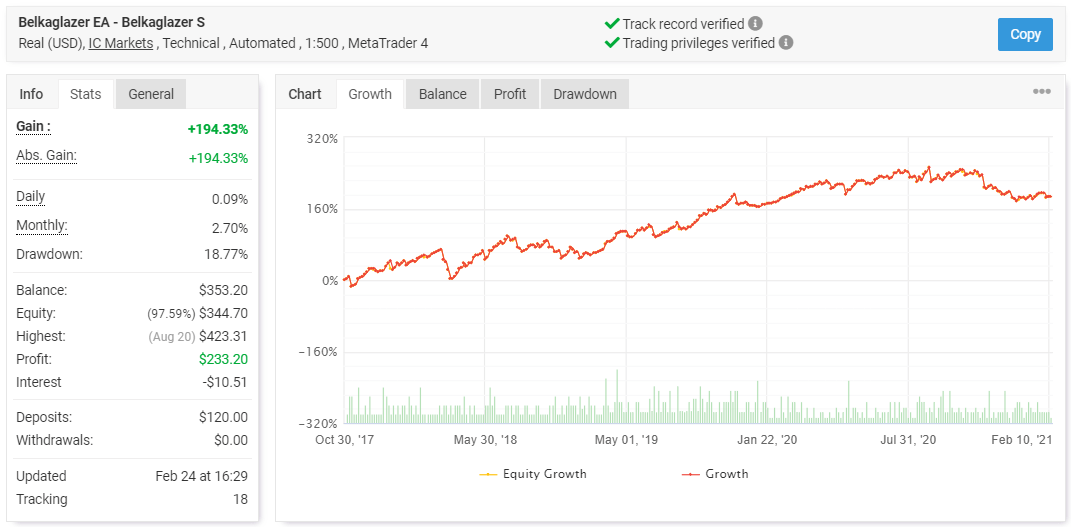 Belkaglazer EA worked on a real USD account automatically on IC Markets. The leverage was 1:500, and the platform was MetaTrader 4. The track record and trading privileges were verified. The account was deployed on October 30, 2017, and deposited at $120. Since then, the absolute gain has become 194.33%. An average monthly gain was 2.70%. The maximum drawdown was 18.77%.

There were 615 deals with 855 pips (26.02 lots) traded. An average win was 7.75 pips when an average loss was almost twice higher -13.61 pips. The win rate was 63% for Longs and 78% for Shorts. An average trade length was two hours. The Profit Factor was 1.22.

There were only two symbols traded where the most activities occurred on EUR/USD – 596 deals.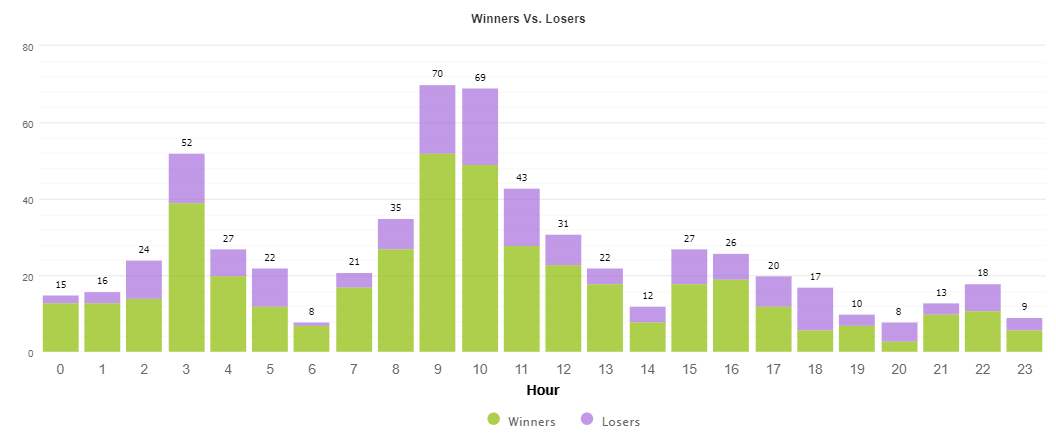 The robot traded Asian and the beginning of the European sessions.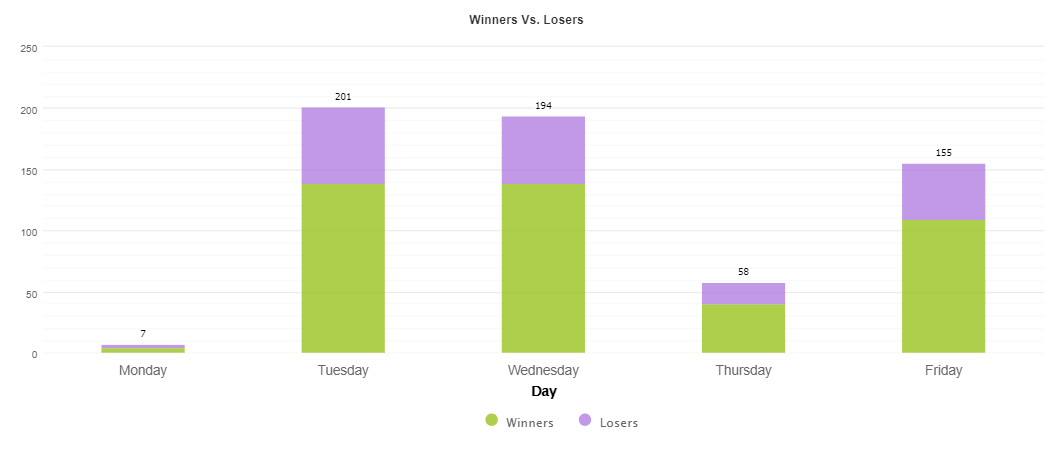 If we take a look at the weekly chart, it seems weird to us because trading for two days was skipped.

The advisor worked on the account with quite high risks to the balance.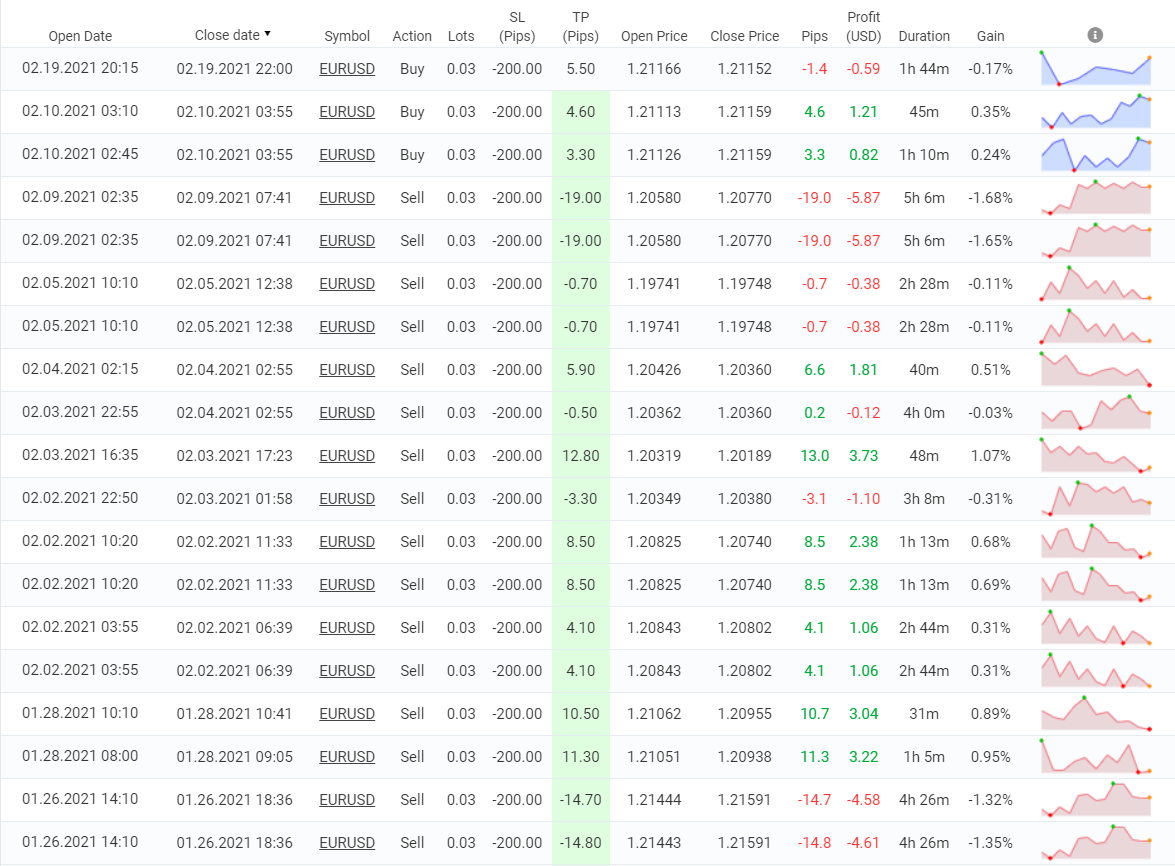 We may note that the robot did use a Grid of several orders to increase profitability.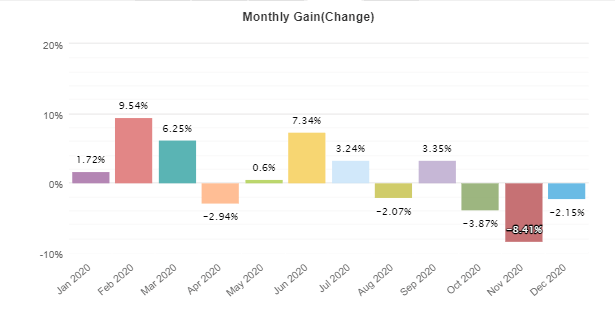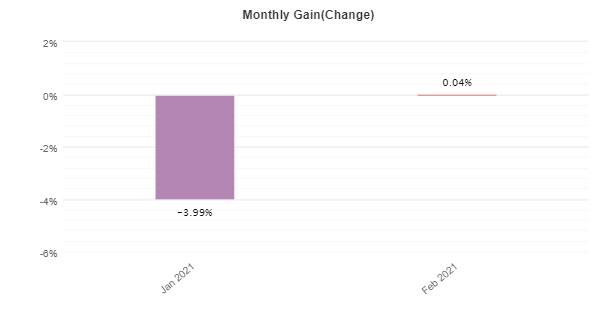 Trading results looked horrible for the last fourteen months of trading.
Pricing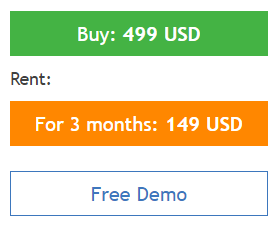 A copy of Belkaglazer EA costs $499 (after increasing to $100). It's a completely overpriced offer. The three-month rent costs $149. There's a demo download option available. So, we can check settings and execute some backtests on the terminal without a need to buy it. We have no money-back guarantee option.
Is Belkaglazer EA a scam?
Most likely, yes. The robot couldn't provide profits for at least one year. Paying and immediately losing money is a weird decision.
People feedback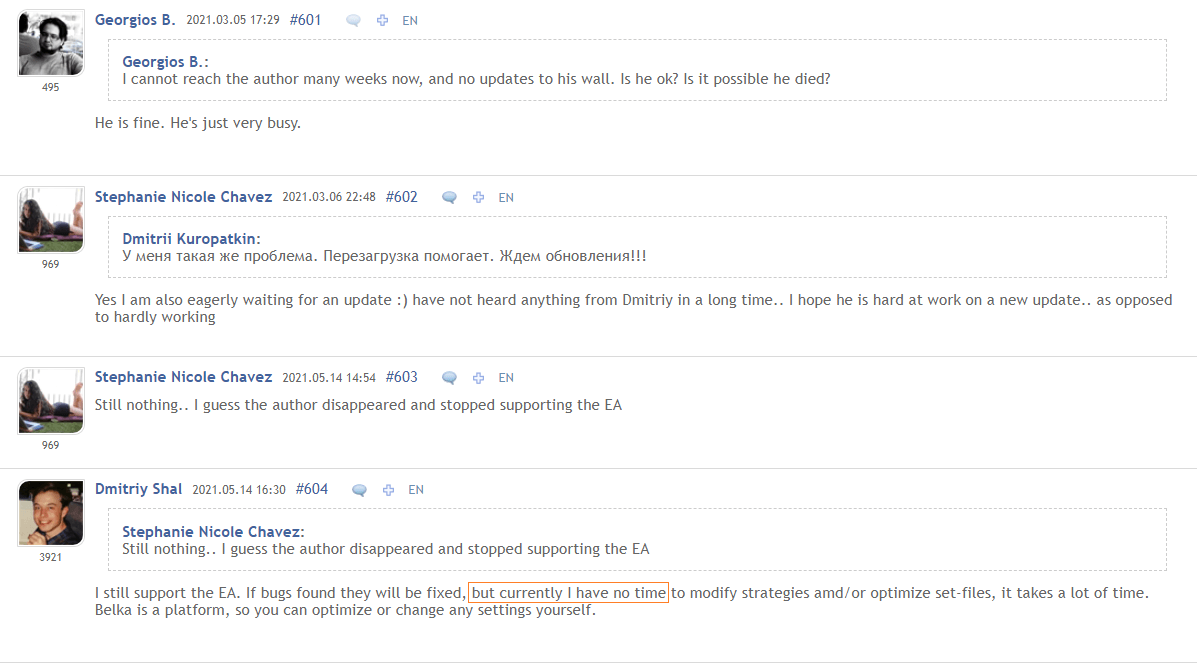 The developer had no time to fix the system and said this out loud and proud.
Summary
| | |
| --- | --- |
| Pros | Cons |
| Backtest reports provided | No settings explanations provided |
| Real-account trading results | No money-management advice given |
| | No risk advice given |
| | No trading results provided since February 2021 |
| | The offer is overpriced |
| | The developer is a scammer |