Automic Trader is described as an expertly coded, effective system that will usher you into a life of freedom and passive income. As per the vendor, the advisor can generate 18% monthly gains for the user, with some months earning as high as 30% worth of revenues with conservative risk. We will assess these claims for you in this review.
LeapFX is the brain behind this system. The company, which was launched in 2018, focuses on helping users to trade their Forex investments intelligently. It also claims to produce successful advisors, some of which include DynaScalp, Funnel Trader, AX Trader, Easy Money X-Ray Robot, Gold trader, etc.
Automic Trader strategies and tests
Here are the features included in the bot:
Compatibility with 6 specific currency pairs: AUDUSD, GBPJPY, EURGBP, EURUSD, USDCAD, and USDJPY
Full customer support
Free lifetime updates
Setup guide
Automic Trader works with the trend. It particularly trades with the aforementioned pairs because, according to the vendor, they 'trend' well by moving more than 100 pips daily, on average. The EA normally identifies when a trend is beginning to form on each of these pairs based on volatility and momentum. When its algorithm is satisfied by the entry criteria, a trade will be triggered automatically. A dynamic auto adapting trade management system is then employed to manage trades to ensure they make profits to the last pip before exhaustion.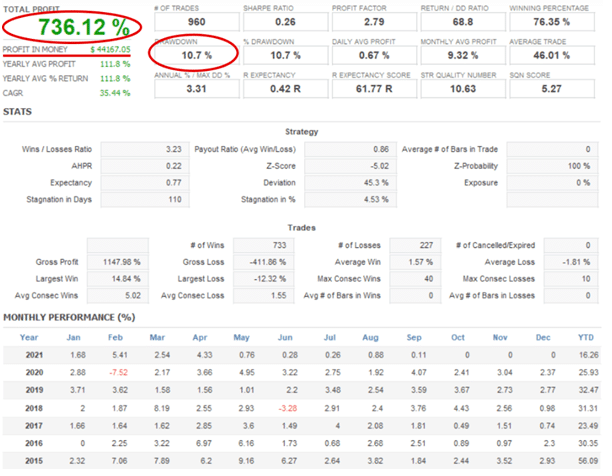 As you can see above, we have the backtest results of the EA, but the info is not presented in the usual format for a backtester report. Through this data, it is apparent that the system generated a total profit of $44167.05 during the 2015-2021 testing period. So, it was able to grow the account by 736.12%. The resulting drawdown (10.7%) was low and proved that low-risk trading was implemented.
The total completed trades were 960, of which 733 were successful. No trade was canceled. The year 2015 stood out for producing the highest profitability rate at 56.09%.
Automic Trader live trading account review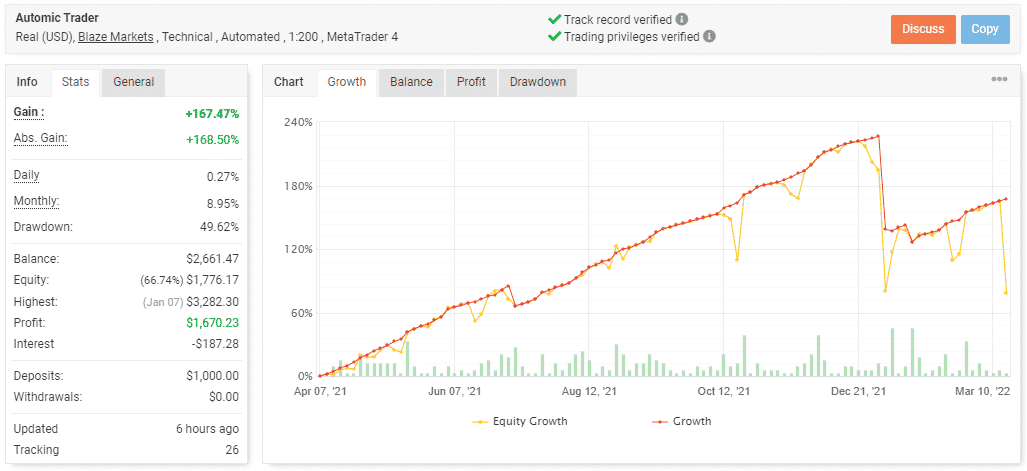 The above account has been active since April 2021, and so far, a total net profit of $1670.23 has been realized from a $1000 deposit. On a monthly basis, the system makes a profit of 8.95% for the account.
The drawdown (49.62%) is rather large, but the profit chart shows consistent growth between April and December 2021. Even though the account took a big dip towards the beginning of 2022, it has recovered, and profits have been increasing to date. Based on this performance, Automic Trader may be a good option for users looking to gain profits steadily, not minding the high risks involved.

There are 350 completed trades that have a 74% profitability rate. The system has won 2701 pips after trading with 19.05 lots. By and large, a position can be held for up to 3 days, making the EA an infrequent trader. The profit factor is 1.59, while the commissions paid are $133.35.

We have a total of 6 currency pairs traded, with the EURUSD being the preferred instrument of transaction. The EURGBP is the most profitable symbol, having made a profit of $673.31 for the account.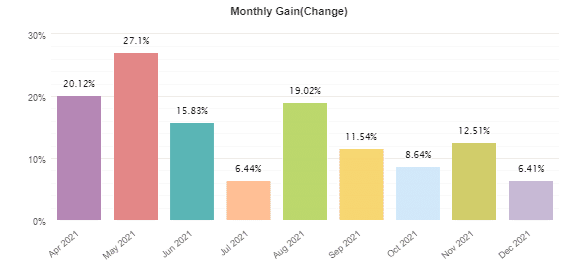 No month reported any loss during the 2021 trading period. Also, the profitability rates were high and remarkable.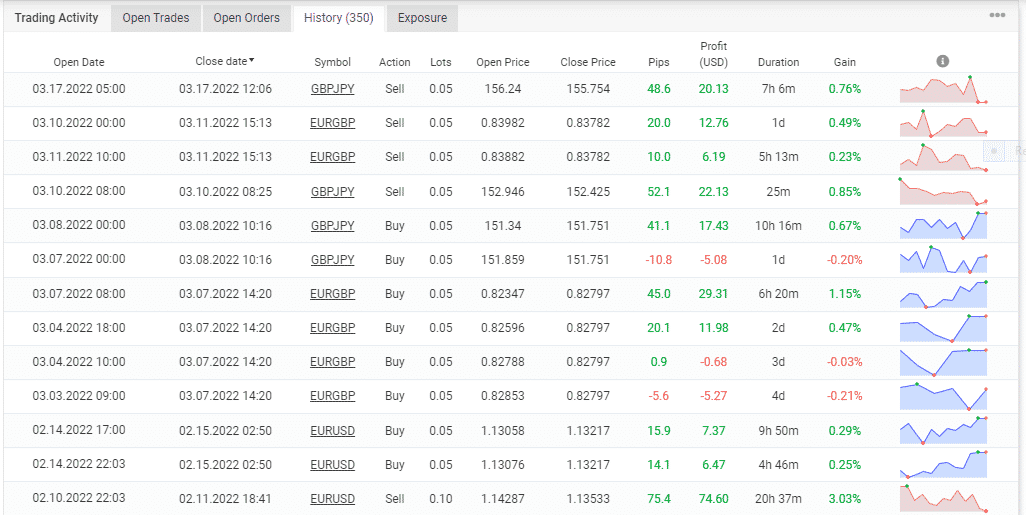 There were instances where the robot worked with a grid of orders and attained desirable profit amounts. The losses made were quite small.
Pricing
When it comes to pricing, you have 2 choices presented. You can either invest $497 annually or $799 for life. Purchasing the robot gives you access to Automic trading software, best recommendations, a 30-day refund policy, free updates, customer support, and a $100 bonus guarantee.
Is Automic Trader a good system to rely on?
You can rely on the system as we have established that it can generate income for the user on a monthly basis without fail.
Customer reviews
Even though we couldn't find any customer review that relates to Automic Trader on FPA, the parent company has an average score of 3.196/5 from 17 reviews. This rating boosts the vendor's trustworthiness, which makes us conclude that traders might find this EA helpful.