Telegram Connector is a trading system that allows moving signals from Telegram to MT4 and MT5. The system allows us to be in touch with all published signals as soon as they are released. We are informed that skipping trading opportunities is not cool "If you are tired of missing good trades because you don't look at your phone 24/7, use our software to connect your signal provider's Telegram group with your MT4/MT5 trading account. That way you don't have to be on your phone all day long but still get in on all the trades during the day." If a user has enough experience in customizing software, the system can solve some problems.
Telegram Connector Strategies and Tests
The system has the next features:
The software copies signals from Telegram channels to the MT4 or MT5 terminals.
The system is easy to set up.
After purchase, the system will be delivered via email.
To set it up we have to follow instructions.
We can get their signals executed as our trades.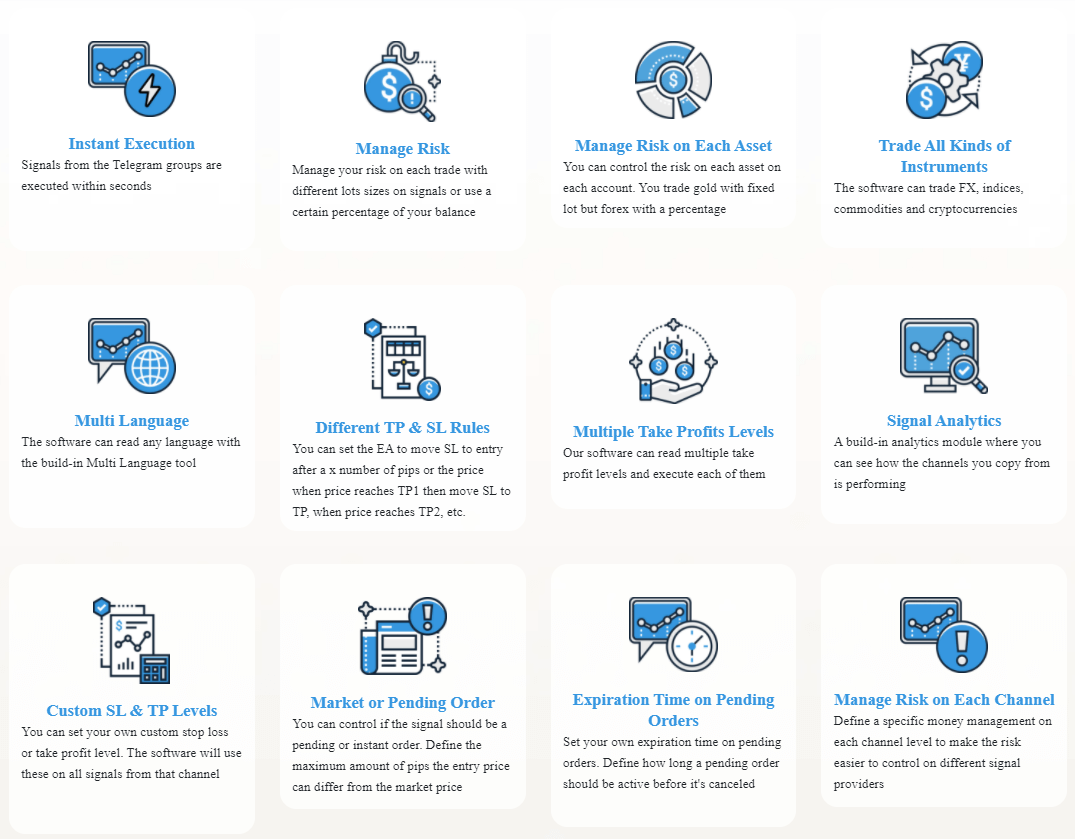 The system is introduced with the blocks of pros.
The execution speed is several seconds.
We can set risks we want to work with. The lot sizes can be customized.
The risks can be set for each pair.
We can combine fixed lot sizes with percentages.
We can work with Forex, indices, commodities, and cryptocurrencies.
"The software can read any language with the built-in Multi-Language tool."
The dev tells us that we can set the EA to  "move SL to entry after an x number of pips or the price when the price reaches TP1 then move SL to TP, when the price reaches TP2, etc."
The system can "read multiple take profit levels and execute each of them."
It has a feature that analyzes profitability for each pair.
They can work with customized Stop Loss and Take Profit Levels.
We can decide what signals will be the execution order or the pending order.
"The pending orders can be customized by expiration time before getting canceled."
The system allows customizing risks for each channel.

There are some statistics provided.
The software was downloaded 1384 times.
They have 1255 happy clients.
There are 1186 VIP users.
Telegram Connector Live Trading Account Review
We have no backtest reports because the software doesn't have strategies behind it. This service is just connecting signals from analysts and traders to our account.
The same we have about trading results. The system doesn't have strategies to work on the terminal, so there cannot be trading results.
It will be great if the developers show some trading results as proof that the system copies and executes these orders automatically well and there are no issues from this side.
Pricing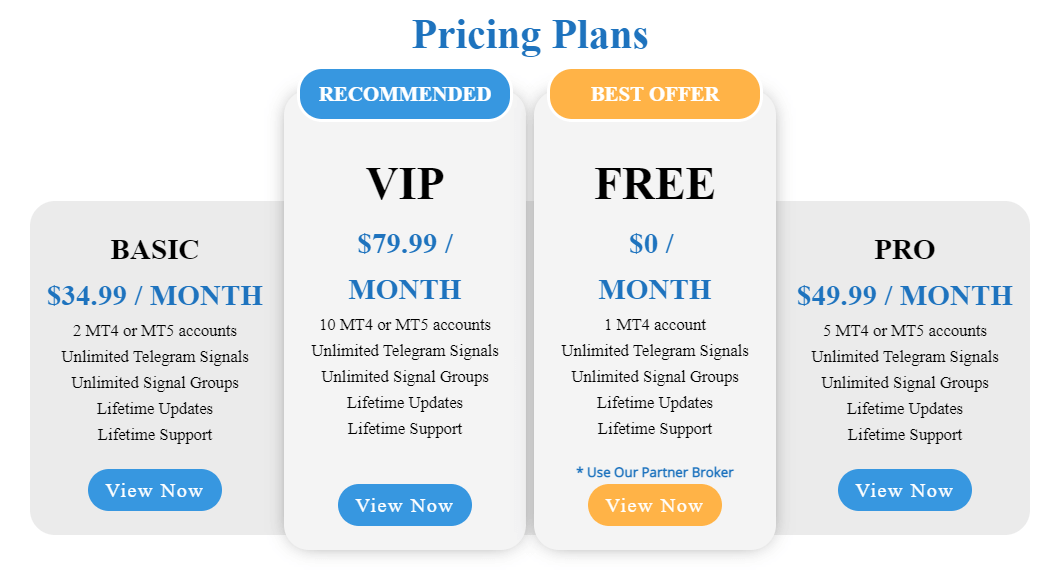 We have three subscription-based options to work with. The Basic pack is available for $34.99 a month. We can rely on two MT4 and MT5 licenses, unlimited Telegram signals plus unlimited signal groups, lifetime updates, and lifetime support. The Pro package is available for $49.99 monthly. There are five licenses for both terminals. The VIP subscription costs $79.99 monthly. There are ten accounts provided. We can enjoy using a free pack if we register a real $500 account on the Vantage FX broker.
Is Telegram Connector a Scam?
The company is legally working in Denmark. So, you can easily check if it exists. If we have more screenshots or examples of how it works we could answer this question for sure.
People Feedback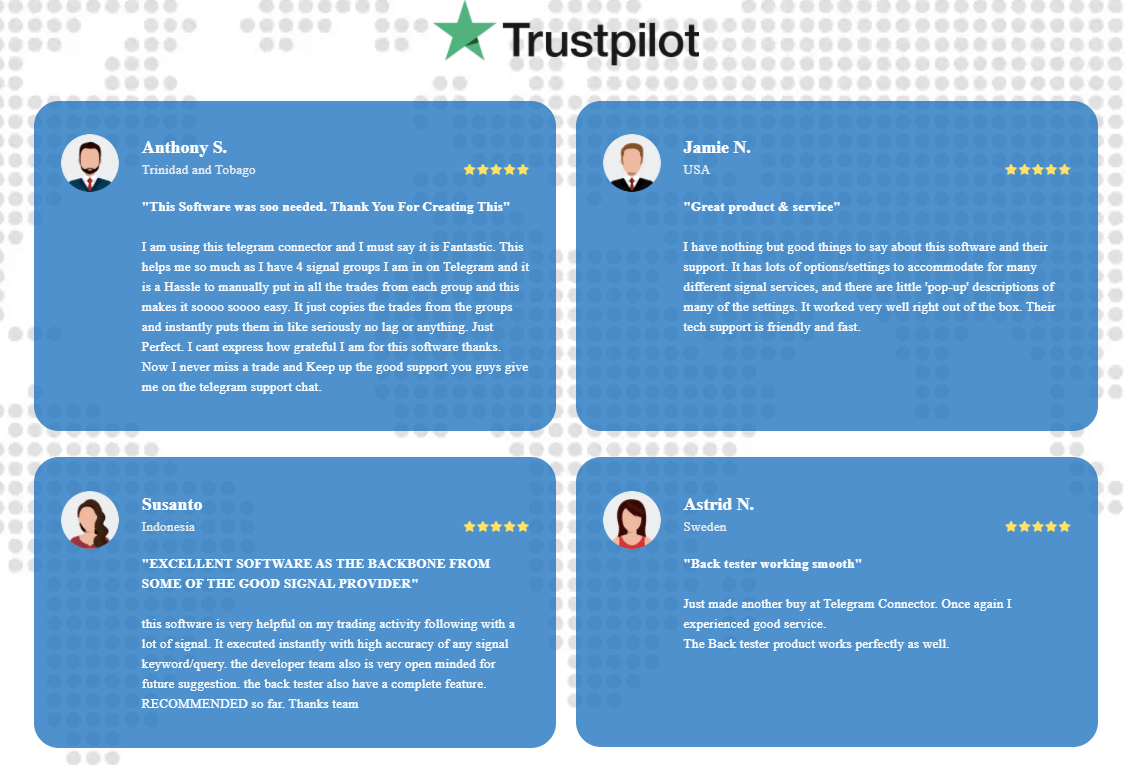 We have some positive testimonials published on the site. It's hard to be sure that all of them are real.