Robofi brings together developers of bots and traders to promote joint growth and creativity. The goal is to close the gap between financial technology and the public through the provision of DAO bots. The platform is fueled by the VICS token, which traders use to stake and carry out other services in the ecosystem.
Robofi: pros and cons
| | |
| --- | --- |
| Pros | Cons |
| Fully automatic | Performance is unknown |
| Saves time | No strategy insight |
| User-friendly | |
| Diversifies investments | |
About Robofi
Robofi is a platform that provides DAO crypto trading bots through Initial Bot Offering (IBO). So, you can engage in governance and provide liquidity, trade, and stake assets to earn extra income. Developers are given a chance to sell their creations and raise money for trading when other traders purchase their creations.
Robofi review: key features
The ecosystem has various components that offer users a distinctive chance to earn income. We describe the features below:
VIC tokens were introduced to enable users to take part in staking, IBO, or lending for earning.
A liquidity pool is present to facilitate the staking of assets to earn VICS tokens.
There's a marketplace where developers can post their bots for IBO.
A decentralized lending platform is available to allow traders to join the DABots community even when they lack the necessary assets.
RoboFi Earn is a feature that gives users a chance to deposit their coins and obtain stable interest despite market volatility.
Robofi: trading strategy
The trading strategy of this bot is not clear. We are only aware that DEX, CEX, and farming DAbots are featured to help traders stake and farm tokens to earn passive income.
Security of Robofi
Robofi is claimed to operate on blockchain technology, which is known to record transactions through its chain of blocks. So, it's nearly impossible for people to tamper with a single record. Also, your account is protected through 2FA and KYC verification.
Is Robofi safe?
The platform promises to protect your personal data against theft, loss, disclosure, alteration, and unauthorized access. It plans to achieve this through reasonable security measures, which the vendor fails to specify. Cookies are also applied to enhance the general security of the platform and thwart fraud attempts.
How much does Robofi cost?
The vendor doesn't share any info about the bot's pricing plans.
Deposit and withdrawal
We don't know what amount you need to deposit on Robofi's bots to begin trading since this info is not provided. Nothing is said about the withdrawal policy either.
Does Robofi charge fees and commissions?
No fees or commissions are charged on trades.
How much profit can it earn?
Robofi's performance stats are not shared anywhere on the official website. This makes it impossible for us to determine the profitability rate of its bots. However, the devs strive to choose the best bots in the market to enhance your chances of earning profits.
Company reputation
There's no information about the vendor on the official website. However, we were lucky to find their profile on LinkedIn. Apparently, Robofi is based in the British Virgin Islands and consists of 200-500 employees. Some of the staff include SP Ting, Loi Duc, Lee Donna, and Merry Silvana.
Robofi reviews
Four customers have reviewed the service so far, and all of them have given Robofi an excellent rating. One trader discloses that the DAO bots have earned him money. Another user says the platform is a game-changer and recommends it to those who want to trade efficiently.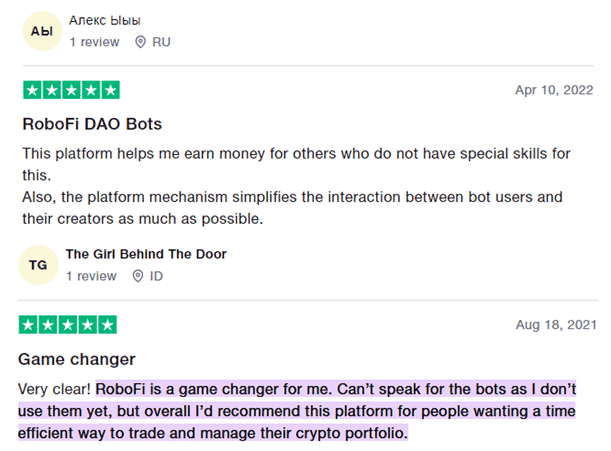 Who is Robofi for?
The system may be appropriate for traders who want to leverage earning opportunities provided by centralized and decentralized exchanges.
Robofi: supported devices
We don't know what devices are best suited to use the bots on. This info is conspicuously missing in the sales pitch.
What exchanges does Robofi support?
Robofi supports both centralized and decentralized exchanges, such as:
UniSwap
PancakeSwap
Binance
Huobi
KuCoin
ProBit
Robofi: customer care
Customer care representatives can be reached through an online contact form or email. An FAQ section is also present to provide you with basic info pertaining to the service. A live chat option is not available.