Happy Neuron is expert trading software for those who want to be profitable on the Forex market. It was originally designed by a veteran company–Happy Forex. We decided to check the system out to be sure it's still a viable option to go to.
Happy Neuron strategies and tests
We have plenty of explanations provided about the system and how it can be used by us to make even more profits.
The presentation informs us that the robot can manage our orders completely automatically.
The platform to trade is MT4 only.
It manages orders using neural network patterns to spot trading opportunities.
It works with new filters to avoid trading during high impact news.
There are the following pairs allowed to trade: AUDCHF, AUDJPY, AUDNZD, AUDUSD, CADCHF, CADJPY, CHFJPY, EURAUD, EURCAD, EURCHF, EURGBP, EURJPY, EURUSD, NZDUSD, GBPAUD, GBPCAD, GBPCHF, GBPJPY, GBPUSD, NZDCHF, NZDJPY, AUDCAD, USDCAD, USDCHF, and USDJPY.
The time frame is H4.
We should use the robot on an ECN account only.
It follows NFA rules during trading activities.
It can trade on the broker with 4 and 5 digits.
We can get started within several minutes.
It's still possible to be profitable with this solution without having previous trading experience.
It looks for trading setups 24/7.
We can work on the following operational systems: Windows 7, 8, 10, Mac OS, and Linux.
It's possible to trade with various risks based on the available margin.
The sonservative risk needs $5000 on the balance.
The standard risk requires 3500.
The aggressive trading needs $2000 on the balance.
Although the company does not provide backtest reports for the system, it shares live trading results to prove the system's profitability under real market conditions.
Happy Neuron trading account review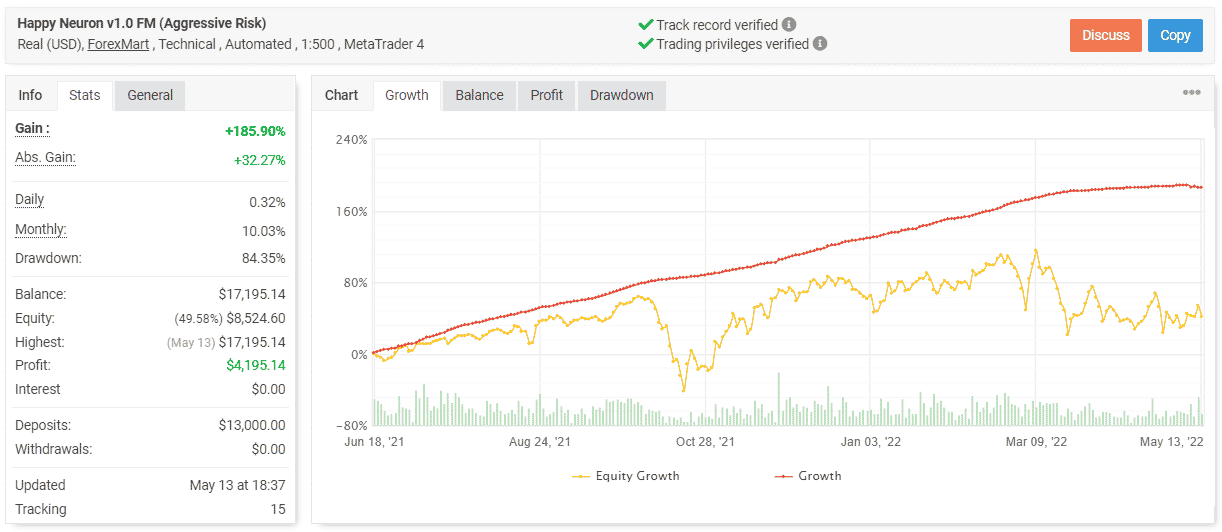 Happy Neuron is a trading solution that works on a real market on ORBEX. It uses technical indicators data from MT4 to spot trading opportunities. The leverage is 1:500. The account has a verified track record. It was created on June 18, 2021, and deposited at $13,000. This means that they trust big money in trading by this system. Since then, the absolute gain has amounted to 185.90%. An average monthly gain is 10.03%. The maximum drawdown is significant, 84.35%.There are fifteen traders tracking the trading results.

The advisor has closed 6575 deals and 46,022 pips. An average win is 17.99 pips when an average loss is -55.45 pips. We have a solid win rate of 84-85% on average. The common  trade length is three days. The profit factor is 1.87. So, this number is above the middle level of 1.6 which is good for paid advisors.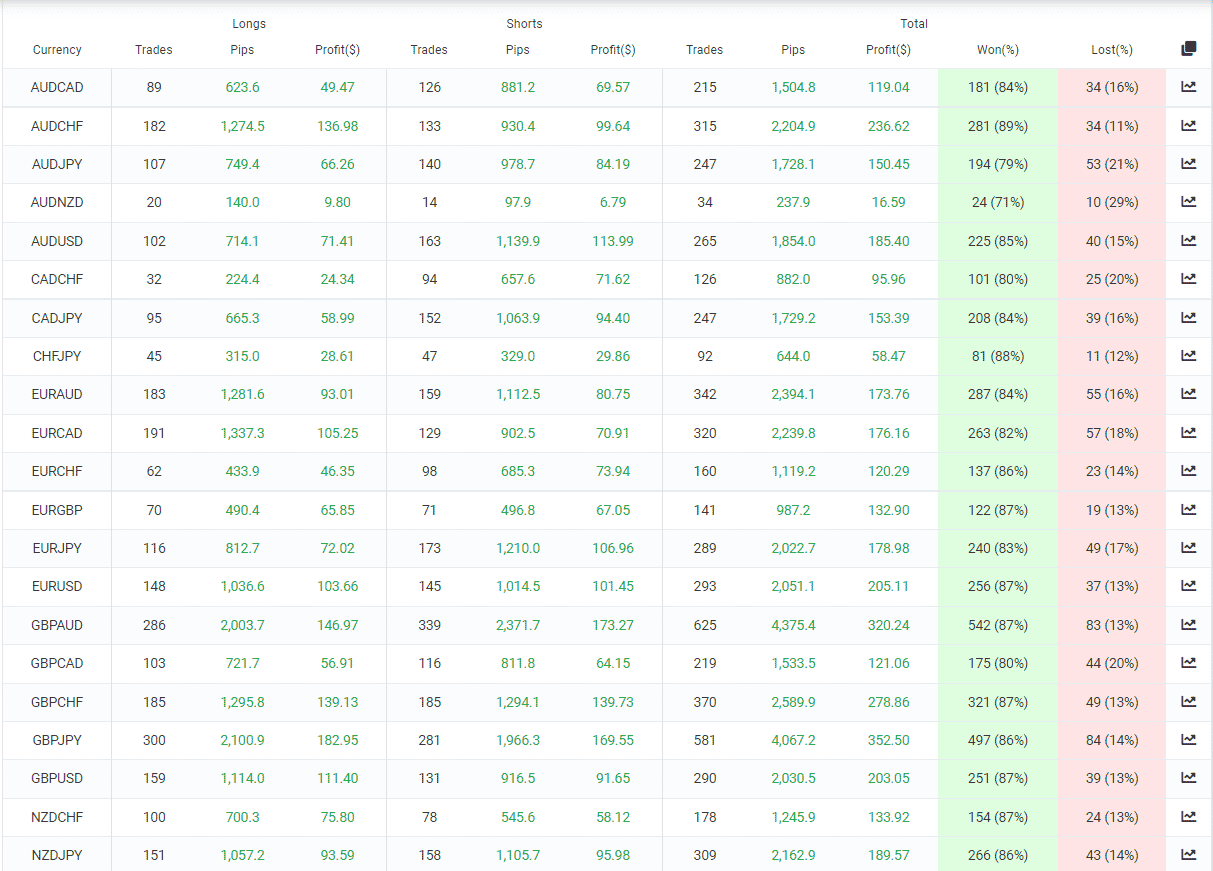 The system tardes various cross pairs. AUDNZD is the least traded among them with 34 deals closed and $16.59 profits gained.

It has work with acceptable risks to the balance. There should be 175 deals lost to lose 10% of the balance.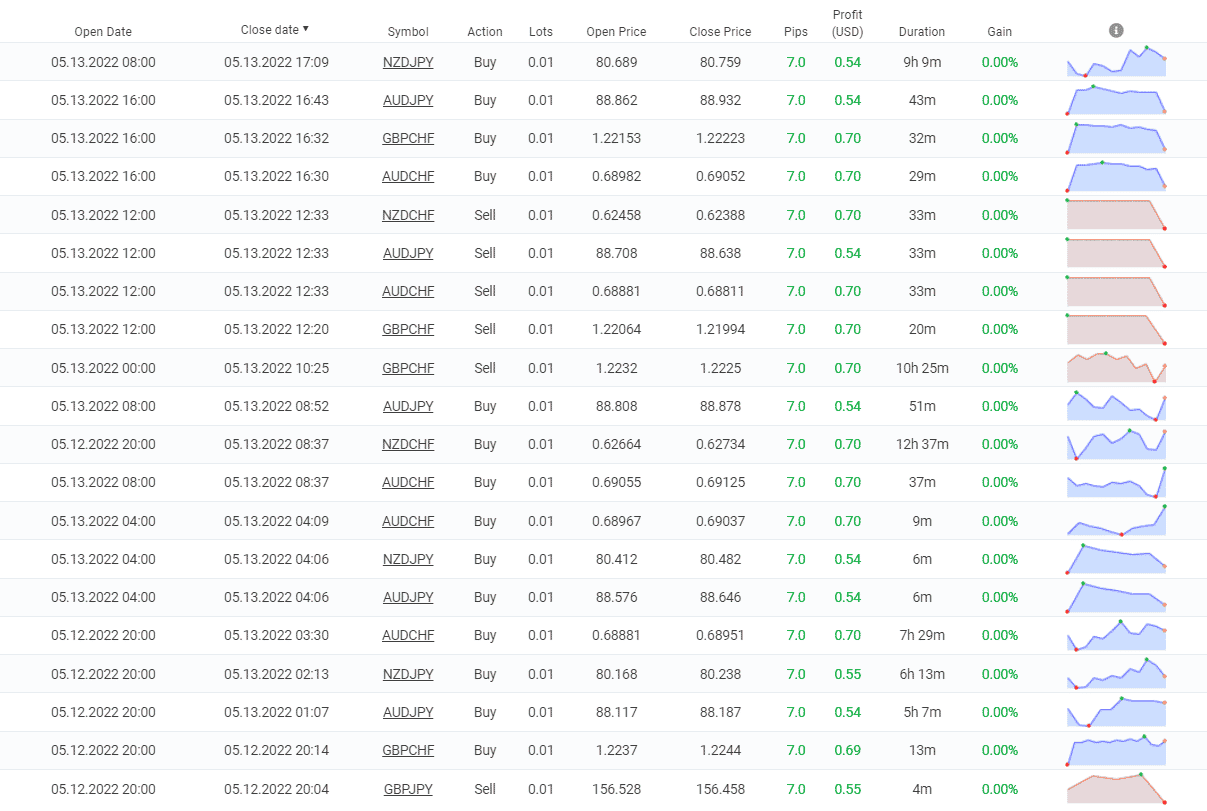 The advisor has closed the last 20 orders with profits.
Pricing
We can purchase a copy of the robot for as low as €349. This pricing looks fair. Its package includes one real and many demo accounts, support, free updates and upgrades. There are 10 extra robots and one indicator added to the pack. It's possible to switch account numbers as many times as we want. The developers cover our purchase with a 30-day refund policy.
Is Happy Neuron a good system to rely on?
Yes, it is. The system shows consistent profitability and great overall stability. We can be sure that it manages our account well.
People feedback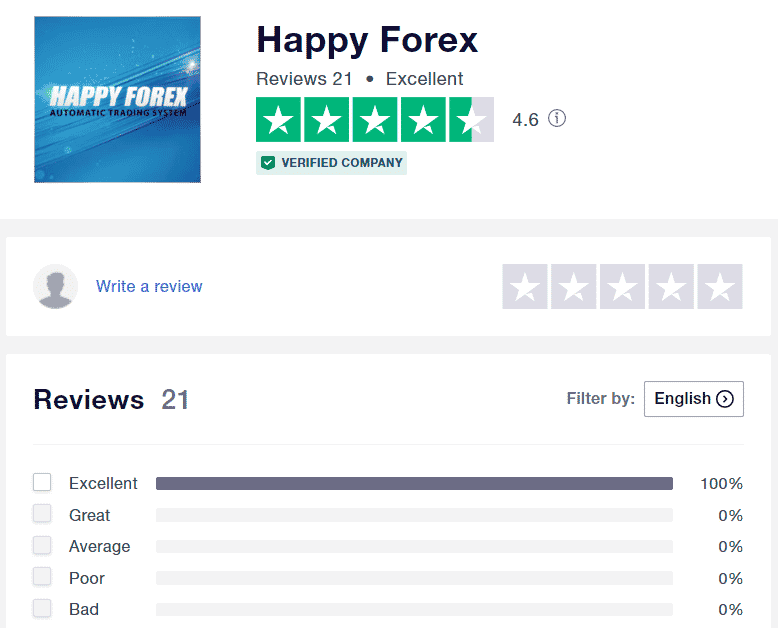 There's a profile of the Happy Forex company with 21 reviews deployed on Trustpilot. The final rate is 4.6.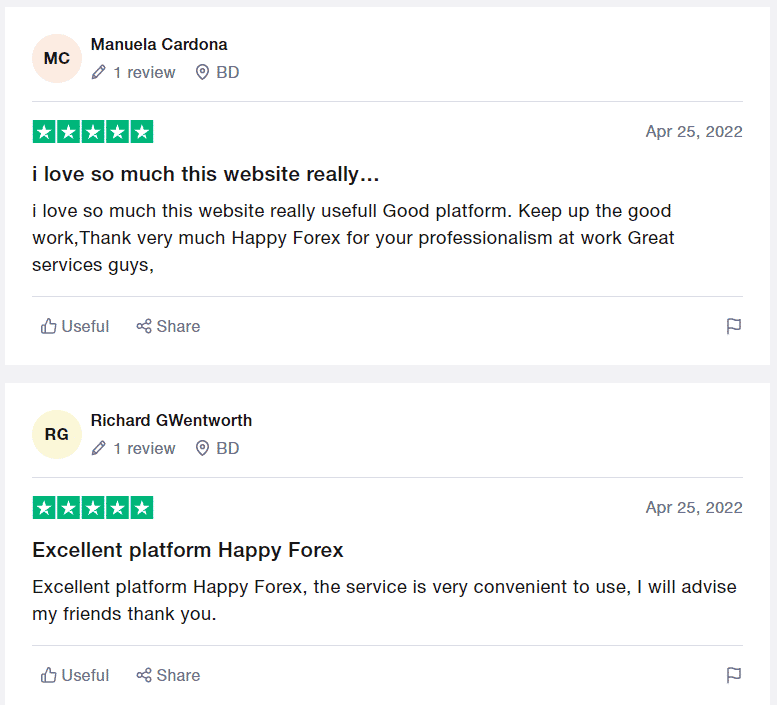 It's nice to see that clients' touchts match our verdict.