GALILEO FX is a 100% automated Forex trading system that can operate on a 24/7 basis. It is a 100% legal EA that works with all MT4 and MT5 brokers. According to the vendor it has 60 optimized settings.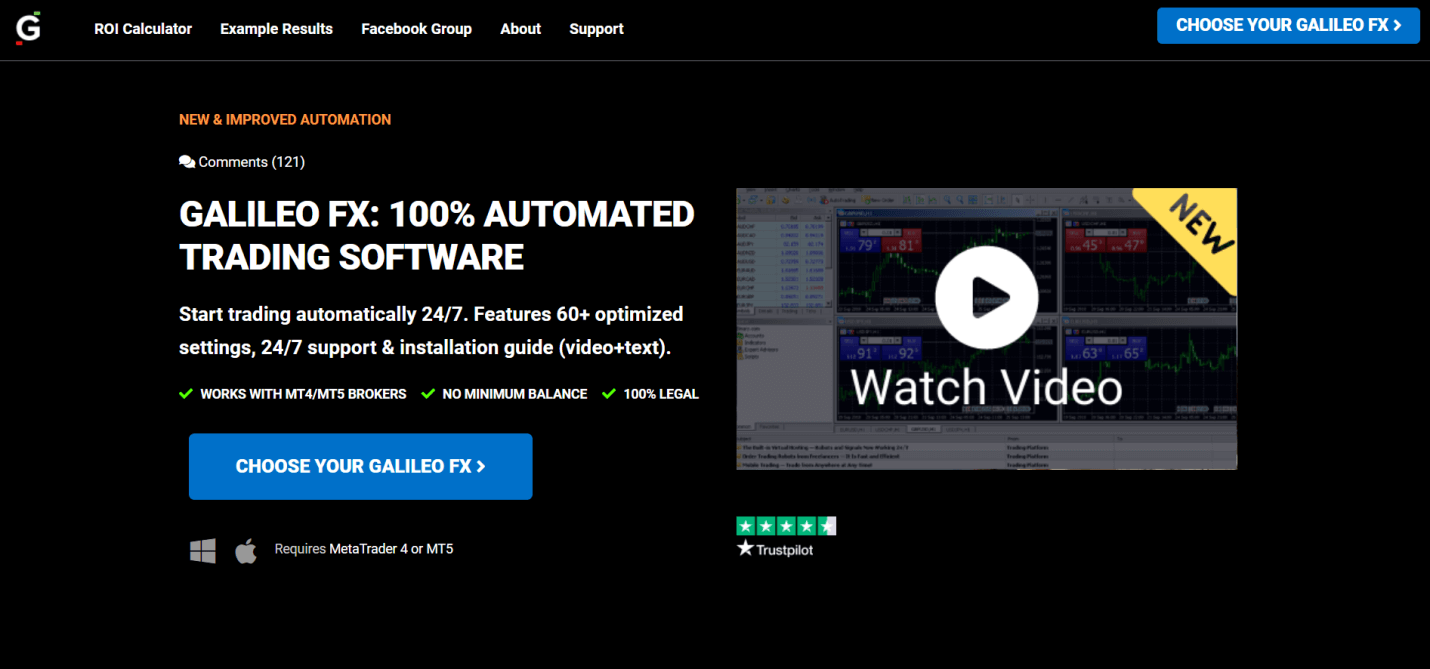 Not much is known about the developers of GALILEO FX. The company headquarters is located in Lower Dublin, Ireland, but we don't know when it was founded. We don't know anything about the team members and the service history of the company. It is unclear whether this team has built other Forex EAs in the past.
GALILEO FX Strategies and Tests
This robot analyzes live market data and enters and exits positions on the basis of settings that can be customized by the user. It does not use Grid or Martingale schemes and instead relies on consecutive bearish and bullish signals for making its decisions. You can choose how many signals to receive before the robot starts placing its trades.
For risk-management purposes, the EA uses trailing stop and stop loss. Trades can be closed manually by the user if needed. The vendor claims that the strategy has been tested on multiple brokers using different settings for different market conditions. You can use it to trade in multiple currency pairs simultaneously. By purchasing this system, you get access to free lifetime updates.
It is recommended that you let the robot operate without interruption for 5 hours daily. The results can be monitored using Android and iOS devices. There is no minimum capital requirement for this Forex EA, but you need a system having RAM of 8GB or more. Support is provided on a 24/7 basis via email.
We feel like the vendor has not clearly explained the trading strategy for this EA. In order to gauge the profitability, we need some technical information related to the strategy, but for this robot, no such data is present. Thus, many investors might think twice before spending money on GALILEO FX.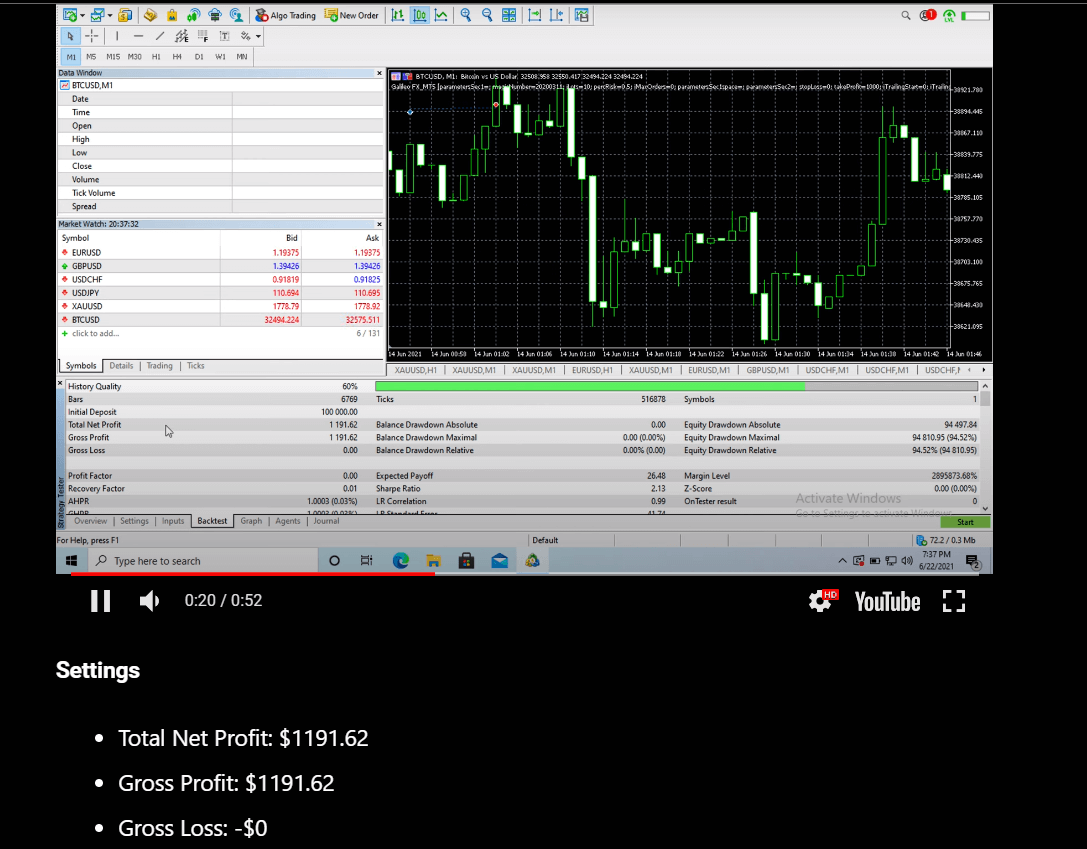 On the official website, we have a video showing the backtesting results for the EA. This test was conducted from 14 to 21 June 2021, which is an extremely short time period for a backtest. The total net profit generated was $1191.62 and this was achieved using an initial deposit of $100,000. We don't think the results are authentic, as the win rate is shown to be 100%, which is unrealistic.
GALILEO Live Trading Account Review
Here, we must mention that this account, along with another one named Millionaire has been removed from the website. This seems odd, because a vendor who is confident in their trading system should not hide their live trading statistics.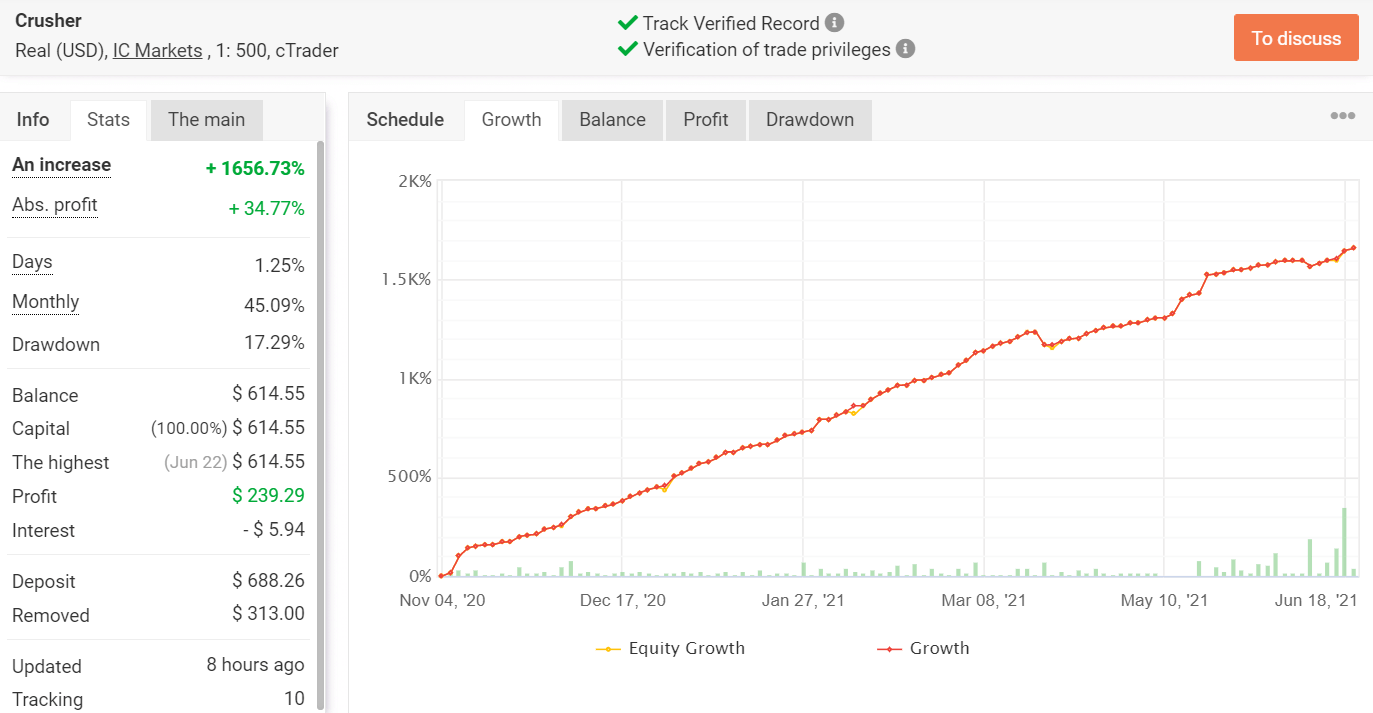 This live trading account on Myfxbook has been active since November 04, 2020. To date, a total of 446 trades have been placed through this account. As a result, a total profit of $239.29 has been generated, which honestly, is not too much. At this time, the daily and monthly profits for this account are 1.25% and 45.09%, respectively. No verified trading account is able to maintain such a high monthly profit for a long time, and this is due to the short trading history of this robot.
This EA has won 78.5% of all trades placed through this account. The average win and loss are 8.59 pips / $ 1.27 and -12.10 pips / – $ 2.13, respectively, while the profit factor is 2.17. This robot needs to trade for a few more months before we can objectively assess its profitability.
Pricing
The Personal plan costs $498.47 and it allows you to earn $1000 every month. With the Plus plan, you can earn $5000 per month by paying a one-time fee of $ 996.99. Finally, there is the Pro plan that promises unlimited profits in exchange for $ 1994.04. The plans are extremely overpriced and on top of that, the vendor does not offer a refund.
Is GALILEO FX Robot a Scam?
GALILEO FX claims to have an accuracy of 96.46%, but there is no way we can verify this. Moreover, it is an overpriced system without a money-back guarantee. This makes us think that it is most likely a scam.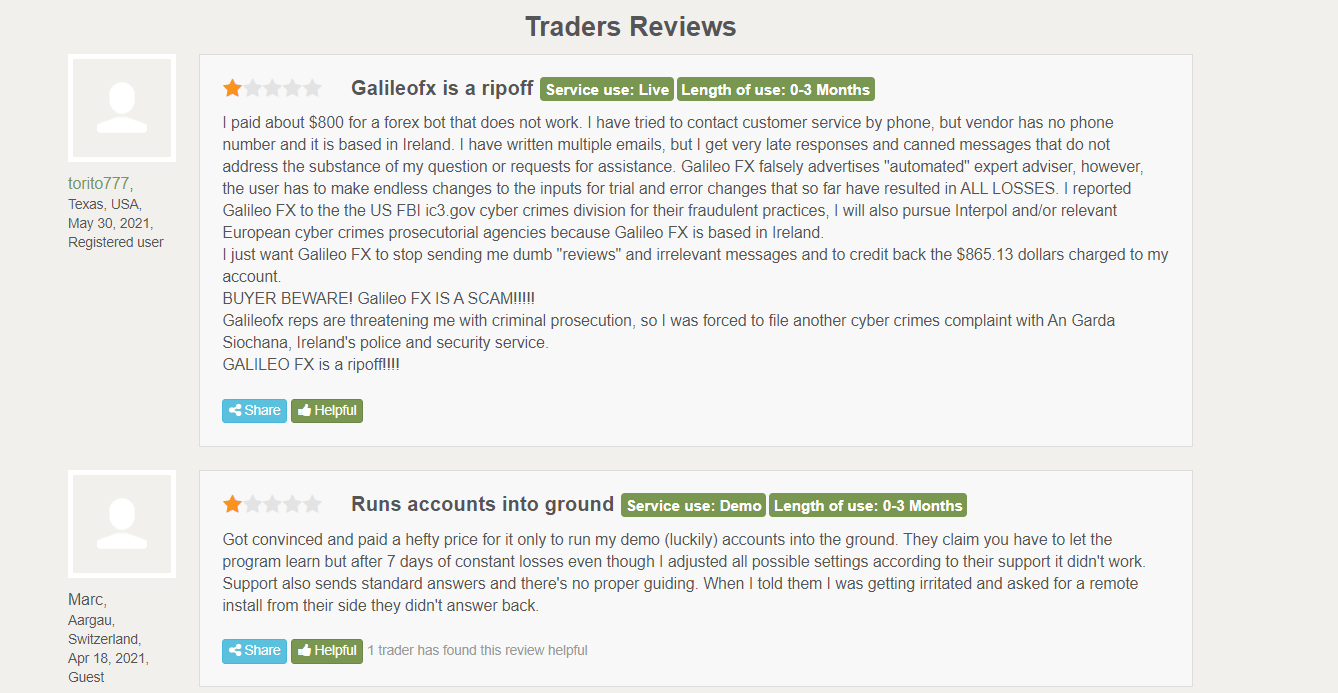 We found a couple of reviews for GALILEO FX on the Forexpeacearmy website. Here, the users have complained about the customer service team being unresponsive. One individual has claimed that their demo account was totally ruined by this EA.
Other Notes
You can control the functions of this robot using Android or iOS devices but the program must be running on a VPS, a laptop, or a computer.