Cardano's trading volumes have risen to $6.5 billion, surpassing Ethereum at $5.8 billion when adjustments are factored.
Source: Twitter
CARDANO VS ETHEREUM: VOLUME & FEES ‼

Higher volume with 568x cheaper in fees 🧐

Well, decision is yours 😎#Cardano #ADA $ADA @IOHK_Charles @Cardano @InputOutputHK pic.twitter.com/2wEkTdhtG6

— Cardano Daily (@cardano_daily) January 20, 2022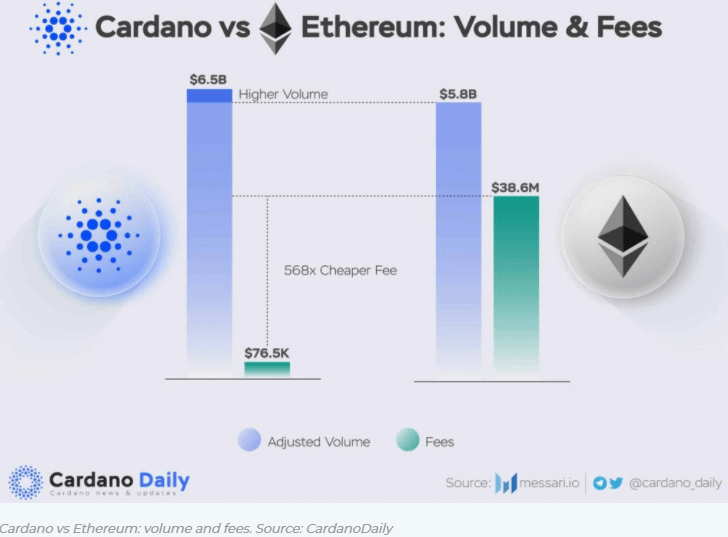 ADAUSD is down -3.26%, ETHUSD is down -4.8%
Cardano's native token ADA now has 568 times lower transaction fees at $76,500 for $6.5 billion in transactions, while ETH charges $38.6 million more for fewer transactions.
The network's founder, Charles Hoskinson, says that more efficiency could be seen within the Basho era.
The Basho development cycle would augment performance with support for application development and more volumes.
Cardano recently increased the block size from 8KB to 72KB to handle more transactions as part of a series of off-chain scaling solutions expected in 2022.
Smart contracts based on the Cardano are witnessing notable growth with the introduction of the EUTXO model in the Plutus platform.
ADA is down 8.28% in the past 24 hours to trade at $1.24 in a market-wide sell-off. The token had a $2.88 billion daily trading volume to bring the market capitalization to $41.5 billion.