Investment giant Invesco is warning that Bitcoin could fall below $30,000 this year, with the current price decline to $42,000 from its record high characteristic of a financial mania.
Source: Invesco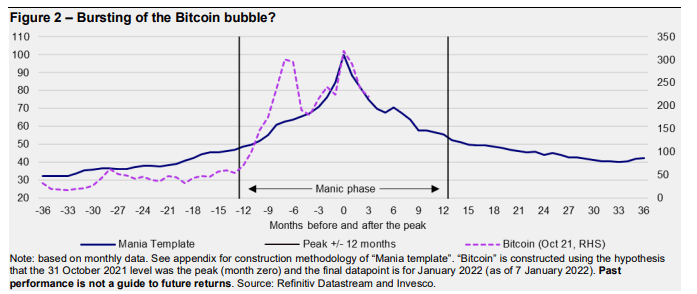 BTCUSD is currently down -1.89%.
Invesco says the price of the world's largest cryptocurrency could reach $34,000 to $37,000 by the end of October, reflecting a fall of 45%, which happens twelve months after a peak in a typical financial mania.
The investment giant says bubbles deflate for an additional two years after the initial twelve months, with the company using this analogy to suggest that $30,000 is a possibility for Bitcoin this year.
Invesco says the mass marketing of Bitcoin mirrors the activity of stockbrokers closely before the 1929 crash. The firm is still self-critical of last year's prediction of a below $10,000 Bitcoin before prices shot up to the $68,000 peak.