Crypto bots are auto-computer programs that let investors buy crypto at low and sell at high prices. Market participants often rely on trading bots as this approach doesn't require human intervention to execute trades every time. Additionally, this method remains active 24-hours a day and seeks the best trade setups.
---
---
However, it is mandatory to have a clear concept when starting trading through any approach. In this article, we dive deep into trading crypto bots. Moreover, we will list the top best, which allow you to make money.
What is a Grid trading crypto bot?
It is an auto trading method that relies on a mathematical approach, enabling investors to carry out the strategy, placing a series of buy/sell orders within a range.
When a buy order executes, the bot instantly places another sell order at the upper Grid and vice versa. Many market participants consider this trading strategy a "no-loss" method that enables making money from trending and ranging markets.
How to set up the bot?
Setting up such a bot is a straightforward process. Anyone with basic knowledge of computing can set up by following some simple steps:
Most trading bots require you to fill up a form as a part of the registration process. Users provide names, emails, phone num, etc. In this part, you may need to verify your email or phone number through a link/code.
Users provide clear pictures of their Government ID or Passport to verify their identity and residence by providing other documents like phone bills, electricity bills, bank statements, etc. This process can take 24 hours or more than that.
When you complete the verification process, it is time to deposit at the platform. Users deposit at the robot brokers as bots don't accept money.
Most crypto bots allow checking on demo trading to prove their potentiality. So apply demo trading and confirm the tool is useful enough to purchase and potent to give you profits.
Now you are almost done, apply the bot on live trading. Set the parameters that suit your capital size and match your return expectations. Now start trading in real-time with your Grid trading crypto bot.
The best five Grid trading crypto bots
Many bots allow you to carry out auto trading. Let's check the best five among them.
| | | | | | |
| --- | --- | --- | --- | --- | --- |
| | | | | | |
| Pricing | $19.00- $110.00 | 0.05% | $29.99- $499.99 | $14.50- $49.50 | €9.99- €59.99 |
| Main advantage | Built-in TP, SL, range of pricing plans and 14-day demo account | Lots of free in-built trading bots | Offers military-grade security and encryption | Lots of cryptos are available | Built-in code editor |
| Main disadvantage | Some parameters are not automated | There are no fiat withdrawal options | Prices are very high | Traders should buy bots from the 3commas marketplace | Applicable to advanced traders |
Bitsgap

Does it good for crypto trading?
Bitsgap is an all-in-one trading platform with the best bots developed with advanced algorithms like Grid trading. It supports 25+ exchanges and calculates Grid's profit by taking away each bot's price percentage from the trading fee percentage. The bot includes a minimum deposit depending on parameters and quantity. The basic package costs $19, the pro is $44, and the advanced is $110. The platform offers additional features, including trailing up, stop-loss, and take-profit.
Bitsgap features
You can look for price differences in multiple exchanges and maximize the price.
It provides a good range of technical tools that help you trade on a multi-exchange platform. With one interface, you can connect to multiple exchanges and trade smoothly.
The platform gives you various trading bots for BTC and other cryptos. You can try the bot on 25+ exchanges in a 14-day free trial.
Its algorithm analyzes more than 10,000 crypto pairs per second to identify the best opportunities for the most substantial uptrend potential.
Pionex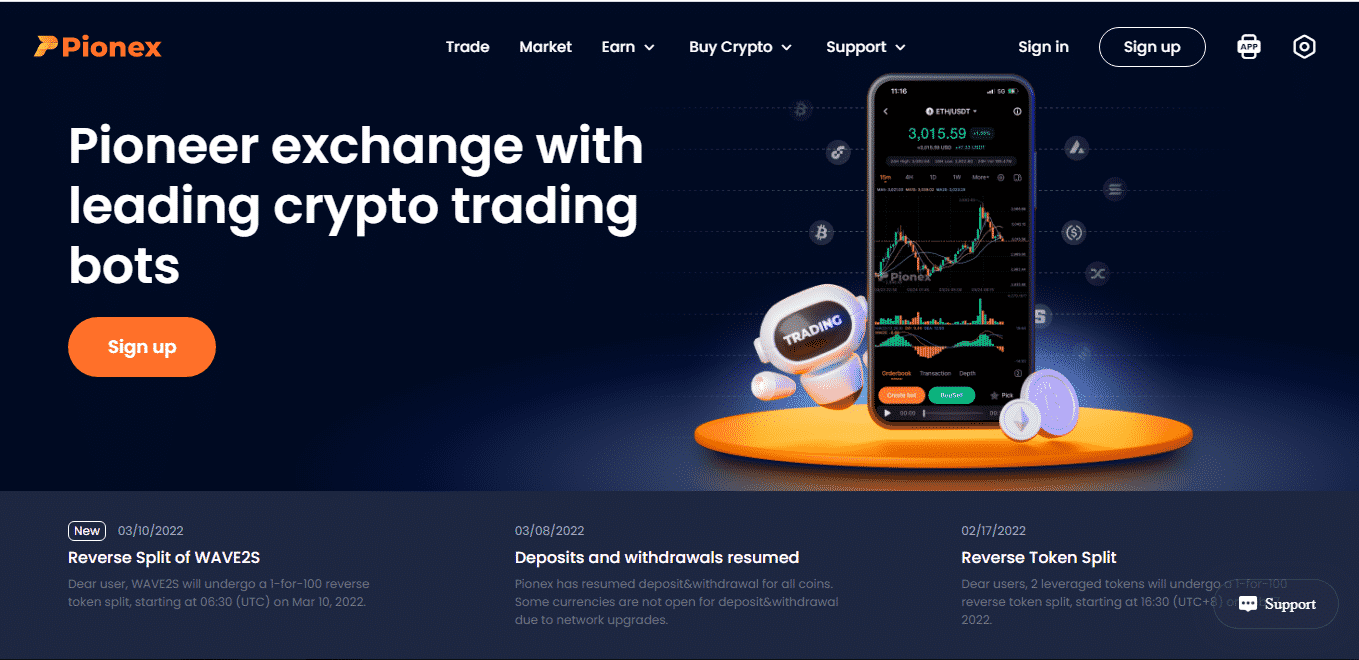 Does it good for crypto trading?
The platform offers sixteen free built-in bots, including a Grid bot, which is the most attractive feature of this platform. It also has a reverse Grid alongside the familiar one that allows users to make a profit when the price decreases. It allows you to set parameters like the percentage of your fund you want to implement, price range, etc. Users can also use their AI.
Pionex features
It is suitable for newcomers to the world of crypto trading bots. It is free to set up an account and access all of their trading bots with the platform.
Access to over 120+ cryptos
You can set up bots to trade the most popular cryptos or purchase them on the market if you prefer to HODL.
Coinrule
Does it good for crypto trading?
Coinrule is a cloud-based trading bot that can connect with multiple exchange platforms. The foundation period is 2017, and it is available on more than ten crypto exchanges. It enables users to compete with hundreds of professional traders so they may have access to multiple strategies:
Hobbyist version: $30/month and $359/year
Trader: $60/month and $719/year
Pro: $450/month and $5399/year
The platform allows users to create multiple rule-based trading bots and enables taking advantage of over seven thousand trading strategies.
Coinrule features
Coinrule's mission is to allow everyone to compete with professional algorithmic traders and hedge funds.
All users' API keys are encrypted with advanced security protocols, and all private keys are stored on segregated data storage that is also encrypted.
They send out daily emails with free trading signals to help you adjust the strategies and create new rules.
3Commas

Does it good for crypto trading?
3Commas trading bot is another option for crypto investors interested in trading but seeking to test the bot before purchasing or starting to use it. It allows copy trading and portfolio analysis. 3Commas has $10 million in transaction volume and operates with 3000 active clients:
Starter pack: $14.50
Advance plan: $49.50
Pro pack: $24.50
The platform automatically identifies your Grid's upper and lower limits and calculates risks by observing price fluctuations. It has a manual mood that allows users to change the price scale, spacing, and the number of bots.
3Commas features
It utilizes a web-based platform and features an easy-to-use and intuitive user interface that includes a wide range of functions and detailed analytics.
The team developed mobile apps for both Android and iOS.
The support team is available to deal with any issues 24/7.
Trality
Does it good for crypto trading?
The bot comes to this top list as it allows learning all the best types of crypto techniques and contains a lot of information. Trading strategies on the platform are end-to-end encrypted and allow backtesting, a free bot for users. You can select between rule builder and code editor. The rule builder allows users to create trading algorithms without programming knowledge.
Trality features
Trality's breakthrough in crypto bots is its code editor for bot creation. The company says it first has an entirely browser-based Python editor for trading bots.
It helps create flexible bots using boolean logic.
The clients can slowly get accustomed to the process of algorithmic trading.
Pros and cons
| | |
| --- | --- |
| 👍 Pros | 👎 Cons |
| Trading bots don't require human intervention and perform auto trading. | This approach is not useful in highly volatile periods. |
| Order placing is quick in this approach. | Need a particular level of experience to obtain maximum profit through such trading. |
| Investors don't need to spend time in front of monitors to execute trades or analyses. | This approach uses API to execute, so there is a risk of losing funds when applying on crypto. |
Final thought
When seeking the best bot, it is mandatory to compare features offerings. Seek the bots that accumulate multiple strategies and indicators, backtesting, mobile platforms to monitor, etc.